GINZA CONNECTIVE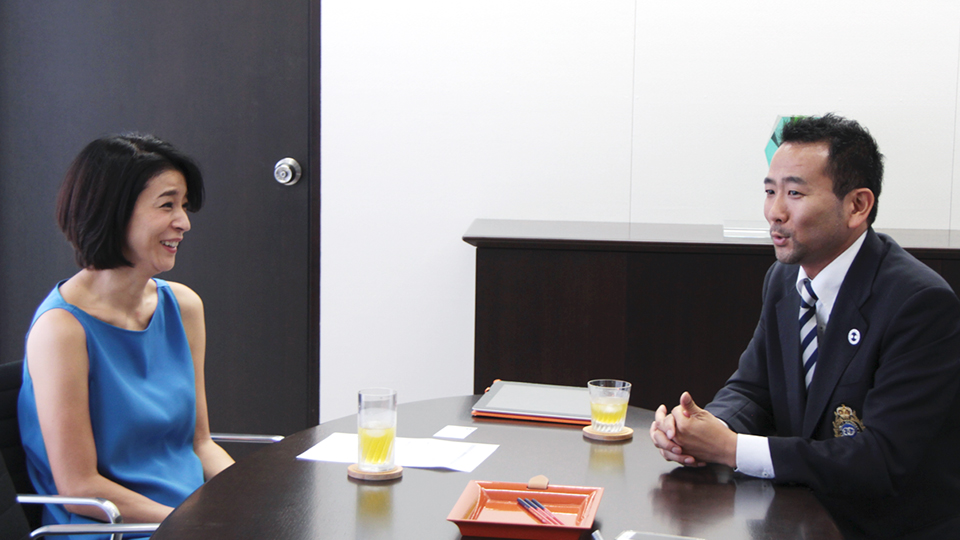 GINZA CONNECTIVE VOL.36
Masahiro Kameoka×Chisako Takashima
2014.09.10
An interview series featuring Ginza people in conversation with violinist Chisako Takashima. With a special fondness for Ginza, which holds many memories both from her professional and private lives, Takashima explores Ginza from various dimensions with her guests. In this volume, she welcomes Masahiro Kameoka, CEO of Namiki Building and chairman of Ginjitukai, Ginza's young entrepreneur group.
Member of the firefighting squad, I've been to many fires in Ginza
Takashima

I have heard that you are also on the local firefighting squad. What made you join it?

Kameoka

When my father chaired the neighborhood association, the vice-chairs were both on the fire-fighting team. A graduate of Nippon Sport Science University, I was invited to join.

Takashima

Then you must be very athletic!

Kameoka

Not really. However, my dream was to become a PE teacher, so I learned to play every sport that would be played in a PE class while I was in college. I was on the track team when I was in high school, so I am rather confident about my physical stamina.

Takashima

Do you train to become a firefighter on the squad?

Kameoka

Of course, we train. We even take part in a firefighting pump operations skills contest, where the seven firefighting squads in Kyobashi compete against each other. We pump up water from a water tank and release it from a hose to hit the target.

Takashima

Have ever actually been called to put out a fire?

Kameoka

Of course. We've been to a number of fires

Takashima

Wow! When a fire occurs, we usually dial 119. Does the firefighting team also receive notice?

Kameoka

Yes we do, because we have a partnership with the fire station. Basically, we head out before we are requested to come, as soon as we hear the sirens. When fire broke out in the Tsukiji market (Tokyo Metropolitan Central Wholesale Market), our small pumps were very helpful in getting through the maze-like alleys.

Takashima

So you are ceaselessly in action for Ginza, twenty-four hours a day! Thank you for your devotion.

Kameoka

It is my pleasure. I just love the town of Ginza.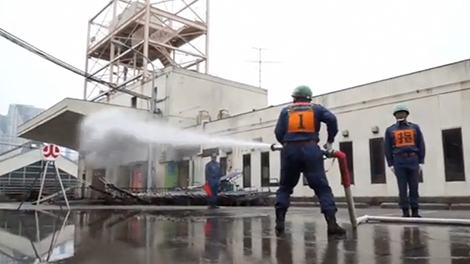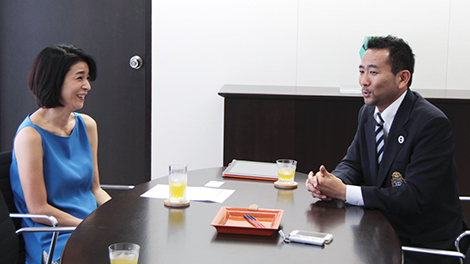 I'm determined to do my best for my favorite town, Ginza.
Takashima

Please tell me about your passion for Ginza and its charm.

Kameoka

I would say the great part about living here is that I have very good transportation access (laughs).

Takashima

How right! Only someone living in Ginza could make that comment. You are actually the first person to point that out in our series (laughs).

Kameoka

I would imagine so (laughs). I believe I have different feelings for Ginza from other people because I was born and brought up here. Ginza keeps me alive, and that is why I am determined to make Ginza an even better place. The Ginmikai and firefighting squad are only part of my devotion. I am ready to take the initiative in whatever I can for my favorite town.

Takashima

Chairing the Ginmikai would surely be an overstressing task without such passion. How long is your term as chair?

Kameoka

The term for chair runs for one year, and retirement is at 40.

Takashima

Do you have a vision for the future of Ginza?

Kameoka

I would like to make it an even more secure and safe place for not only visitors to Ginza but also for those of living here.
For that very purpose, we campaigned to have Chuo-ku build new storage for emergency goods to keep our pumpers and construction is underway.

Takashima

How wonderful!

Kameoka

I will endeavor to make Ginza a secure and safe place for everyone.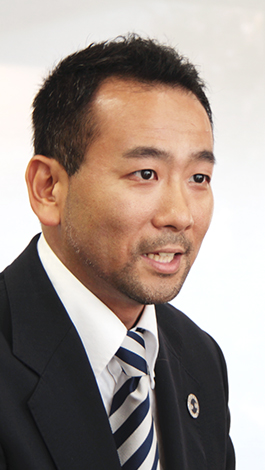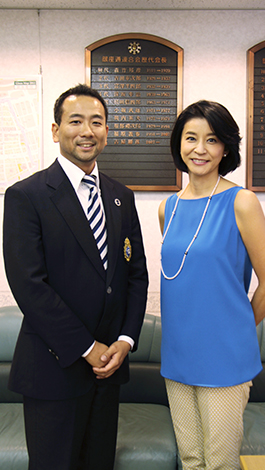 Chisako Takashima
Violinist. Takashima started taking violin lessons from the age of 6. After a successful career abroad, she moved her home base to Japan, where she currently performs in concerts across the country. Highly noted for her character in TV and radio appearances, she has currently opened up her career to more diverse fields with an unchanged focus on her profession.
Official website of Chisako Takashima
Masahiro Kameoka
President & CEO, Namiki Building, Inc.. Devoted to guarding Ginza, Kameoka currently chairs Ginmikai (an association of young owners of businesses and buildings in Ginza) and is a member of the local firefighting squad. He enjoys playing darts. Born and brought up in Ginza, his favorite play areas were on the rooftops of Matsuya and Matsuzakaya Department Stores and Hibiya Park.
Written by: Mizuho Takahashi  Place of interview: Ginza Dori Association

Area linksInquiriesTerms of Use
System RequirementsAbout Us
© Ginza Information Management