GINZA CONNECTIVE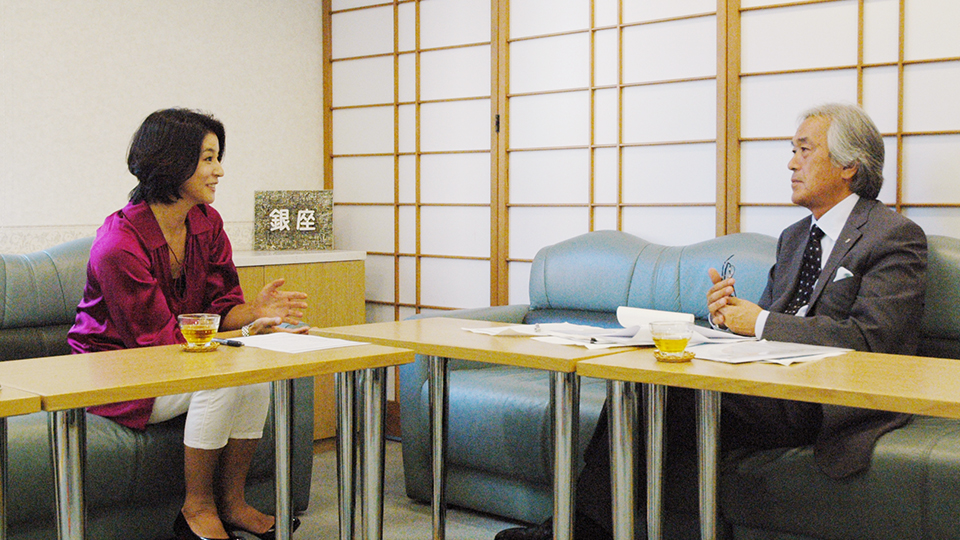 GINZA CONNECTIVE VOL.1
Toshiyuki Kosaka×Chisako Takashima
2011.09.30
A talk series with the violinist Chisako Takashima and the Ginza people. Ginza holds many personal and professional memories for Chisako Takashima. In this talk series, she thoroughly explores various aspects of the Ginza culture with her guests. Today's guest is Toshiyuki Kosaka, Representative Director and President of Kosaka Real Estate Co., Ltd. and Director of Komatsu Store Co., Ltd. , who also serves as a leading member of the Ginza Association. He opens up about his personal relationship with Ginza.
Enjoyable events on the beautiful streets, in a way unique to Ginza.
Takashima

Even though Ginza is in the center of a huge metropolis, there are unexpectedly interesting facts-like people keeping bees, absence of the guardrails that are seen everywhere else, etc. Are there any other interesting charms you could point out?

Kosaka

Well, one thing is that Ginza streets are safe and clean. And it's thanks to the efforts by many locals. For your reference, we conduct cleaning patrols three times a day, environmental safety activities every month, "Ginza Earthquake Drills" to be prepared for earthquakes and mass cleaning drives on Ginza- and Harumi-dori twice a year.
We also established a rule that buildings can go no higher than 56 meters in order to protect the beautiful Ginza landscape. Moreover, the designs of any new buildings and advertisements must be approved locally. This level of community involvement is rather unusual.

Takashima

Do you have any matsuri festivals?

Kosaka

The Ginza Association organizes "Autumn Ginza" at the end of October every year, although it's not a traditional Japanese festival with portable shrines and the like. Ginchakai tea ceremonies are performed on the streets, and we'll launch "Restaurant Week" for the first time this year.
There are also quite a few Shinto shrines in unexpected locations around Ginza, so we hold "the Ginza 8-cho Shrines Stamp Rally" as well.

Takashima

[Some of those shrines] are on building rooftops and in small alleys, aren't they?

Kosaka

That's right. And the Ginza Street Association has an international brands committee named GILC(the Ginza International Luxury Committee). GILC was organized by international luxury brands shops in Ginza to hold various activities and events that will contribute to sustaining Ginza into the future. They say that there is no other place where international luxury brands work together to create such events. GILC has also organized annual the Ginza Jazz Festival. This year, however, they will change tack and hold a Christmas event sponsored by the Chuo City in order to support the recovery and reconstruction efforts after March's Great East Japan Earthquake.
The theme of this event is Wings of Hope. Large wings decorated with pictures drawn by children from disaster areas will be put up on Ginza- and Harumi-dori from November 25.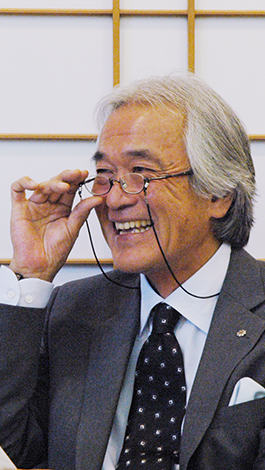 Ginza with residents, just like Paris and New York.
Takashima

What is Ginza about to you?

Kosaka

In short, Ginza to me is about three things

Takashima

What kind of town do you want see Ginza become?

Kosaka

A lot of people used to actually live in Ginza. You could smell the saury broiling and other smells of daily life. There was a very down-to-earth and refined feeling to the place. Nowadays in Japan, it is typical that goods are sold on the lower floors and restaurants operate on the upper floors of buildings. But look at New York and Paris. The stores are on the ground floors and people live on the floors above.
On top of that, there are many small offices in Ginza, and the people working there are very important. According to my personal opinion, it would be interesting to revive the environment in Ginza where people can live—that is, to return to a mixed community of stores, offices and living space. To make the vision come true, we would need to explore what Ginza-style of living and working should be.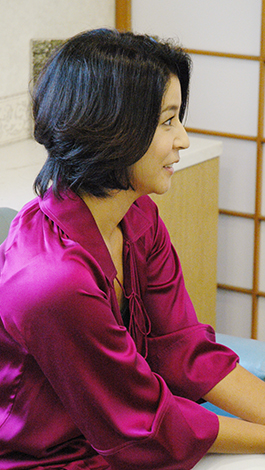 The next guest will be…
Takashima

Could you tell us about the next guest?

Kosaka

It's Yasuharu Mizuhara, Representative Director and President of Seigetsudo Honten. Seigetsudo is a traditional Japanese sweets store established in Ginza in 1907.
You should look forward to hearing what he has to say.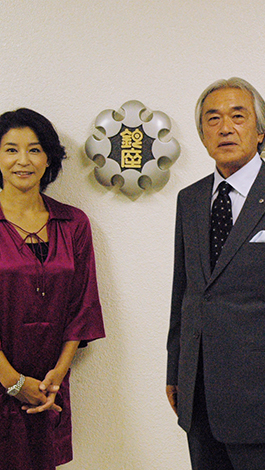 Chisako Takashima
Violinist. Began lessons at age six. After an active career overseas, she moved her base back to Japan to perform around the country.
In addition, she has become a popular personality and branched out in the field of television and radio programs.
Chisako Takashima official website
Toshiyuki Kosaka
Representative Director and President of Kosaka Real Estate Co., Ltd., Director of Komatsu Store Co., Ltd. and other responsibilities.
In addition to his main business, Toshiyuki Komatsu serves as Chairman of the Ginza Street Association, Executive Director of the Ginza Association and Chairman of the Ginza Machidukuri Council working passionately to sustain and improve Ginza on a day-to-day basis.
Ginza Komatsu website
Writer: Mikiko Okui

Area linksInquiriesTerms of Use
System RequirementsAbout Us
© Ginza Information Management