GINZA CONNECTIVE
GINZA CONNECTIVE VOL.35
Kazumasa Osumi×Chisako Takashima
2014.08.11
A talk series with the violinist Chisako Takashima and the Ginza people. Ginza holds many personal and professional memories for Takashima. In this talk series, she thoroughly explores various aspects of the Ginza culture with her guests. Today's guest is Kazumasa Osumi, the president of Shiroi Bara, a long-standing cabaret in Ginza.
You can enjoy glamorous shows and dancing with live bands with a program that changes each month
Takashima

At cabaret nightclubs, you can enjoy shows and dancing, right?

Osumi

Yes. We put on a show twice daily. We create a new program each month, so our regular customers can continue enjoying them. We also have live bands. It is very glamorous.

Takashima

What players are in the bands?

Osumi

It is usually five players, including a lead guitar, bass, drums and sax. We usually have two bands, with a female singer in one. We have five female singers that change daily, with one who's great at jazz, one who's great at oldies, one who sings R&B that the young people are fond of these days, and so on, so our customers can enjoy themselves. Customers can sing karaoke along with live bands, which is very rare.

Takashima

It's really amazing that the show program changes every month.

Osumi

Turning a concept into a concrete program is quite difficult, but it is also very rewarding. It's all done manually, so we have a number of staff who move stairs and other large rigs, and it may seem a little old-fashioned, but we have events like golden oldie intro quizzes by the live band. We work very hard to keep our guests entertained.

Takashima

It is really quite similar to my job. I do something special for each performance, like setting up a spot for touching the violins or coming down into the audience to let them hear me play right next to them. It's very important to remember to make sure the audience is having fun while you do your job.

In addition to the entertainment, I heard that your food is also delicious.

Osumi

Yes. We are known for always displaying our prices and for serving great food. Please try our famous pork cutlet sandwich.

Takashima

(Takes a bite) Oh, it's delicious! It's freshly cooked and very crispy! The meat is also nice and juicy.

Osumi

We fry it after receiving the order, so we can serve it piping hot. The sushi course and unlimited drinks course are also very popular. We want our customers to feel reassured by the reasonable prices, as much as possible.

Takashima

Great food, glamorous shows… Sounds like a blast!

Osumi

Yes, everyone who comes here feels uplifted.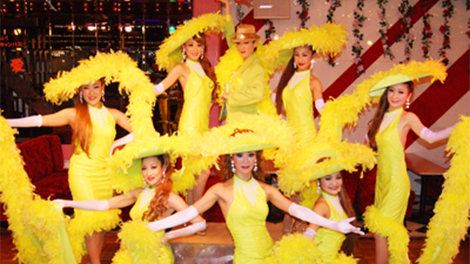 Show dancers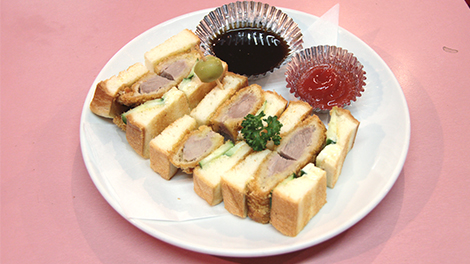 Famous pork cutlet sandwich
We want to treasure the old-fashioned atmosphere while maintaining a desire to make improvements
Takashima

Lastly, could you tell me your thoughts on Ginza?

Osumi

Sure. Ginza has always been a place that is strongly admired by people coming from around the country. Constantly keeping in mind that we are being given the privilege of doing business in Ginza leads to a desire to continuously improve the service.

Takashima

As the third-generation president, have you inherited a certain work ethic from your father?

Osumi

My father taught me that even if I'm just walking around, if I step into Ginza, I must reposition my hat and make sure my tie is straight. He said that this is the type of place Ginza is. So I feel that running a long-established cabaret in Ginza means that I must have pride in this district and provide high-quality service without fail.

Takashima

Maintaining a retro atmosphere while always taking on new challenges. You're very thorough.

Osumi

Yes. Doing business in Ginza means I must be thorough. I want to continue creating a space that treasures an old-fashioned atmosphere but is fun for customers every time they come. I want to link the Shiroi Bara passed down from our predecessors to the next generation.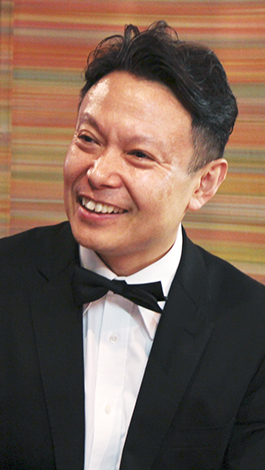 The next guest will be…
Takashima

Could you tell us about the next guest?

Osumi

It's Masahiro Kameoka, director of the Namiki Building company. He currently works hard both night and day for the sake of Ginza, acting as both chairman of the Ginza Merchant's Association and volunteering in the local fire corps to protect the Ginza community.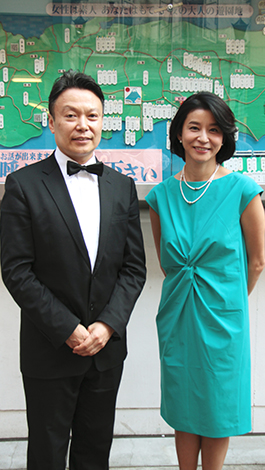 Chisako Takashima
Violinist. Takashima started taking violin lessons from the age of 6. After a successful career abroad, she moved her home base to Japan, where she currently performs in concerts across the country. Highly noted for her character in TV and radio appearances, she has currently opened up her career to more diverse fields with an unchanged focus on her profession.
Official website of Chisako Takashima
Kazumasa Osumi
President of Fuji Shoji Co. Third generation president of Shiroi Bara (meaning "White Rose"), an orthodox cabaret nightclub that first opened in 1931. He is responsible for selecting new recruits, training employees and producing dancing and shows.

At events, he performs as an 80s DJ.
Shiroi Bara Website
Writer: Mizuho Takahashi  Interview location: Shiroi Bara

Area linksInquiriesTerms of Use
System RequirementsAbout Us
© Ginza Information Management