GINZA CONNECTIVE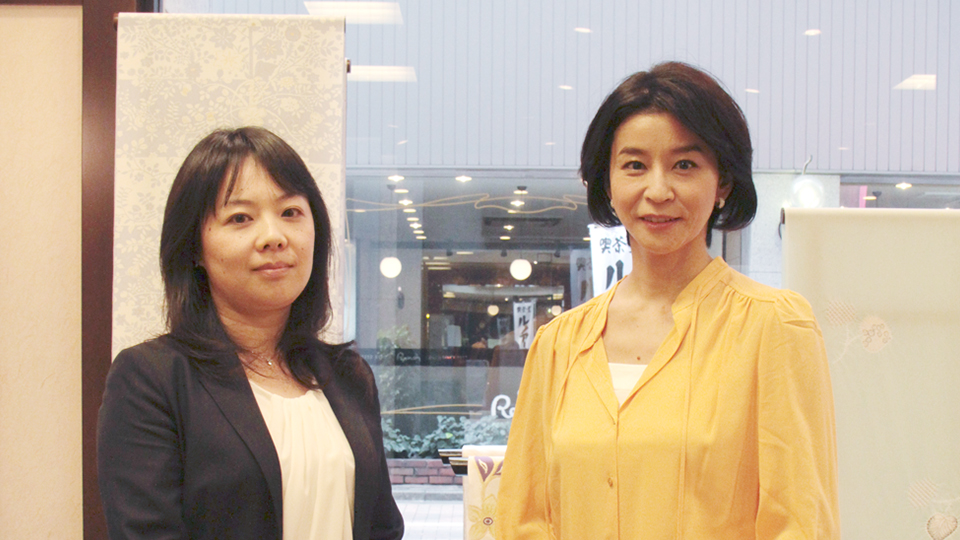 GINZA CONNECTIVE VOL.33
Mami Nagai × Chisako Takashima
2014.06.05
A talk series with the violinist Chisako Takashima and the Ginza people. Ginza holds many personal and professional memories for Takashima. In this talk series, she thoroughly explores various aspects of the Ginza culture with her guests. Today's guest is Mami Nagai of Ginza Echigoya, a veteran kimono shop that has been around since 1755.
The Yukata de Gin-bura Festival will be held in August as usual. New activities will make the event even more fun.
Takashima

I understand that you are currently the planning director of the Ginza Merchant's Association. What types of things are you doing?

Nagai

Coming up soon is an event called the 'Yukata de Gin-bura Festival' that will be held in August. I'm currently making preparations for that. This event has been held every year since 1970 with Ginza being turned into a vehicle-free promenade on the first Sunday in August. It was given the name, Yukata de Gin-bura, eight years ago.

Takashima

What plans were carried out last year?

Nagai

Ginza Chuo-dori was turned into a vehicle-free promenade. All the festival participants splashed water on the street in unison to the beat of the drum, and we held a raffle sponsored by various shops in Ginza.

Takashima

What were the prizes in last year's raffle?

Nagai

They were very luxurious prizes, like brand-name handbags, diamond necklaces and hotel and meal vouchers. It is a big hit every year, with long lines.

Takashima

Only in Ginza! What are you planning for this year?

Nagai

Last year we had a scavenger hunt quiz because we wanted people to enjoy walking around to all the different spots in Ginza. This year as well, we are working on a quiz to teach visitors about Ginza's history and lesser-known places of interest. This year we will expand the number of people who can participate in wind chime painting that was very popular last year. A new feature we will try this time is the Traveling Edo Aquarium. The Sumida Aquarium will help us put on a goldfish exhibit reproducing goldfish peddling shops from Edo to Showa using the tools from each era.

Takashima

You're going to reproduce goldfish peddling shops. That is such a valuable effort — to repair the tools of the eras just for exhibiting goldfish with no expectation of sales. That is amazing support from the aquarium.

Nagai

We will prepare all sorts of activities to help visitors create fun summer memories with their family and friends, so we hope many people will come out for the event.

Takashima

Not limited to this year, what is something you hope to do eventually?

Nagai

Because the event is in August when it is very hot, I hope that we can someday shift the event schedule to the evening when it is cooler. For example, I think it would be wonderful someday for the event to start with the splashing of water on the street on the count of three, as usual, then to see people strolling through Ginza in yukatas as the sun sets, enjoying all the events throughout the district.

Takashima

I'm positive it would be delightful to see Ginza in festival-mode at night! I hope this happens someday.

Nagai

Ginza is strongly seen as a place for enjoying food and shopping, but if this idea is realized, it will let people catch a glimpse of a whole other side of Ginza.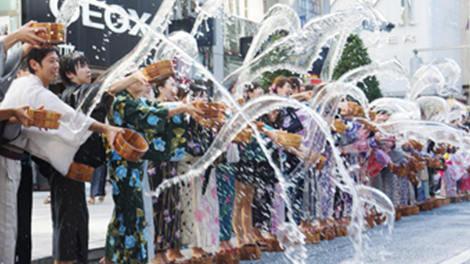 Yukata de Gin-bura Festival
I want to work as hard as my Ginza seniors for the sake of the district
Takashima

Lastly, could you tell me your thoughts on Ginza?

Nagai

All my Ginza seniors work just as hard to improve the district as they do on their regular jobs. I have a lot to learn by watching them work to make Ginza as a whole a better, more lively place for customers, and I want to be as useful to Ginza as they have been. Of course it makes me very busy, but I have no complaints. When I see customers enjoying themselves at an event we have put on, I feel a real sense of accomplishment and am glad I helped out. I would not trade these experiences for anything.

Takashima

Ginza is an interesting place. When you watch old dramas, you sometimes see scenes where a drunken father says, "I'm off to a meeting with the neighborhood association." I feel like Ginza still shares this quality.

Nagai

Surely. I doubt there are any other districts that come together as a whole to come up with various plans and projects. I myself gain quite a lot from this district, so I want to use my experiences to make Ginza even more enticing.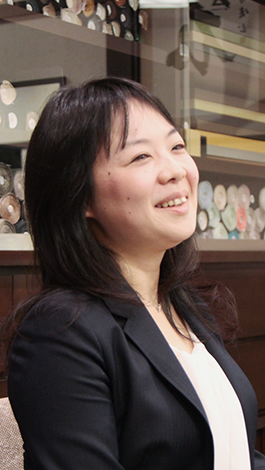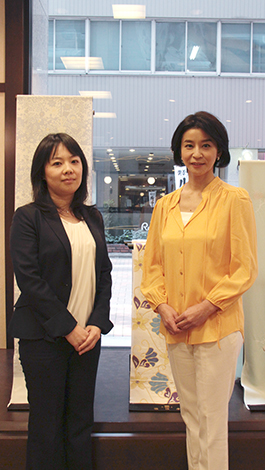 Chisako Takashima
Violinist. Takashima started taking violin lessons from the age of 6. After a successful career abroad, she moved her home base to Japan, where she currently performs in concerts across the country. Highly noted for her character in TV and radio appearances, she has currently opened up her career to more diverse fields with an unchanged focus on her profession.
Official website of Chisako Takashima
Mami Nagai
Worked as a company employee after graduating from university, then began working at the veteran kimono shop, Echigoya, run by her father as the eighth president.
Works in accounting. In addition to her main job, she is also the planning director of the Ginza Merchant's Association and is actively involved in Ginza activities.
Enjoys eating tours..
Ginza Echigoya Website
Writer: Interviewer/writer: Mikiko Okai  Interview location: Ginza Echigoya

Area linksInquiriesTerms of Use
System RequirementsAbout Us
© Ginza Information Management