GINZA CONNECTIVE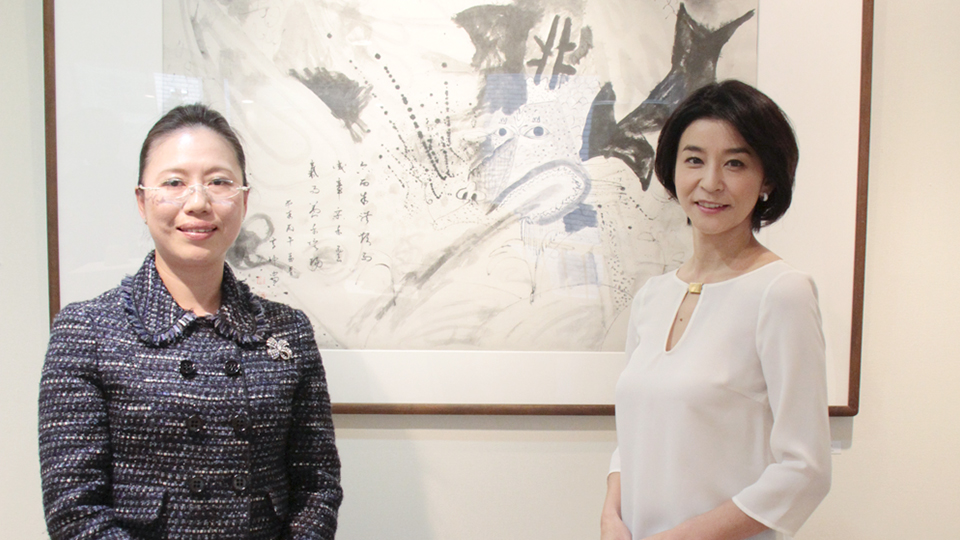 GINZA CONNECTIVE VOL.32
Seiko Yamada × Chisako Takashima
2014.05.02
A talk series with the violinist Chisako Takashima and the Ginza people. Ginza holds many personal and professional memories for Takashima. In this talk series, she thoroughly explores various aspects of the Ginza culture with her guests. Today's guest is Seiko Yamada, president of Gallery Seizan (Art Japan Co.) who works tirelessly to put on art exhibitions and events.
GARONOYAKAI 2014: an event for enjoying elegant art in Ginza
Takashima

The GARONOYAKAI 2014 event will be held on June 5 and 6. What goes on at this event?

Yamada

It's an event where 26 galleries in Ginza will all open from evening to night and put on a variety of exhibitions while offering drinks or other special services. It runs until 9 p.m., so it's accessible to company employees who work in the daytime, and all those who normally cannot make it to galleries are welcome. Even then, some people still feel intimidated going alone, so there are tours and other plans for making it easy to enjoy a carefree visit.

Takashima

That sounds like fun!

Yamada

At my gallery, we will have an exhibit of sculptures by Hiroyoshi Asaka.

To let you enjoy an elegant evening in Ginza, we will also offer extra hospitality with champagne, drinks and other services.

Takashima

That is very Ginza-like hospitality!

Yamada

Although it is a bit later, we will also have a yokai exhibit in August.

Takashima

A yokai exhibit?

Yamada

I will have the artists express their version of yokai in Hyakki Yagyo ("Night Parade of One Hundred Demons and Yokai"). I decided that I will absolutely never do an exhibit on yurei, but I love yokai.

Takashima

Aren't they pretty much the same?

Yamada

No, they are different. Yurei are the spirits left behind from people that have died with negative feelings like ill will, resentment or jealousy. Yokai (a type of spirit-monster) refers to the world of Zashiki warashi (protective household deity), Namahage (folklore demons) and GeGeGe no Kitaro (a manga series created by Shigeru Mizuki). Hyakki Yagyo is associated with the lesson that we must value things and is humorous. I like things with this type of message. For example, I want lots of people to experience the sensation of feeling invigorated by looking at a work of art.
*See here for details of the GARONOYAKAI.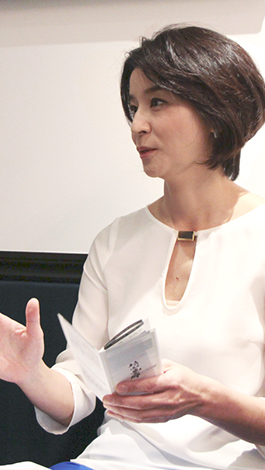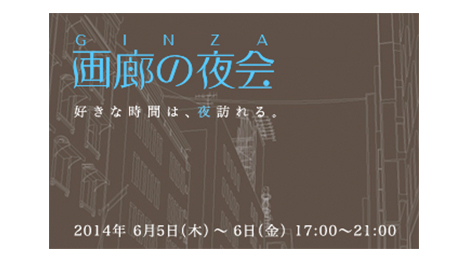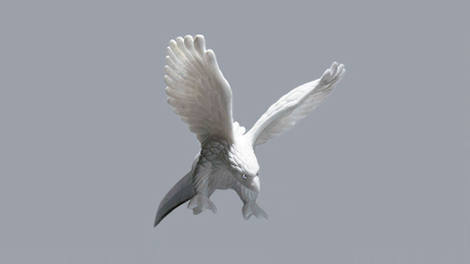 浅香弘能「KABUKIMON-White Eagle-」
If Ginza were a wine, it would be Romanée Conti
Takashima

Lastly, could you tell me your thoughts on Ginza? You mentioned that you dreamed of opening a gallery in Ginza.

Yamada

I just felt that I wanted to go to Ginza where the finest things come together. There are famous galleries and gallerists I admire here, so this is where I wanted to try my best.

Takashima

I'm going to move my office to Ginza someday (laughs).

Yamada

Please do!! If Ginza were a wine, I think it would be Romanée Conti (laughs). It is a small division, but is packed with culture and history, so it is where first class items from not only Japan, but from around the world, collect. Ginza is really enjoyable. Its attraction increases with age, just like wine.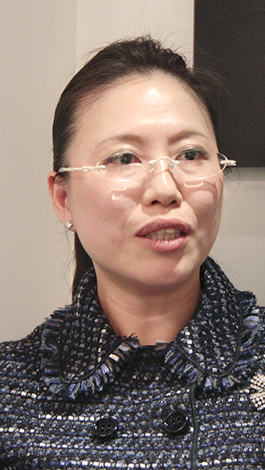 The next guest will be…
Takashima

Could you tell us about the next guest?

Yamada

It is Mami Nagai, the president of Ginza Echigoya, a veteran kimono shop. She takes time out of her busy schedule to act as a planning director, working on events and other activities in Ginza. You can hear about Ginza Echigoya as well as Ginza events.
Chisako Takashima
Violinist. Takashima started taking violin lessons from the age of 6. After a successful career abroad, she moved her home base to Japan, where she currently performs in concerts across the country. Highly noted for her character in TV and radio appearances, she has currently opened up her career to more diverse fields with an unchanged focus on her profession.
Official website of Chisako Takashima
Seiko Yamada
President of Art Japan Co. After graduating from Kyoritsu Women's Junior College, worked at a publishing company, then planning company before opening Gallery Seizan in 1996. Introduced many artists to the world with her great eye for beauty.

If you visit the gallery, you may run into its mascot, Ku-chan (a toy poodle and Westie terrier cross).
Writer: Interviewer/writer: Mikiko Okai  Interview location: Gallery Seizan

Area linksInquiriesTerms of Use
System RequirementsAbout Us
© Ginza Information Management