GINZA CONNECTIVE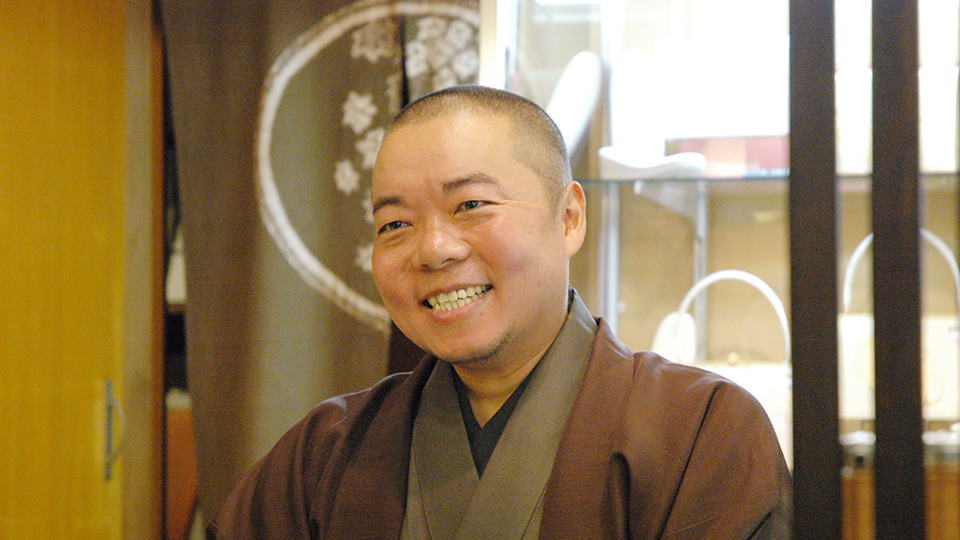 GINZA CONNECTIVE VOL.4
Shinji Hara×Chisako Takashima
2012.01.01
A talk series with the violinist Chisako Takashima and the Ginza people. Ginza holds many personal and professional memories for Takashima. In this talk series, she thoroughly explores various aspects of the Ginza culture with her guests. Today's guest is Shinji Hara, the fifth generation manager and bearer of the name of the long-standing Japanese footwear shop, Ginza Yoitaya.
It is my job to consider how to express a 'style'.
Takashima

Do you yourself insert the hanao?

Hara 

Yes, I do. I still have a lot to learn, but I've been doing it for 10 years now.

Takashima

Have you always been very skilled with your hands?

Hara 

Fortunately, yes. I've been especially good at making things and delicate work since I was a child.

Takashima

As the fifth generation manager, are you going to try to create something new?

Hara 

Although it's important to make minor changes that suits the current era, I feel much more strongly the need to carry on tradition. 'Style' has been a valued concept at our shop from generation to generation, but the sense of style is different for each individual and each era. I feel that it is my job to consider how to express such style in each pair of zori.

Takashima

What are some important points?

Hara 

The way you insert hanao is very important. Inserting hanao is like drawing a curve. We make zori that are not painful to wear by twisting the hanao as we insert them to follow the curve of your feet. The way hanao are inserted differs completely for each shop, so the fit is completely different.

Takashima

If they don't fit properly, you can get blisters very quickly. Can you tell which zori are the perfect fit for a customer just by looking at their feet?

Hara 

Yes, I can. Surprisingly, many people have misconceptions about their own feet. I think they become convinced when the zori are adjusted in front of their very eyes.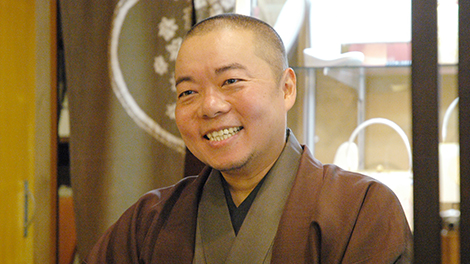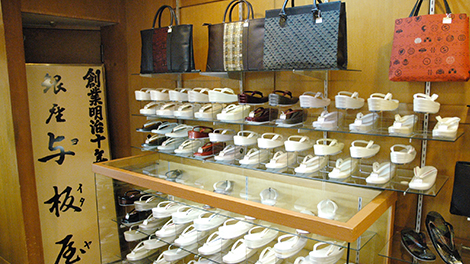 I hope Ginza never loses its unique warmth.
Takashima

It must be difficult running a trade in a prestigious location like Ginza.

Hara 

The environment has changed quite a lot. Old shops actually stand out.

Takashima

Yes, I think so too. Luxury brand shops like Jimmy Choo and Toryburch line the streets that look very Western-style now.

Hara 

Sometimes people are surprised when they see an old shop like ours in Ginza, but we were actually here first (laughs).

Takashima

That is funny (laughs). This street in particular is one of the more luxurious in Ginza.

Hara 

Yes, it is. Thinking about it now, opening a shop in this location was quite a foresight.
I left this area for a while when I was working as a salesman, and it made me recognize the wonderfulness of Ginza even more. I felt such relief when I returned. It's as if the air itself is different. I feel a sense of ease just walking through these streets.

Takashima

How do you want Ginza to be in the future?

Hara 

Looking in at Ginza from the outside, you see that foreign brands and high class nightclubs, and it might give a feeling of being too classy. But if you take one step further you sense a vibrant warmth, and of an area full of human kindness. Renewal is always important, and I welcome new things developing here that have a sense of 'Ginza,' but I hope it never loses its warmth.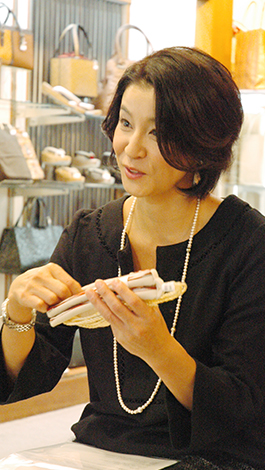 The next guest will be…
Takashima

Could you tell us about the next guest?

Hara 

Your next guest will be Choichiro Motoyama, the Chairman of the Sanmotoyama.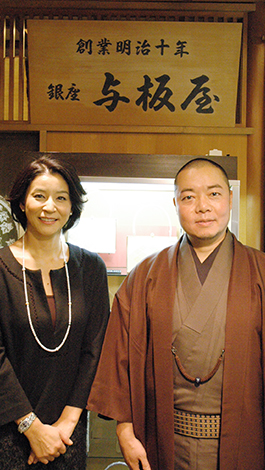 Chisako Takashima
Violinist. Started playing the violin at age 6. After playing abroad, she moved her home base to Japan, and gives concerts all over the country. Although her current focus is on performing music, she also appears on TV and radio programs. Thanks to her much-loved personality, she is appearing in more and more venues.
Chisako Takashima's official website
Shinji Hara
A true native of Ginza, born and raised in Ginza from 1972.
Fifth generation president of Ginza Yoitaya, a long-standing Japanese footwear shop that opened in 1877.
He says that the best feeling is putting together zori that customers say they feel great to wear.
Ginza Yoitaya Website
Writer: Mizuho Takahashi  Location: Ginza Yoitaya

Area linksInquiriesTerms of Use
System RequirementsAbout Us
© Ginza Information Management