GINZA CONNECTIVE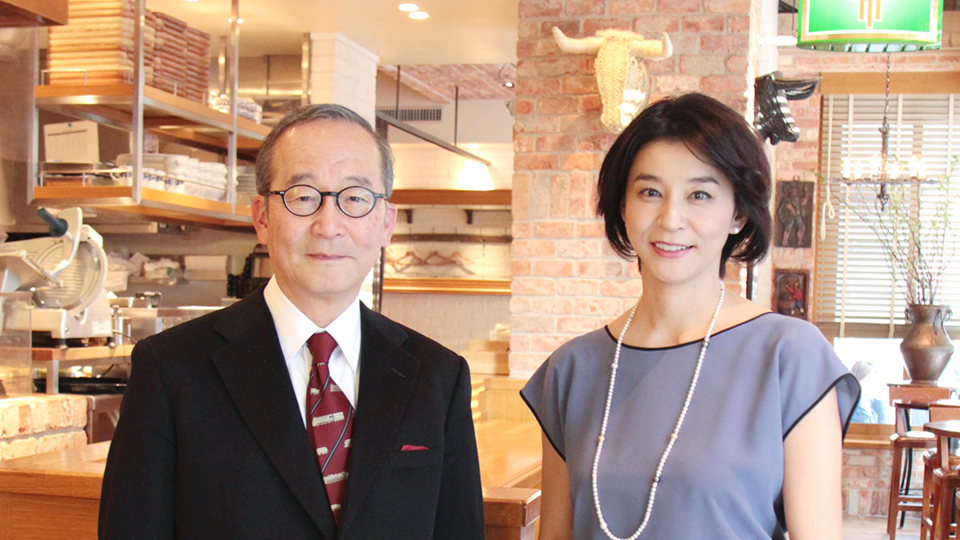 GINZA CONNECTIVE VOL.31
Yukichi Ishikura × Chisako Takashima
2014.04.01
A talk series with the violinist Chisako Takashima and the Ginza people. Ginza holds many personal and professional memories for Takashima. In this talk series, she thoroughly explores various aspects of the Ginza culture with her guests. Today's guest is Yukichi Ishikura, the president of Tsubame Grill, a restaurant that is famous for its hamburger steak.
Tsubameya, a restaurant that serves fresh lean meat from domestic cows purchased whole
Takashima

When did you open Tsubameya, the restaurant we are in now?

Ishikura

Last year in October, 2013. The concept and menu differ from those of Tsubame Grill. This is a restaurant for having delicious lean beef. We also serve hamburgers made with 100% beef pâté. A strength of the restaurant is that we buy whole domestic cattle so that we can offer cuts of beef from various parts at a reasonable price. I think many places serve meat that has been frozen, but we do not.

Takashima

Really? I would love to try some!

Ishikura

Of course we do not serve any pre-frozen meat. We buy about two head of cattle a day.

Takashima

I actually had a 360 g steak yesterday. I cannot live without meat. I especially love chuck beef. I even go so far as to have it shipped to me.

Ishikura

Really great meat can give you power and make you feel great the next morning. This dish was just prepared. Please try it. This is the Japanese Black cattle lean beef grilled steak.

Takashima

Wow! This is fantastic! Thank you.

Ishikura

Try it with these steak sauces. Have horseradish, yuzu-pepper or mustard as you like.

Takashima

This is totally different from the regular Tsubame Grill. I feel motivated now (laughs). Mmm, this is just delicious!

Ishikura

It has a great meat flavor, doesn't it?

Takashima

I chew and chew and it continues to have a rich meat flavor. If this were marbled beef, it would melt in your mouth right away and leave a fatty aftertaste. This, on the other hand, is truly outstanding!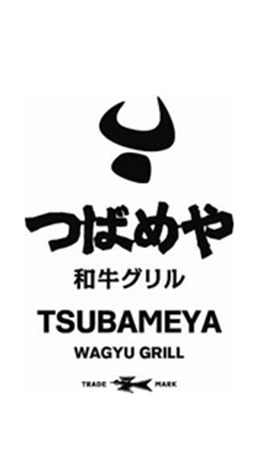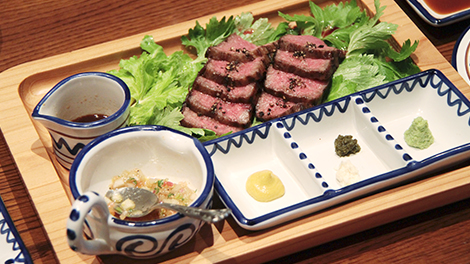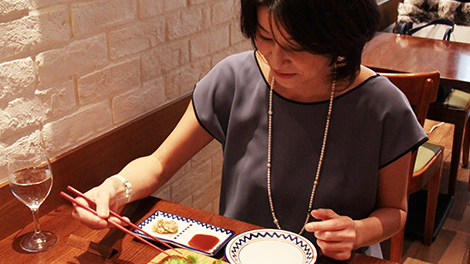 I always remember the words, "Ginza is the place where you just continue operating a decent business you wouldn't be ashamed to show your friends."
Takashima

Lastly, can you give us a message on Ginza?

Ishikura

I mentioned earlier the words of Shinichi Tanizawa's grandfather

This goes for my grandfather as well, but everyone started a business here because they admired Ginza. And newcomers have continued arriving both today and in the past. And we learn from these new folks. I want this energy to continue forever. I am also the director of the Ginza Ryoinkumiai (association of eating and drinking establishments in Ginza), that is comprised of 360 businesses in Ginza. The members are not all from veteran shops. There is even one man who quit a salaried position to start up his own bar a few years ago. I think Ginza accepts all types of people to a greater degree than other districts.

Takashima

Yes, but there's a very high turnover rate. I feel like business must be very difficult.

Ishikura

Certainly. The people who start up a business here are usually those who have seen a certain measure of success, but oddly enough, those who continue their previous style are slowly weeded out. I guess they need to find a way to blend in with the style and culture of Ginza.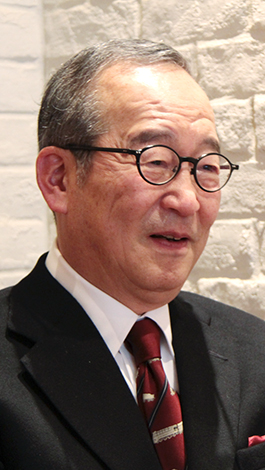 The next guest will be…
Takashima

Could you tell us about the next guest?

Ishikura

It's Seiko Yamada, the representative of Gallery Seizan. She is participating in the gallery event that is held in Ginza, and makes every effort to enliven the art world in Japan. I am sure you will hear many interesting stories about art.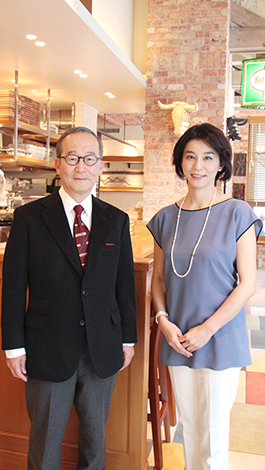 Chisako Takashima
Violinist. Takashima started taking violin lessons from the age of 6. After a successful career abroad, she moved her home base to Japan, where she currently performs in concerts across the country. Highly noted for her character in TV and radio appearances, she has currently opened up her career to more diverse fields with an unchanged focus on her profession.
Official website of Chisako Takashima
Yukichi Ishikura
President of Tsubame Grill, founded in 1930. Since its founding, this Western-style restaurant has continued serving genuine dishes, going to any expense to prioritize the great taste of the ingredients. Ishikura is also the director of the Ginza Ryoinkumiai (association of eating and drinking establishments in Ginza), and strives every day to energize Ginza. Enjoys golf and making model railroads. Sometimes makes model railroads together with his grandchildren.
Tsubame Grill Website
Tsubameya Website
Writer: Interviewer/writer: Mikiko Okai  Interview location: Tsubameya

Area linksInquiriesTerms of Use
System RequirementsAbout Us
© Ginza Information Management