GINZA CONNECTIVE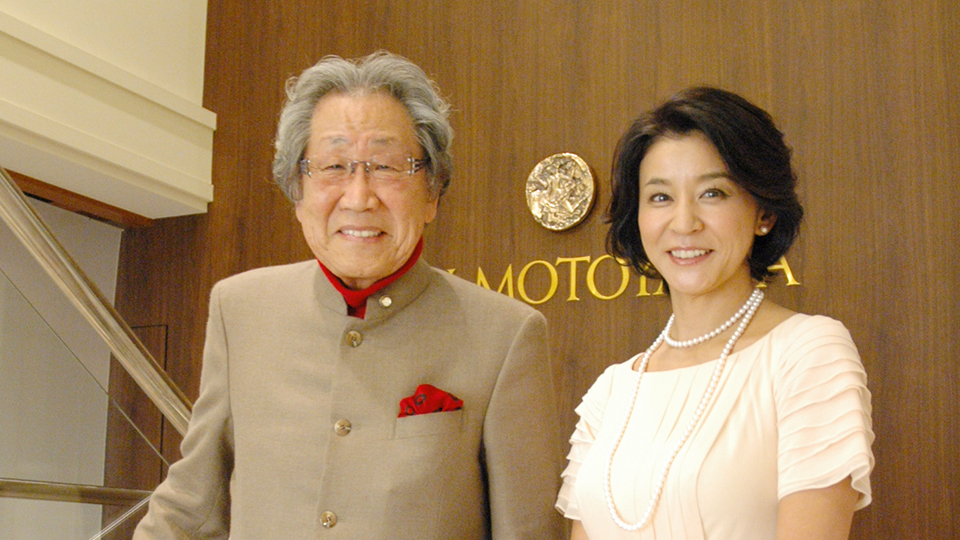 GINZA CONNECTIVE VOL.5
Choichiro Motoyama×Chisako Takashima
2012.02.01
A talk series with the violinist Chisako Takashima and the Ginza people. Ginza holds many personal and professional memories for Takashima. In this talk series, she thoroughly explores various aspects of the Ginza culture with her guests. Today's guest is Choichiro Motoyama, Chairman of Sun Motoyama who was among the first to introduce luxury European brands to Japan.
It is important for a "merchant" (akindo) to "keep customers from getting bored" (akisasenai).
Takashima

Not to change the subject, but may I ask how old you are?

Motoyama

I turned 90 last November.

Takashima

Really?! You look much younger!

Motoyama

Thank you (laughs). I still drop by the shop every day even now.
And of course assist customers.

Takashima

Really?!

Motoyama

After all, in Japanese, "merchant" (akindo) means "keep customers from getting bored" (akisasenai), and it is important to me also to "never get bored" (akinai). I get many tips from actually visiting the sales floor and talking with customers.

Takashima

Do you do anything special to develop your appreciation of aesthetics?

Motoyama

You may be surprised to know that I do not own a cell phone. People nowadays are always looking at everything on their cell phones, right? Well, I want to actually walk to a place, see it for myself and feel its atmosphere. Often, when you encounter a shop window that takes your breath away, you feel compelled to stop and take a look.
What is important for people are intuition and inspiration. I don't want to ever forget that.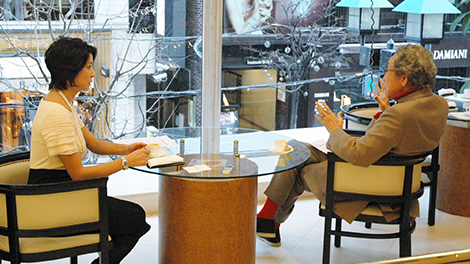 Ginza is "the world's Ginza."
Takashima

What do young people need in order to nurture their ability to recognize genuine products like you can?

Motoyama

It is not necessary to wear luxury brand goods from a young age. Right now Ginza is full of 'fast fashion' shops. Some people may worry that Ginza will lose its luxury appeal, but, personally, I think it's a good thing. You can go to Ginza and find an entire outfit for about 30,000 yen. I think it's important to do this in order to learn more and more about how to dress fashionably in a way that expresses your individuality and find your own, personal tastes.
Not long ago, there was a time when young women all proudly carried around the same luxury brand goods.
It's different today. It's not cool to wear the same thing as everyone else today.

Takashima

So you think people should value individuality more?

Motoyama

Exactly. You need to create your own color. At the same time, luxury brands stand side by side with these other fashions in Ginza. Young people can leisurely enjoy window shopping. This will naturally nurture their ability to pick out truly genuine products. I hope more and more young people do this in order to build the future foundation of Ginza.

Takashima

How do you think Ginza will change in the future?

Motoyama

Now that Haneda Airport has resumed international flights, I think more and more tourists will visit Ginza and promote its globalization. In Ginza, you can eat at delicious restaurants and go shopping. There are hotels and, if you walk a little, there are even some theatres. I doubt there is any other district packed so full of entertainment.
Also, Ginza is a safe area and the streets are beautiful. I think Ginza rivals Bond Street in London or rue du Faubourg Saint-Honore in Paris. Ginza is now "the world's Ginza."
The next guest will be…
Takashima

Could you tell us about the next guest?

Motoyama

It's Noriko Okazoe, the proprietress-to-be of Shinbashi Kanetanaka, one of the three best Japanese restaurants in Japan. I am sure you will hear many wonderful stories about this well-established restaurant that has continued serving the world of the geisha in Shinbashi since the Taisho era.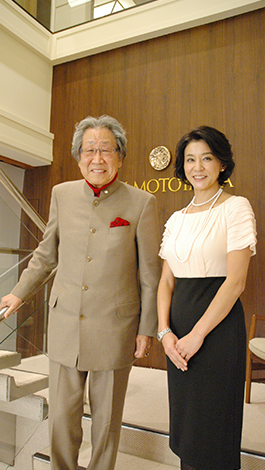 Chisako Takashima
Violinist. Started playing the violin at age 6. After playing abroad, she moved her home base to Japan, and gives concerts all over the country. Although her current focus is on performing music, she also appears on TV and radio programs. Thanks to her much-loved personality, she is appearing in more and more venues.
Chisako Takashima's official website
Choichiro Motoyama
Chairman of Sun Motoyama. Born in 1921. He was the first to introduce Gucci, Hermes and other luxury brands to Japan, and is known in Japan and throughout the world as a leading figure in fashion brand business.
His book called "Edokko-cho san no hakuraiya ichidaiki" (= "The life of foreign goods shopowner Tokyoite Cho"; published by Shueisha Inc.) is on sale.
Sun Motoyama Website
Writer: Mikiko Okai Interview location: Sun Motoyama Ginza Flagship Store

Area linksInquiriesTerms of Use
System RequirementsAbout Us
© Ginza Information Management