GINZA CONNECTIVE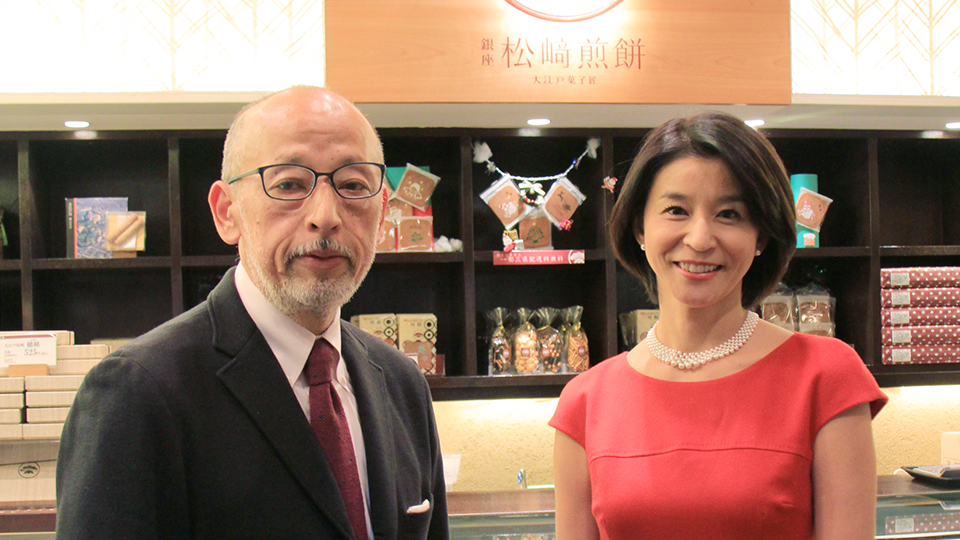 GINZA CONNECTIVE VOL.28
Munehito Matsuzaki×Chisako Takashima
2014.01.01
A talk series with the violinist Chisako Takashima and the Ginza people. Ginza holds many personal and professional memories for Takashima. In this talk series, she thoroughly explores various aspects of the Ginza culture with her guests. Today's guest is Munehito Matsuzaki, the president of Ginza Matsuzaki Senbei t hat has a long history going back to the Edo period.
We hold events on the second floor of the sembei shop. I want to try some new things.
Takashima

I understand that you also hold events in the tea room on the second floor of this building (where the interview is taking place).

Matsuzaki

Yes, my son hosts all sorts of events once or twice a month after the shop has closed. My son loves music, so he holds a variety of music events, like rock, bossa nova, and shamisen. So far, we have only offered Japanese sweets and tea, because I don't drink, but some guests said they wanted to enjoy some drinks with the music, so we are thinking of offering champagne and other drinks at future events.

Takashima

I don't drink at all either, so I know how you feel (laughs). You also have a gallery in this building?

Matsuzaki

We rent out the space. Many people come to Ginza just for the galleries, so they seem to enjoy it. We are often told that the space is too large for personal exhibits, but it is favored by calligraphy masters that often use it.

Takashima

All sorts of people come to Ginza.

Matsuzaki

This is true. It is also often used by photographers. Yuji Nishi, the creator of the manga comic "An Doughnuts," was a photography enthusiast and often came to take pictures. After he passed away in 2013, we held a retrospective exhibition of his works. The Takarazuka Revue Company actresses once held a fan club meeting in the second floor tearoom. We offer a custom service where you can put a picture of your choice on Shamido crackers, so they ordered Shamido with the names of the actresses to hand out to fan club members.

Takashima

Original Shamido, what a great idea! They're the perfect size for giving out to people. I want to have some made too! I hope I can order them someday when I go on tour.

Matsuzaki

I look forward to your order.
Second floor tea room where the events are held regularly
I want to develop this area with a concept that is oriented on the people living here.
Takashima

Please tell me about the spirit passed down through the generations that preserves shops with a long history.

Matsuzaki

Oh my shop is just a sembei shop, so I don't really have any grand plans (laughs). My grandmother used to tell me very strictly to put my heart and soul into every single sembei I bake. This is probably a relic of the olden days when they were made by hand, but I think it represents valuing each and every customer, for example when assisting them and in the packaging of the product.

Takashima

Your grandmother taught you many things.

Matsuzaki

Yes, she often told me to value things. Eat everything on my plate, without leaving a single grain of rice. Now I keenly feel the importance of such basic concepts. I hope that spirit is passed down the generations.

Takashima

That's wonderful. Lastly, can you tell me your thoughts on Ginza?

Matsuzaki

The Olympics are coming up, the Tsukiji market is going to be moved, and new apartment buildings are being built in the bay area, so another new wave is flowing through Ginza. The population here was shrinking at one point, but now the number of residents in neighboring areas is growing. Ginza used to be visited mostly by people from outside the district, but now I hope it will be enjoyed even more as a safe and secure place visited by those to whom it is like home.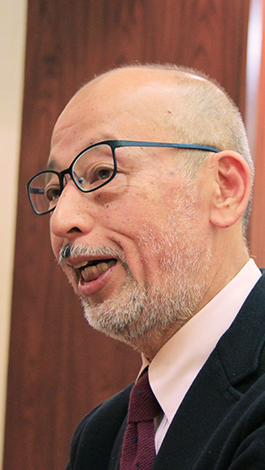 The next guest will be…
Takashima

Could you tell us about the next guest?

Matsuzaki

It's Hiroshi Hara, the president of Ginza Vogue that makes wonderful hats. Mr. Hara himself is also a hatmaker, so I am sure he will tell you some very interesting stories about hats.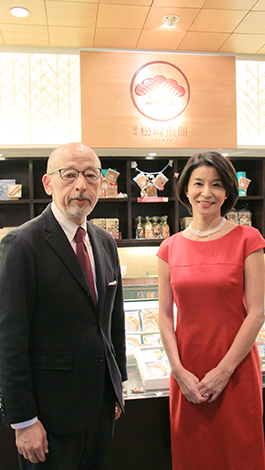 Chisako Takashima
Violinist. Started playing the violin at age 6. After playing abroad, she moved her home base to Japan, and gives concerts all over the country. Although her current focus is on performing music, she also appears on TV and radio programs. Thanks to her much-loved personality, she is appearing in more and more venues.
Chisako Takashima's official website
Munehito Matsuzaki
Born in 1953. President of Ginza Matsuzaki Senbei. Trained in Kyoto after graduating from university before becoming the seventh generation president. Enjoys walking in his leisure time. Once lost 20 kg. Walks along a 7 km course from the Shinkawa bridge to the Kachidoki bridge and the Ryogoku bridge along the Sumidagawa River while enjoying the seasons.
Ginza Matsuzaki Senbei Website
Writer: Mizuho Takahashi Interview location: Ginza Matsuzaki Senbei

Area linksInquiriesTerms of Use
System RequirementsAbout Us
© Ginza Information Management