GINZA CONNECTIVE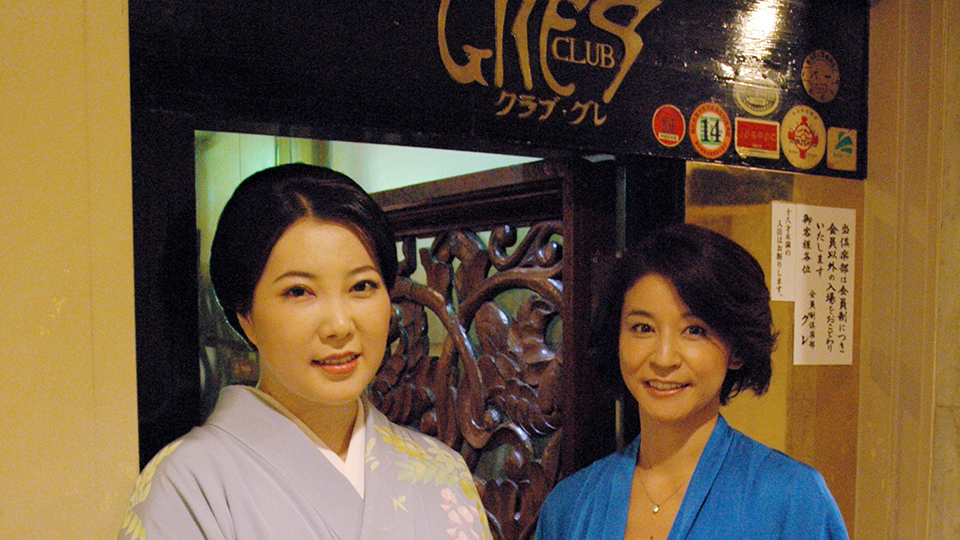 GINZA CONNECTIVE VOL.8
Sayuri Yamaguchi×Chisako Takashima
2012.05.02
A talk series with the violinist Chisako Takashima and the Ginza people. Ginza holds many personal and professional memories for Takashima. In this talk series, she thoroughly explores various aspects of the Ginza culture with her guests. Today's guest is Sayuri Yamaguchi, proprietor of the venerable exclusive CLUB GRÈS.
We sometimes recruit people with "From A."
Takashima

Can you tell me about a day in the life of a mama?

Yamaguchi

I get up at around 10:00 a.m. Then, I check faxed messages sent from the office. They also send me score sheets for the girls working in the club.

Takashima

Really? You have to do that as well?

Yamaguchi

Yes. That takes me about an hour, then I head out to yoga. In the evening I go to the salon to have my hair done, then I accompany a customer to a restaurant or somewhere and go to work at about 830 p.m.

Takashima

It must be wonderful going to a restaurant that serves delicious food every day. I want to do it too (laughs). Do you get any holidays?

Yamaguchi

I'm off on the weekends. But in reality, we have lots of kabuki actors and theater related people among our customers, so I often go to the theater on my days off.

Takashima

What are the hostesses at the club like?

Yamaguchi

We hire girls that are very characteristic and suit our customers preferences, such as girls who are fluent in languages, girls who are very fashionable, girls who are good talkers, cute girls and model types. We've focused on uniqueness since the last mama. Some of the girls have worked here for over 10 years.

Takashima

How do you find them?

Yamaguchi

Usually through personal connections. It's illegal right now to scout for new talent, so we sometimes solicit people with "From A."

Takashima

No kidding!! (laughs)

Yamaguchi

But we can't specify age or appearance on recruitment ads, and someone once came who was old enough to be a hostess's mother… we didn't know what to do (laughs).

Takashima

Yes, that would be a bit of a problem. That's hilarious (laughs).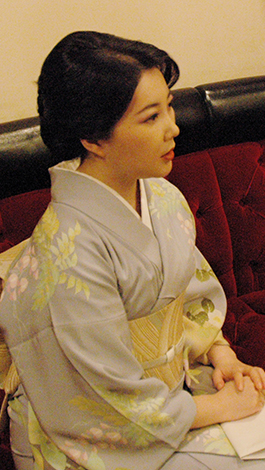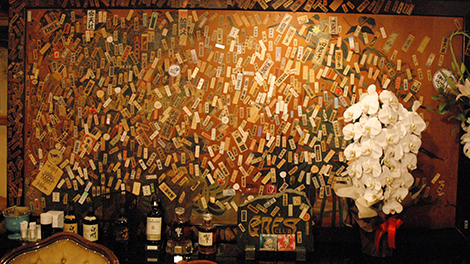 Senjafuda (slip of paper posted on shrine pillars by pilgrims) posted on one wall of the club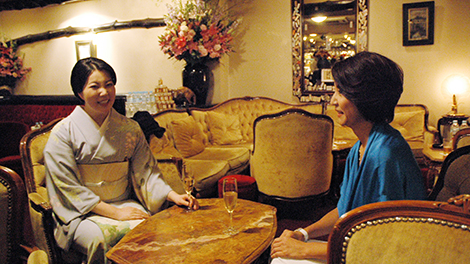 Mariko Hayashi, Naomi Kawashima and other celebrities became one-day proprietors.
Takashima

Last year, as an event to support Tohoku, I hear that you held a charity event where women from various sectors replaced me as Ichi-nichi mama (one-day proprietors) for one day.

Yamaguchi

That's right. I was wondering if there was anything I could also do to help, then writer Mariko Hayashi gave me the idea and I came to hold the event. I set the entrance fee at 20,000 yen, and, thanks to everyone's kindness, we were able to collect about 16 million yen in proceeds in 20 days. We donated the money to 6 volunteer organizations working in the disaster areas.

Takashima

That's amazing. Who were the mamas?

Yamaguchi

Mariko Hayashi, economic commentator Kazuyo Katsuma and actress Naomi Kawashima and many other young women volunteered, and every day it was a huge success. Our customers were also extremely pleased.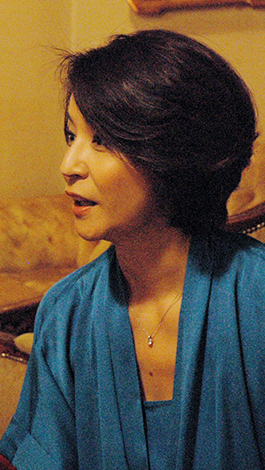 The mailboxes on Namiki Dori are not red, but green.
Takashima

From someone who has been watching Ginza for many years, what is the appeal of Ginza that cannot be found in other areas?

Yamaguchi

I only noticed this recently, but on Namiki Dori, the mailboxes are not red, but green. I think Ginza might be the only place in Japan that has green mailboxes. It goes beautifully with the gorgeous scenery of Namiki Dori. It is this kind of attention to details in order to preserve the landscape of the area that is part of Ginza's appeal.

Takashima

Is that so?? I didn't know either! Do you have any plans you want to carry out in Ginza in the future?

Yamaguchi

Ginza has a Ginza Social Interaction and Restaurant Association (an association to which all the bars and clubs in Ginza belong) called GSK. It is thanks to GSK that our streets are safe from crime and are kept beautiful. I would like help GSK somehow.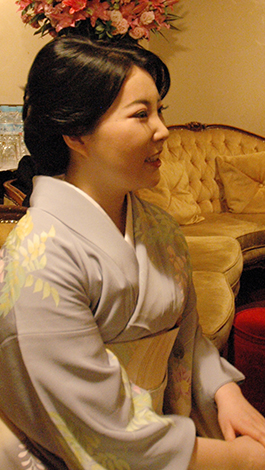 The next guest will be…
Takashima

Could you tell us about the next guest?

Yamaguchi

Yoshiki Tani, Representative Director of the longstanding Ginza restaurant, Mikasa Kaikan. He has managed a number of restaurants including French and Italian, and all are delicious. Discover his secrets.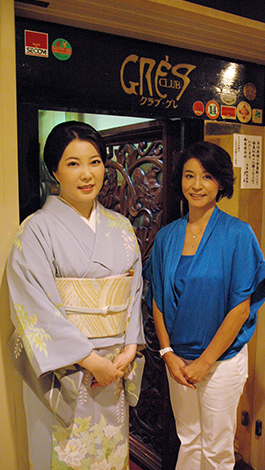 Chisako Takashima
Violinist. Started playing the violin at age 6. After playing abroad, she moved her home base to Japan, and gives concerts all over the country. Although her current focus is on performing music, she also appears on TV and radio programs. Thanks to her much-loved personality, she is appearing in more and more venues.
Chisako Takashima's Official Website
Sayuri Yamaguchi
Proprietor of the exclusive CLUB GRÈS in Ginza. Began working at a Ginza club after being scouted by a friend at age 19. She has a natural talent, and quickly moved up to number one place after starting.
Writer: Mikiko Okai  Interview Location: CLUB GRÈS

Area linksInquiriesTerms of Use
System RequirementsAbout Us
© Ginza Information Management