GINZA CONNECTIVE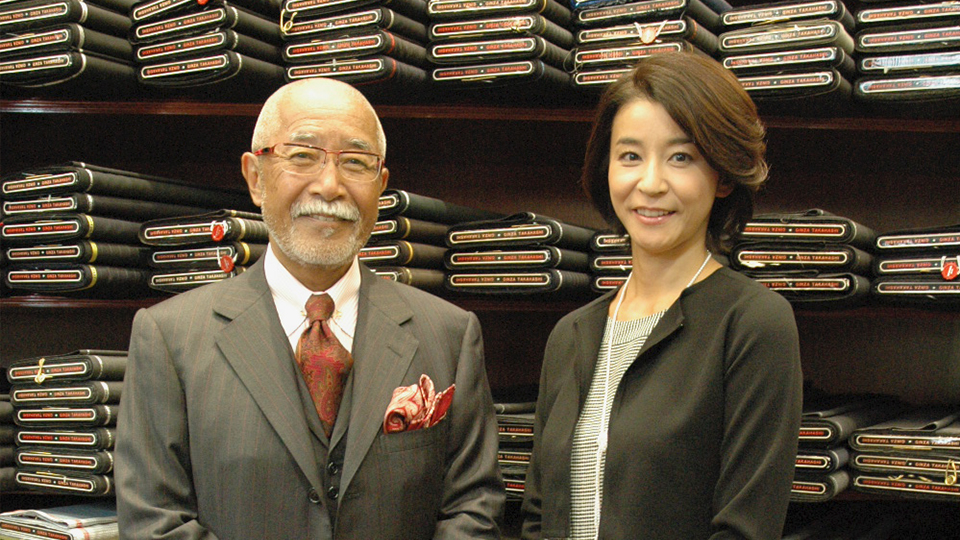 GINZA CONNECTIVE VOL.15
Jun Takahashi×Chisako Takashima
2012.12.03
A talk series with the violinist Chisako Takashima and the Ginza people. Ginza holds many personal and professional memories for Takashima. In this talk series, she thoroughly explores various aspects of the Ginza culture with her guests.Today's guest is Jun Takahashi, CEO of Tailor Ginza Takahashi, Ginza's oldest custom tailor.
We have started giving tailoring technique instruction classes to pass down the traditional techniques.
Takashima

I understand that you began offering classes to train tailors in 2003.

Takahashi

Yes, we did. Around the time I graduated from University, about 40 years ago or so, there were lots of different tailoring schools. Then the custom tailors began disappearing, and the demand for technical experts began dropping. I thought if the situation continued as is, there would eventually be nobody left to make suits. Then, the shop was approaching its 100th anniversary and I wanted us to do something to give back to society, so we decided to start teaching the skills of tailoring to the younger generation, though only about 4 or 5 people each year. Counting those who finished the course and our current students, we have taught about 30 people in total. Some of them even began sewing clothes for our own customers.

Takashima

That is wonderful!

Takahashi

I am very proud that, for a custom tailor that sells suits for about 300,000 yen a piece, the average age of our craftspeople may be the youngest around. Of course we count some veterans among our staff, but there are many craftspeople in their early 30s here.

Takashima

Younger people have good eyesight, so they would probably be well-suited to tailoring.

Takahashi

Yes, certainly. For the job of darning the button holes, there is absolutely no match for someone with good eyesight.

Takashima

Those are hand sewn?! I assumed they were sewn by machine…

Takahashi

Everything here is done by hand. Holes sewn with a sewing machine are no good. Incidentally, you can tell who sewed the suit by looking at the button holes. Younger craftspeople become more skilled just by doing it. Older craftspeople are of course very skilled, but their eyesight gets worse, so they are no match for younger people when it comes to button hole darning.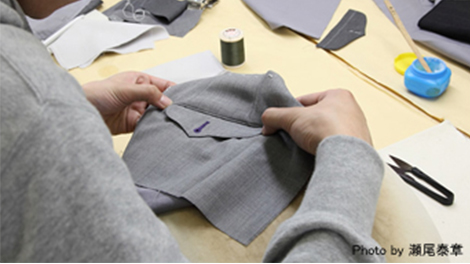 Tailoring technique instruction class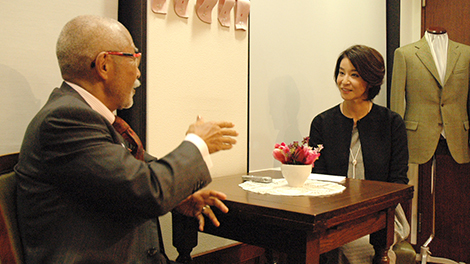 It's the people that run a business in Ginza that determine its image.
Takashima

Were you born and raised in Ginza?

Takahashi

Yes. I lived in Ginza until I got married at 30. Ginza is my legal domicile.

Takashima

That's amazing. Was Ginza very different back then?

Takahashi

Yes, it was much more laid back.

Takashima

Was there anywhere to play in Ginza?

Takahashi

Sure. On weekends and holidays we played catch in the street or played in the toy department of the department stores. The roof of Matsuya was also a great place to play.

Takashima

As your hometown, could you tell me your thoughts on Ginza?

Takahashi

Since the Meiji era, Ginza has encompassed a "free to come and go" style. Today as well, businesses or trends that don't match Ginza's style are eliminated by natural selection, and the opposite is equally true. I hope that Ginza continues to improve even more through this repeated process of regeneration. That's why I believe it's wrong to think Ginza was better in the olden days. Ginza is a district that has evolved through repeated regeneration in the past and continues to do so in the present, and this is a prime feature not seen in other areas. I also hope that Ginza will remain a special place to those who visit.

Takashima

I understand how you feel. Whenever I set out for Ginza, I always feel like I should get a little dressed up.

Takahashi

In that sense, I think Ginza is a place where you can enjoy some good tension. What makes me a little happy is when I tell my sons to come to Ginza and they say, "What should I wear?" To keep Ginza as a place with such allure, those running a business here have to straighten up. What I strive for is to never cause trouble for the other shops in Ginza. If this one shop does something vulgar, the entire image of Ginza is brought down. If we act decently, Ginza's reputation improves. It's the people that run a business in Ginza that determine its image.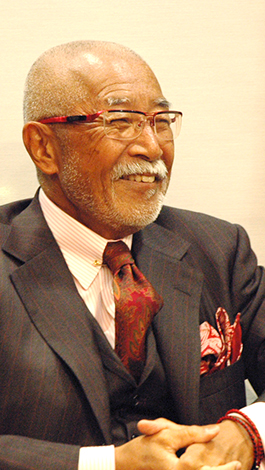 The next guest will be…
Takashima

Could you tell us about the next guest?

Takahashi

It's Yusuke Harada, the president of Sagamiya Fine Arts and Antiques. His shop is a long-standing art shop in Ginza, and he always exhibits absolutely wonderful works by a range of artists from those that can be considered masters to young artists. I am sure you will hear many stories about art.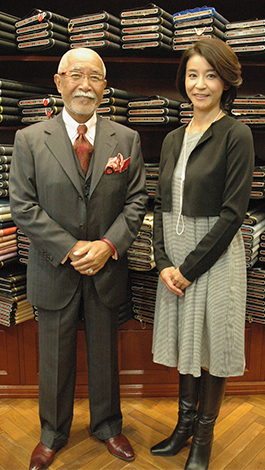 Chisako Takashima/h4>
Violinist. Started playing the violin at age 6. After playing abroad, she moved her home base to Japan, and gives concerts all over the country. Although her current focus is on performing music, she also appears on TV and radio programs. Thanks to her much-loved personality, she is appearing in more and more venues.
Chisako Takashima's official website
Jun Takahashi
Born in 1949. CEO of Tailor Ginza Takahashi. Graduated from a fashion school in Japan in 1975, then went to England to study at the London College of Fashion, becoming the school's first Japanese alumnus.
His book, "Kuro wa nihon no joshiki, sekai no hi-joshiki" (=Black is common sense in Japan, and senseless in the rest of the world. Published by Shogakukan) is in print.
He enjoys skiing and rugby, as well as sport kite (kite-flying) in the summer.
Website for Tailor Ginza Takahashi
Writer: Mikiko Okai Interview location: Tailor Ginza Takahashi

Area linksInquiriesTerms of Use
System RequirementsAbout Us
© Ginza Information Management