GINZA CONNECTIVE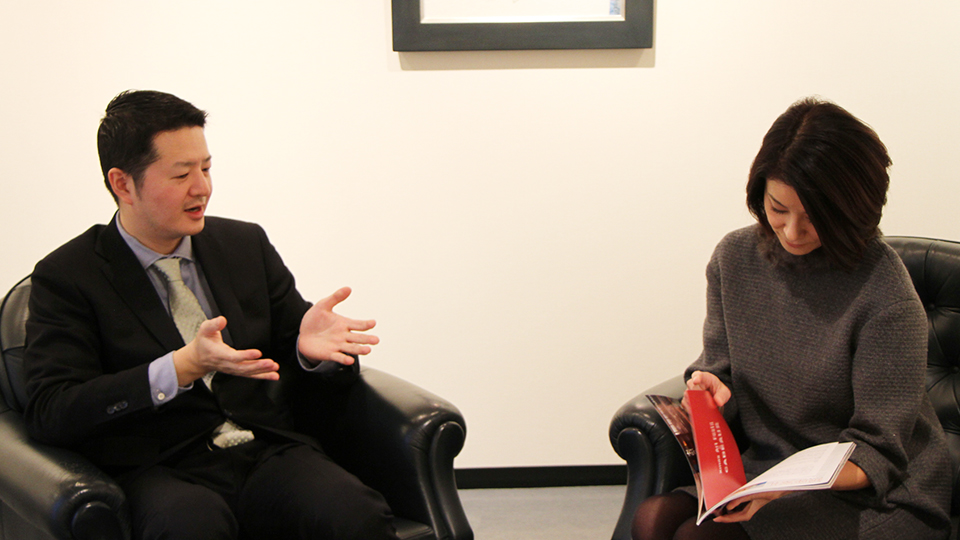 GINZA CONNECTIVE VOL.16
Yusuke Harada×Chisako Takashima
2013.01.07
A talk series with the violinist Chisako Takashima and the Ginza people. Ginza holds many personal and professional memories for Takashima. In this talk series, she thoroughly explores various aspects of the Ginza culture with her guests. Today's guest is Yusuke Harada, president of Sagamiya Fine Arts and Antiques, one of the most famous galleries in Ginza that is loved by many.
We create opportunities for people to visit galleries more easily.
Takashima

It seems like there are tons of galleries in Ginza. How many are there exactly?

Harada

Including rental galleries, I think there are about 200.

Takashima

That many! I didn't realize there were so many. Why are so many galleries concentrated in Ginza?

Harada

I'm sure it's because Ginza has always been the center of fashion and Tokyo, and brilliant works of art come together in brilliant places.

Takashima

Even though it's a busy shopping and entertainment district, an air of tranquility also flows through Ginza.

Harada

The reason we built Sagamiya in this spot on Suzuran-dori is because my grandfather strongly valued that tranquility. We built the gallery on a quiet street slightly more secluded in Ginza so that the noise would not interfere with visitors viewing the paintings.

Takashima

There is an air of elegance here. I feel nervous just stepping foot inside the door. Sagamita seems to have a high entry level, so it's hard to bring yourself to casually walk inside.

Harada

That may be the case usually, but it becomes much easier to walk in during certain events. Every year, we hold Garonoyakai (night gallery tours) at the beginning of summer. In 2013 it will be held on Friday, June 7 and Saturday, June 8. The event was started in 2004 with the concept of freely interacting with gallery owners and artists. Participating galleries hang special paper lanterns at their entrance to mark their participation.

Takashima

That sounds interesting. Can first time gallery visitors buy works of art?

Harada

Certainly. We display some pieces that are only about 50,000 yen. During the Christmas season or the night tours, we suggest giving a special person a painting as a present.

Takashima

Giving someone a painting! What a wonderful idea! I would love to take part in this event. I understand that you publish a magazine called Ginza Shiturai. What kind of magazine is it?

Harada

This magazine was created by six galleries in Ginza that work together to increase the familiarity of art galleries that are thought to have a high entry level. Different galleries display pieces with slightly different auras. This magazine introduces the galleries and describes certain pieces we want to introduce along with photos.

Takashima

It is a really content-rich magazine, with gorgeous photos as well as interviews and restaurant descriptions. Where can we find it?

Harada

You can get one at each of the galleries or at hotels that we have business with. They are available for anyone. You can also buy a catalog on the Internet(http://ginza-shiturai.com/).
I am happy to say that they have a modest reputation.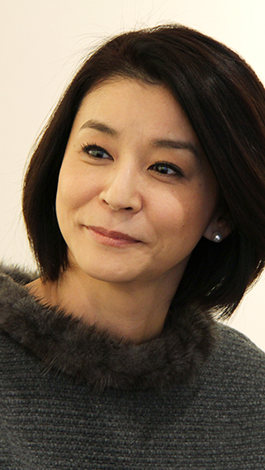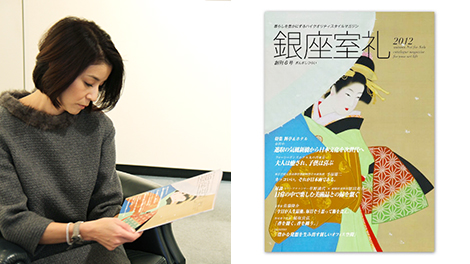 "ginza shiturai" published independently by galleries in ginza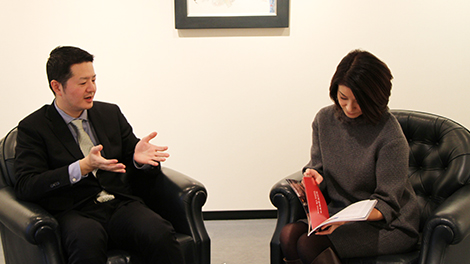 I always straighten up to keep myself as dignified as Ginza.
Takashima

What kind of place is Ginza to you?

Harada

Ginza has a certain high-class aura. Many dignified people and clean-cut people come here, so I also have to straighten myself up to speak with them. I always try to maintain a proper appearance and attitude.

Takashima

I see. Because it's Ginza, you have to stand up straight for certain customers. As the gallery has a long history, has your gallery maintained associations with customers throughout generations?

Harada

Yes, we have continued associating with them in various ways. We have continued associating with families that have a variety of tastes, with previous generations preferring Japanese paintings and new generations preferring Western-style paintings. We sometimes receive requests to help sell or restore art pieces purchased by the older generation.

Takashima

Personal preferences for arts differ greatly, so you associate with customers in various ways.

Harada

Exactly. Artistic preferences differ completely between individuals. For example, the same art piece is sometimes valued very differently in Japan and in other countries. This point is also very interesting. Japanese art rarely makes it to other countries.

Takashima

Is that so? Do you mean that Japanese art is sealed off to the outside world?

Harada

In a way, yes. Perhaps subtle Japanese nuances are not completely conveyed in other countries. But this is not always bad. You may have another chance to see pieces that go overseas at a major museum like the Metropolitan Museum of Art, but otherwise, there is a good chance that you will never again see pieces from an artist you like once they leave Japan.

Takashima

If you put it that way, it is kind of nice that Japanese art stays in Japan.

Harada

I think so. That said, I want to introduce more and more active young artists to countries outside of Japan.

Takashima

Ginza galleries might start moving their activities abroad.

Harada

Yes, we want to introduce Japanese art from Ginza to the rest of the world.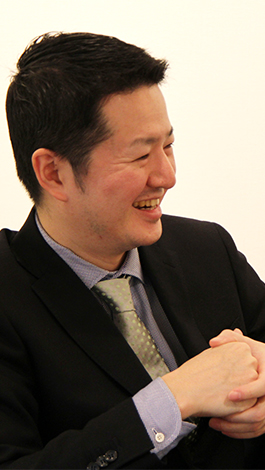 The next guest will be…
Takashima

Could you tell us about the next guest?

Harada

It's Lintaro Mizuhara, president of Ginza Seigetsudo. His family ran a famous French restaurant in Ginza from the post-war period until recently. They presently have a rental gallery and café in Ginza and a restaurant in Shinjuku. I hope you will hear interesting stories about the history of the restaurant and the changes in Ginza over time.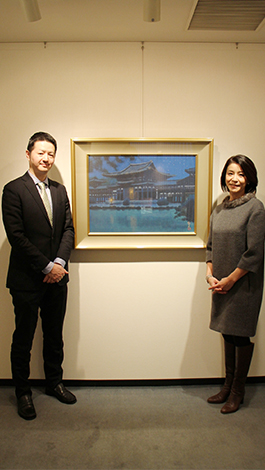 Chisako Takashima
Violinist. Started playing the violin at age 6. After playing abroad, she moved her home base to Japan, and gives concerts all over the country. Although her current focus is on performing music, she also appears on TV and radio programs. Thanks to her much-loved personality, she is appearing in more and more venues.
Chisako Takashima's official website
Yusuke Harada
President of Sagamiya Fine Arts and Antiques. He introduces mostly modern Japanese and Western-style art by artists ranging from great masters to emerging artists in a variety of exhibitions. He is on friendly terms with a wide array of artists. Numerous customers place their complete trust in his detailed assistance including consultations for commissioning works, appraisals and restorations.
As a side activity, he also edits the "Ginza Shiturai" magazine. His interests are art appreciation, tea ceremony, Kouta (Japanese ballads accompanied on the samisen), and skiing.
Website for Sagamiya Fine Arts and Antiques
Website for Ginza Shiturai
Writer: Mizuho Takahashi  Interview location: Sagamiya Fine Arts and Antiques

Area linksInquiriesTerms of Use
System RequirementsAbout Us
© Ginza Information Management