GINZA CONNECTIVE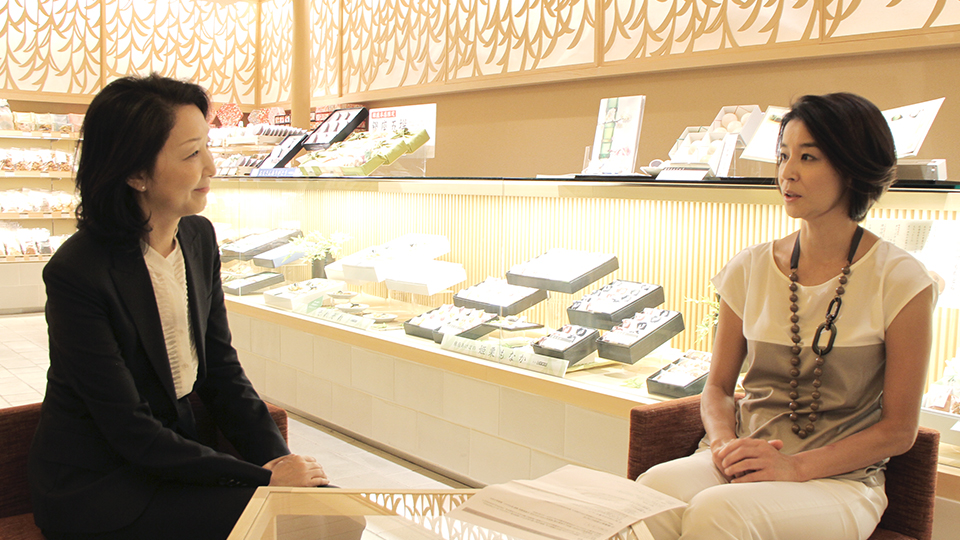 GINZA CONNECTIVE VOL.21
Kayo Hosono×Chisako Takashima
2013.06.03
A talk series with the violinist Chisako Takashima and the Ginza people. Ginza holds many personal and professional memories for Takashima. In this talk series, she thoroughly explores various aspects of the Ginza culture with her guests. Today's guest is Kayo Hosono, the third president of Ginza Akebono, a Japanese style confectionery that was opened in 1948, just after the war.
Selling brand new products is characteristic of Ginza
Takashima

Your father must be happy that you have succeeded the business.

Hosono

I'm not so sure about that (laughs). My father is a very intense person, and he is always getting angry with me. You need to increase sales more! This is different from when I ran the shop! We are always fighting (laughs).

Takashima

Your father-daughter relationship sounds like a TV drama!

Hosono

One time he saw our sales and got so worried he tried to intervene, and we got in a major dispute. Afterwards he gave me a letter apologizing. If you are going to apologize, don't do it to begin with, right? (laughs).

Takashima

Your father is very amusing. My father is 77 years old, but he is so healthy and has far too much energy… But I have never received a letter of apology from him (laughs). He still travels around the country to produce concerts.

So you took over the family business while observing how your father worked?

Hosono

My father does not talk about his feelings as president of the company or his ideas concerning products, but when you look at the products he makes, you can see the intention he had when developing it. I try not to ruin that.

Takashima

What kinds of products has your father created?

Hosono

Our "Aji no mingei" that is okaki (baked mochi snacks) with cheese inside is a hit product that my father created. I remember often seeing my father doing research on cheese when I was little. He was told that combining cheese with okaki was very wrong, but I think he must have felt that doing research to develop new products is characteristic of Ginza. He would only say things like, "as long as it sells," and never talked about his true feelings (laughs).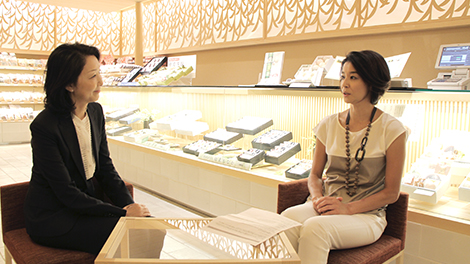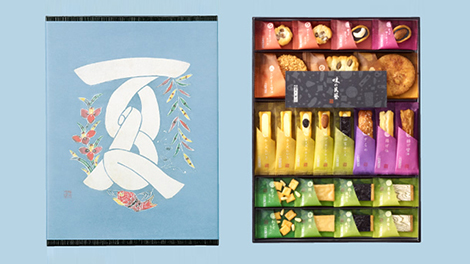 My treasure is having met people that truly love Ginza
Takashima

Ginza Akebono has many shops. What do you strive for at the main shop?

Hosono

The main shop is the best place for us to express our goals. Our vision is of a "Ginza Akebono that satisfies your heart." I want our shop to be a place that fills the hearts of not only customers, but also of those working here with us and my own heart.

Takashima

That is lovely!

Hosono

I want it to be a shop that not only pleases customers, but also makes us happy through interaction with customers. The image I have is that the main shop is the core, and this atmosphere spreads outwards to all the other shops.

Takashima

That sounds wonderful. Lastly, could you tell me your thoughts on Ginza?

Hosono

Sure. Something I learned while doing various jobs with people in Ginza is that everybody really cherishes this district. There are some people who even devote more effort to Ginza than to their jobs (laughs). Meeting these veteran Ginza people is my treasure, and I have learned many things I could only learn in Ginza.

Takashima

If there are people like that, Ginza will surely develop even more.

Hosono

Not just the veterans, but also the younger people are really working very hard, so I look forward to seeing Ginza in the future. To me, Ginza is a place that straightens me up and inspires me to work hard. I hope to continue incorporating new things into Ginza Akebono and watch it evolve.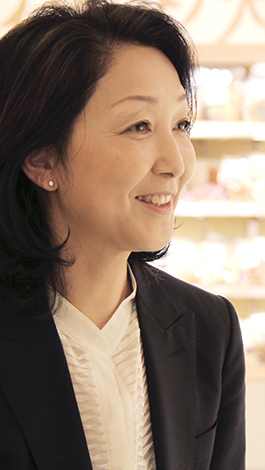 The next guest will be…
Takashima

Could you tell us about the next guest?

Hosono

It's Mitsuru Saito, president of Ginza Sembikiya. He runs a long-standing upscale fruit shop that has been around for many, many years. I am sure you will hear many interesting stories about requirements for quality fruit and other topics.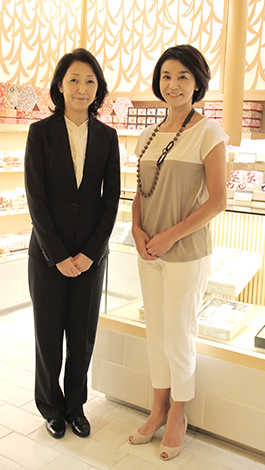 Chisako Takashima
Violinist. Started playing the violin at age 6. After playing abroad, she moved her home base to Japan, and gives concerts all over the country. Although her current focus is on performing music, she also appears on TV and radio programs. Thanks to her much-loved personality, she is appearing in more and more venues.
Chisako Takashima's official website
Kayo Hosono
Third generation president of Ginza Akebono, a Japanese style confectionery.
After graduating from university, began working at Ginza Akebono. Worked in factory production, shop retailing, product planning, and others. A hit product Ms. Hosono developed is the summer refreshing "Kuchi doke mizu yokan" (jellied red bean paste that melts in your mouth). On the weekends, she spends time with her husband raising crops using the 'natural farming' method that involves letting the crops grow in natural weather conditions.
Website of Ginza Akebono
Writer: Mizuho Takahashi  Interview location: Ginza Akebono Ginza Main Shop

Area linksInquiriesTerms of Use
System RequirementsAbout Us
© Ginza Information Management