GINZA CONNECTIVE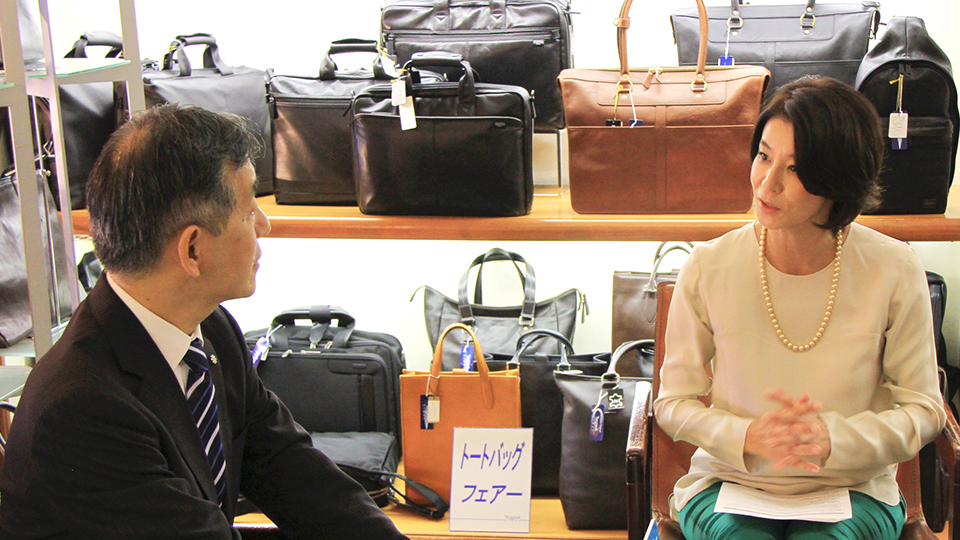 GINZA CONNECTIVE VOL.26
Shinichi Tanizawa×Chisako Takashima
2013.11.01
A talk series with the violinist Chisako Takashima and the Ginza people. Ginza holds many personal and professional memories for Takashima. In this talk series, she thoroughly explores various aspects of the Ginza culture with her guests. Today's guest is Mr. Shinichi Tanizawa, the 4th generation president of Ginza Tanizawa, a veteran bag shop.
Ginza seasonal events and contributing to community development
Takashima

You became the chairman of the Ginza Association and of the Ginza Street Association this past April. What types of things are you doing?

Tanizawa

This year we are working on the street-side foliage. The current trees were planted as an experiment, and we are currently in the process of moving on to the full-scale stage while receiving advice from experts. Also, you can now get free WiFi in Ginza. We launched this service last year, mostly aimed at use by foreign tourists. We installed 13 access points on Ginza-dori last year and 9 on Harumi-dori this year, gradually expanding the service area.

Takashima

Having free WiFi at your travel destination is really useful.

Tanizawa

We also hold events, Right now we are preparing for Autumn Ginza, an event that will be held right around the time this article is published. For example, the event includes Restaurant Week, where high-entry restaurants offer meals at set prices of 3000 yen for lunch and 10,000 yen for dinner, to make people feel easier about entering without reserve. The main event is Ginchakai , during which open air tea ceremony is held at various locations along Ginza-dori. The five tea ceremony schools will come together for the event, and each will hold tea ceremony at open air venues – a feat that surely has not been attempted elsewhere.

Takashima

It's a part of Ginza's fall scenery, isn't it?

Tanizawa

At Ginchakai, sweets from famous confectioners are offered along with the tea, and, this year, some spots are offering sweets from Tohoku shops.

Takashima

That sounds wonderful.

Tanizawa

Autumn Ginza is held until November 3, so please come and see it. After that we will have the year-end illumination. This year's theme will be "Ring of Hope" and it will be lit up from December 3. It's certainly something to look forward to.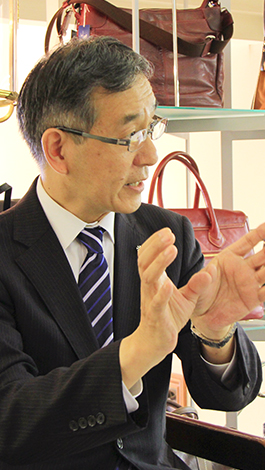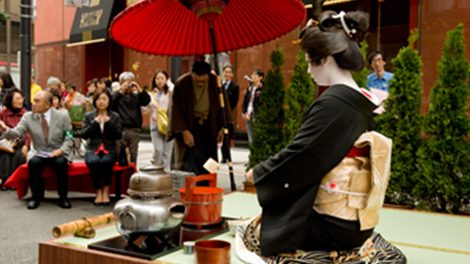 Ginchakai, the main event in Autumn Ginza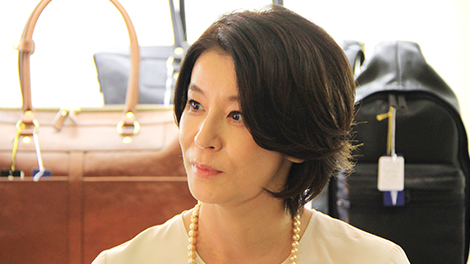 The charm of Ginza is that it values tradition and culture and is a place for everyone to enjoy
Takashima

How would you like Ginza to be in the future?

Tanizawa

I want Ginza to always keep its distinctive character. So you might ask, what exactly is this character? Well, in 1984, my predecessors formulated a Ginza Charter as guidelines for the Ginza district. It still hangs on the wall of the Ginza Street Association meeting room even now. It is centered on three pillars that are "Ginza is a traditional place with an abundance of creativity," "Ginza is a cultural place with high class and sensitivity," and "Ginza is an enjoyable place that is overflowing with internationalism." This is precisely what I feel is ideal for Ginza. I want Ginza to remain a place that values tradition, that cherishes commerce culture and theatre culture, and that is enjoyable for visitors. It is for this reason that I became a board member of the Ginza Street Association and I have to always consider what I could be doing for Ginza at any moment.

Takashima

For the last 16 years or so I've been giving Ginza Mezamashi Classics concerts at Oji Hall. We chose Ginza because of how it carefully preserves traditions while at the same time incorporating new concepts – something that resonates with our own activities.

Tanizawa

Yes. What you have said describes Ginza perfectly.

Takashima

Now we hold concerts all over Japan, but there are few places that fuse new concepts with tradition.

Tanizawa

You're probably right. This is exactly what Ginza's character is made of.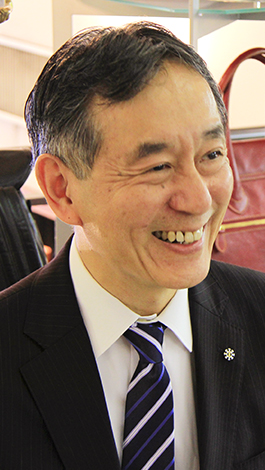 The next guest will be…
Takashima

Could you tell us about the next guest?

Tanizawa

It's Mr. Suzuki, president of Ginza Miyukikan, one of the most well-known cafés in Ginza. Their mont blanc is very famous and is absolutely delicious. When going for the interview, please give it a try.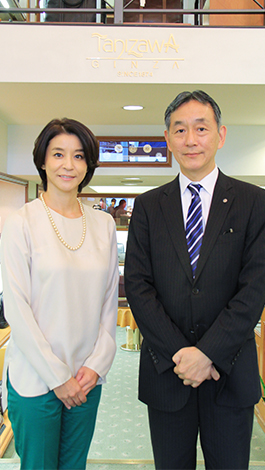 Chisako Takashima
Violinist. Started playing the violin at age 6. After playing abroad, she moved her home base to Japan, and gives concerts all over the country. Although her current focus is on performing music, she also appears on TV and radio programs. Thanks to her much-loved personality, she is appearing in more and more venues.
Chisako Takashima's official website
Shinichi Tanizawa
President of Ginza Tanizawa, a specialty bag shop. The 4th generation president of the long-standing shop that has continued releasing showpieces and items that would become famous, one after another, so much so that it is said that "The history of Ginza Tanizawa is the history of bags in Japan." Became chairman of the Ginza Association and the Ginza Street Association in 2013 and is currently working to develop Ginza alongside his regular shop duties.
Ginza Tanizawa Website
Writer: Mikiko Okai  Location: Ginza Tanizawa

Area linksInquiriesTerms of Use
System RequirementsAbout Us
© Ginza Information Management