GINZA CONNECTIVE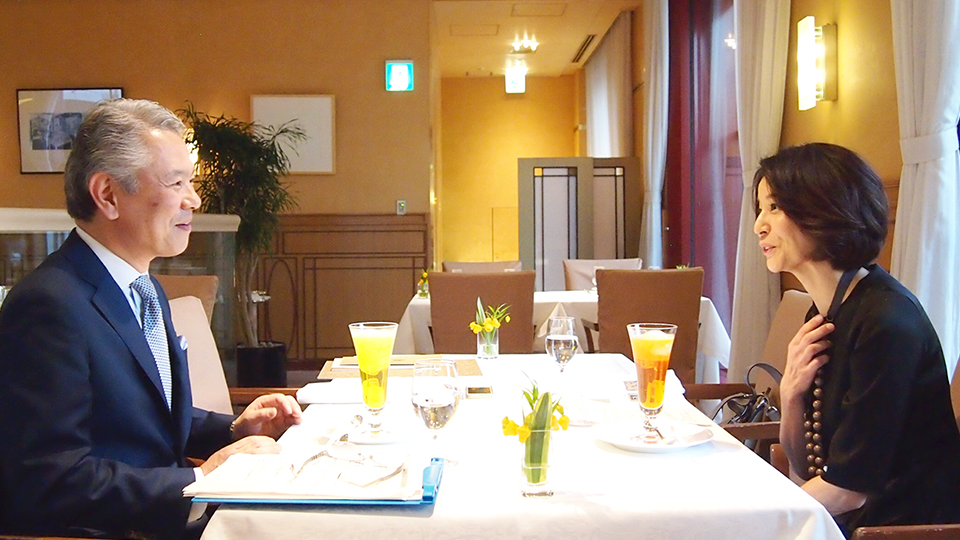 GINZA CONNECTIVE VOL.42
Makoto Suzuki×Chisako Takashima
2015.04.01
An interview series featuring Ginza people in conversation with violinist Chisako Takashima. With a special fondness for Ginza, which holds many memories both from her professional and private lives, Takashima explores Ginza from various dimensions with her guests. In this volume, she welcomes Mr. Makoto Suzuki, CEO of Shiseido Parlour, which has been in business in Ginza from the Meiji era.
Offering smiles and happiness with scrumptious food! Serving food with the hope that its will enhance the beauty of those who savor it.
Takashima

Shiseido Parlour is on everyone's wish list, and I am sure that many of your customers are very good judges of quality. What are some of the things that you are mindful of?

Suzuki

I believe that a meal is the same as music, and that we are supposed to enjoy it with our five senses. We listen to the menu being explained with our ears, we see and smell the savory food with our eyes and nose, and we feel the temperature of the food with our hands when we can touch it. We believe that it is not just the taste of the food we serve but that extra hospitality that is important. Since a meal is not something you can take home with you once you finish it, we are constantly conscious of how to change those two or three hours into an inspiring experience.

Takashima

Now that you mention it, music and food have many things in common.

Suzuki

Please indulge in our ever-popular strawberry parfait, today.

Takashima

Really! Thank you very much. This is what you call "indulge" (laughs).

Suzuki

Our strawberry parfait is made in a way that you can enjoy strawberries at their best when they are in season. The fresh vanilla ice cream enhances the sweetness of the strawberries. The sauce topping the parfait is made by crushing the same strawberries.

Takashima

(takes one bite) This is exquisite! First of all, the aroma is wonderful. I love the sauce for its simpleness and straightforwardness. It is a classic of classics and it is luxurious.

Suzuki

I am pleased that you are enjoying it. Shiseido has always had a passion for enhancing people's beauty through food. Delicious food creates smiles and arouses happy emotions, which can make people even more beautiful. I would be delighted if people could have inspirational and thrilling experiences here.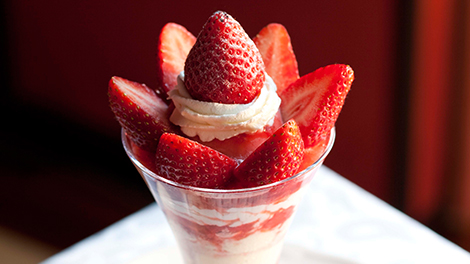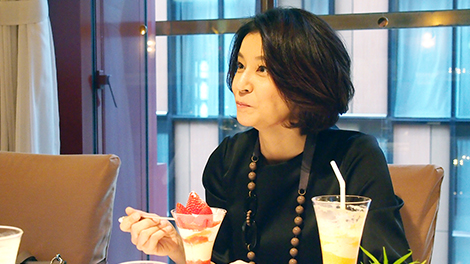 Ginza, a place for people familiar with authenticity who come in pursuit of authenticity.
Takashima

As we close, could you tell me about your feelings for Ginza?

Suzuki

Shiseido Parlour has restaurants outside of Tokyo, but Ginza is exceptional. While I feel that it is my duty to preserve the traditions of our long-established restaurant, I also believe that it is important to be open to new trends.

Takashima

It must be challenging with so many sophisticated customers.

Suzuki

Yes, you are right. I believe that Ginza is a place where people who are well acquainted with authenticity gather in pursuit of authentic goods and services. I think it is important that we are constantly exploring good quality. The world is full of price competition, but I endeavor every day not to surrender to that trend.

Takashima

Truly good quality is, in the end, always the best.

Suzuki

Being close to Tsukiji, we have access to high-quality food in Ginza and that is why we have many of the best sushi bars and Japanese restaurants. In order to serve food that our customers can feel comfortable having, we insist on using domestic ingredients and use our culinary technique in serving our food.

Takashima

I think that foreigners who come to Ginza during the Tokyo Olympics will be astonished at how high the quality is here (laughs)!

Suzuki

Yes, Ginza will be the gate to Japan in the 2020 Olympic Games. As we welcome overseas guests, I hope that we can make Ginza an even better town, by preserving Ginza's dignity and other traditional features that should be preserved as well as in taking new challenges.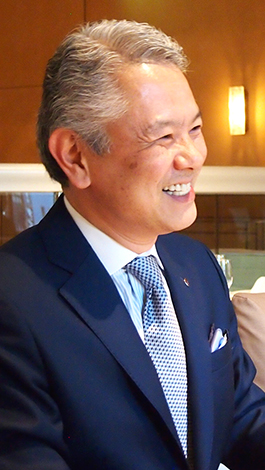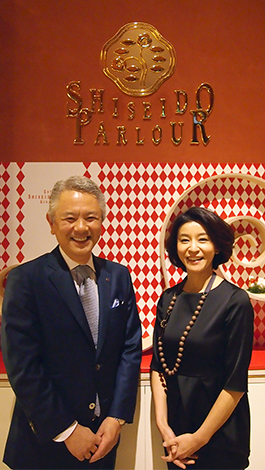 Chisako Takashima
Violinist. Takashima started taking violin lessons from the age of 6. After a successful career abroad, she moved her home base to Japan, where she currently performs in concerts across the country. Highly noted for her character in TV and radio appearances, she has currently opened up her career to more diverse fields with an unchanged focus on her profession.
Official website of Chisako Takashima
Makoto Suzuki
Suzuki became CEO of Shiseido Parlour in July 2013. Under his motto, "The mutual inspirational culinary experience," he seeks to enjoy creating an inspirational experience with his customers. His favorite pastime being dining at different restaurants, he enjoys eating out with his wife on weekends and studying different combinations of food and colorful food presentation.
Shiseido Parlour website
Written by Mizuho Takahashi; Place of interview: Ginza Shiseido Parlour

Area linksInquiriesTerms of Use
System RequirementsAbout Us
© Ginza Information Management