GINZA CONNECTIVE
GINZA CONNECTIVE VOL.45
Koko Kameoka × Chisako Takashima
2015.07.07
An interview series featuring Ginza people in conversation with violinist Chisako Takashima. With a special fondness for Ginza, which holds many memories both from her professional and private lives, Takashima explores Ginza from various dimensions with her guests. In this volume, she welcomes Ms. Koko Kameoka, President of Taikakukan.
The Yukata de GinBra festival – a summer event born from collective creativity
Takashima

I have been told that it was originally your idea to launch the Yukata de GinBra (=strolling through Ginza in a yukata) festival, which has become an annual summer event in Ginza.

Kameoka

I cannot not take entire credit for it. It was an idea collectively developed by all the members of the Ginmikai's Planning Division, which I had happened to head at the time.

Takashima

Was there any special occasion that led to the event?

Kameoka

In Ginza, we hold the Holiday Promenade on the first Sunday of August to celebrate being home to the first Pedestrian Paradise (vehicle-free street). We used to decide on a different theme every year. Yet, we tried not to spend too much money on it and some storeowners would even handcraft paper strings for goldfish scooping.

Takashima

That is quite a lot of work.

Kameoka

Yes. Since we were all voluntarily involved, we would gather after business hours and discuss details through the night. I felt that we should not have to come up with a new theme every year, but that we should turn it into an event that could build on past experiences – one that fits Ginza's image and would thus be continued into the future. It was just then that we received a proposal for uchimizu (=sprinkling water in the streets) and I was inspired to launch something very Japanese for the Holiday Promenade. I thought yukatas would match the refreshingly cool image of uchimizu。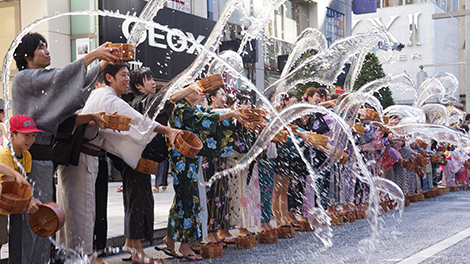 Uchimizu during the Yukata de GinBra festival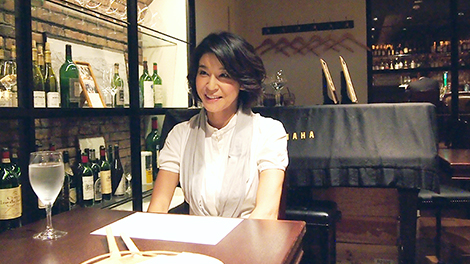 Takashima

So, that is how Yukata de GinBra started.

Kameoka

Yes. The yukata was originally worn as room wear or pajamas, but just around then, young girls began to wear yukatas with bold patterns and enjoying yukatas as a fashion. Many of us have the impression that kimonos are difficult to wear, but yukatas can be worn very easily. Some people may even be inspired to take lessons in traditional Japanese arts or learning how to wear kimonos.

Takashima

How did the event go the first year?

Kameoka

The main event was the Ginza Lottery. We asked each business in Ginza to donate some merchandise for the occasion which added up to several million yen.

Takashima

Really! That sounds exciting!

Kameoka

Since it was our first lottery, we offered some very luxurious prizes. The Grand Prize was accommodation at a hotel in Ginza and dinner at a renowned restaurant, and the two Ginza Prizes were tickets to indulge in getting clothes tailored in Ginza. One ticket entitled the winner to having a suit tailored at Ichibankan Tailor and the other was for a yukata to be made at Ginza Kunoya.

Takashima

Do you still have this lottery?

Kaemoka

No, we haven't continued it (laughs). Every year, the planning committee devises new ideas.

Takashima

It reminds me of the enthusiasm I used to have for planning school festivals.

Kameoka

That is very true. Please come to Ginza in your yukata this summer for Yukata de GinBra.
Hoping that Ginza will always be the most renowned town in Japan
Takashima

Are you still involved in formal activities in Ginza?

Kameoka

Yes, I am involved in planning and managing an event called Ginchakai that we host in autumn. I have also become a board member of the Ginza Street Association this year. Its membership comprises owners of buildings on Ginza and Harumi Streets and is thus the largest street association in the Ginza district.

Takashima

That should make you busy again.

Kameoka

Yes, but being involved allows me to have the opportunity to speak with more experienced business owners and to make new friends whom I can consult with when I am faced with challenges, so it is actually very rewarding. What is gained from the experience surpasses the time consumed for it. We have been in business for over 100 years in Ginza. Ginza has treated us very well and it is my pleasure to be able to do something in return.

Takashima

Before we close, may I ask you to talk about your feelings for Ginza?

Kameoka

I believe Ginza embraces a mixture of Japanese and Western culture. With an increasing number of people visiting Ginza from different parts of the world, I expect it will develop into an even more fascinating town through the introduction of a variety of cultures. I hope that it will always be the most renowned town in Japan, as it has been to date.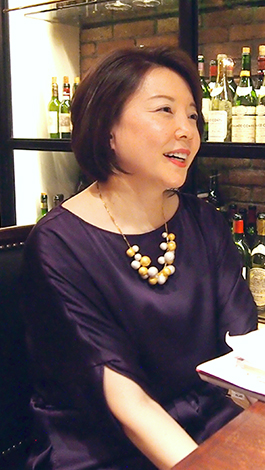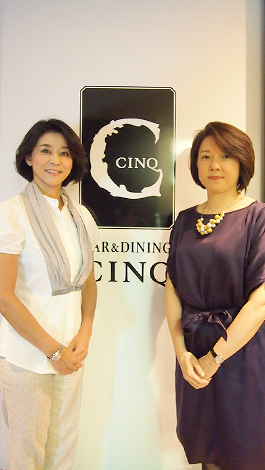 Chisako Takashima
Violinist. Takashima started taking violin lessons from the age of 6. After a successful career abroad, she moved her home base to Japan, where she currently performs in concerts across the country. Highly noted for her character in TV and radio appearances, she has currently opened up her career to more diverse fields with an unchanged focus on her profession.
Chisako Takashima official website
Koko Kameoka
President and CEO of Kameoka Co., Ltd and Taikakukan Co., Ltd.. Kameoka went to high school overseas and earned her MBA at Georgetown University in Washington D.C., U.S.A. Upon returning to Japan, she worked in marketing research at Microsoft Japan, and then joined Kameoka Co., Ltd. In 2010, she assumed her current position. Her hobbies include playing golf, Japanese tea ceremony and shooting.
Kameoka Holdings Co., Ltd. website
Bar and Dining CINQ website
Written by Mikiko Okai; Place of interview: CINQ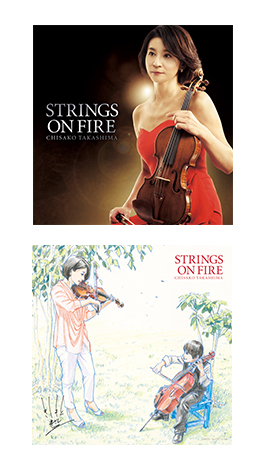 Strings on Fire New album by Chisako Takashima available in stores!
Finally released! Chisaka Takashima's long-awaited new album, Strings on Fire.
A compilation of 12 tunes: 3 originals, including "Some Day, Just the Two of Us," a duet with the cello, played by her second son (age 6), and other classical standards.
Featuring special album cover art drawn by Masashi Kishimoto, author of the popular manga NARUTO.
Celebrating the 20th anniversary of violinist Chisako Takashima, opening new frontiers with the second album released under her new record label.
Visit Chisako Takashima's official website for more information.

Area linksInquiriesTerms of Use
System RequirementsAbout Us
© Ginza Information Management