GINZA CONNECTIVE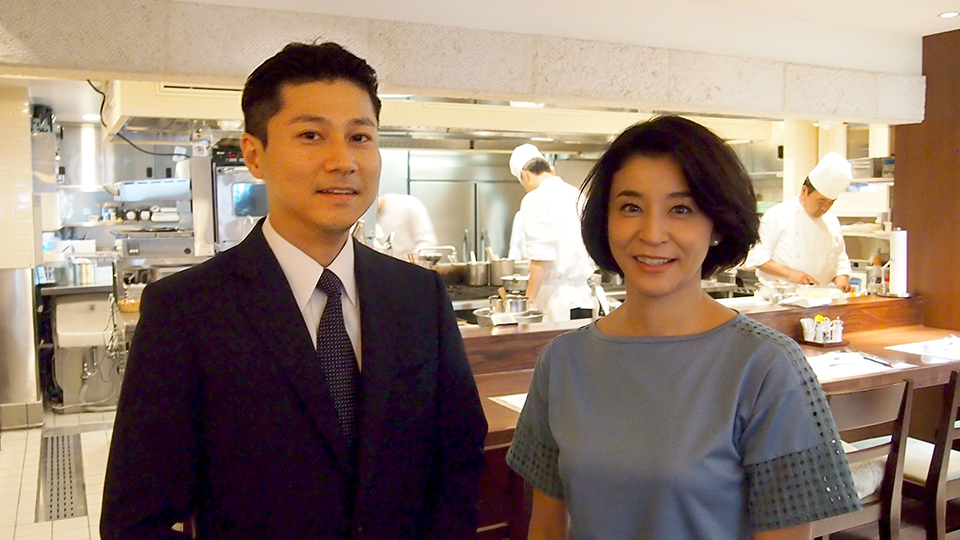 GINZA CONNECTIVE VOL.47
Takashi Hoshihara×Chisako Takashima
2015.09.14
An interview series featuring Ginza people in conversation with violinist Chisako Takashima. With a special fondness for Ginza, which holds many memories both from her professional and private lives, Takashima explores Ginza from various dimensions with her guests. In this volume, she welcomes Mr. Takashi Hoshihara, CEO of carioca.Ltd, which runs a diversity of restaurants, including Namban Ginentei.
Taking the time to tenderize meat after taking orders – untiring efforts to serve savory dishes.
Takashima

What are some of your featured dishes at Namban Ginentei?

Hoshihara

We take pride in our stews, including our beef stew and beef tongue stew. Our hamburger steaks and minced meat cutlets are also very good because the meat is tenderized after orders are taken.

Takashima

Only a restaurant in Ginza could put that much time and effort into preparing a single dish! I had noticed on your menu that it said, "Please allow us extra time" even for hamburger steaks. Now I see that you start from mincing beef.

Hoshihara

Yes, the Japanese people are quite familiar with many Western dishes, but we make sure that artisan cooks carefully select each of the ingredients and make an extra effort in preparing each dish. Our wish is to have each of our customers enjoy a perfect plate of something very common. We prepare each dish with a passion for quality.

Takashima

Has the menu remained unchanged from your establishment?

Hoshihara

Our featured dishes have remained unchanged throughout the years. Since the availability of various ingredients can be diversified between seasons, I believe that the value of always serving the same menu items is in discerning such seasonal differences and being able to offer the same taste. Of course, we do explore new dishes, but it is only possible because there is an unchanged value in what we serve.

Takashima

I see. You must have many regular customers.

Hoshihara

I am very grateful that many of our customers have dined with us for many years. Some of our regular customers like to sit at the bar and enjoy their meals chatting with the chef.

Takashima

That is beautiful. And you also run a bar downstairs?

Hoshihara

Yes, we have an authentic bar where you can enjoy aperitifs and digestives. The menu served at the Namban Ginentei is also available at the bar, so I would recommend the bar if your priority was enjoying a few drinks.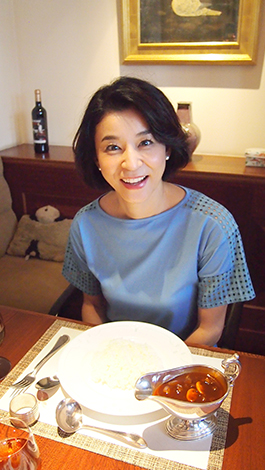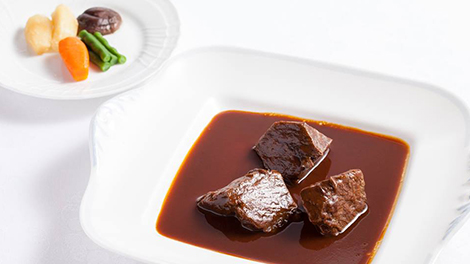 The beef stew, one of the Namban Ginentei's most popular dishes.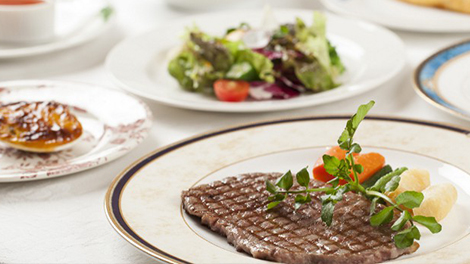 A continuous passion for quality with hopes to further increase Ginza's value
Takashima

Before we close, could you please tell me about your thoughts about Ginza?

Hoshihara

Ginza is home to many long-established businesses, so having been here for only 80 years, we are still a newcomer to this town. We are fortunate to have been granted the opportunity to run a business in Ginza, one of the finest towns in Japan, and therefore we are also determined to continue to pursue high quality. We hope to contribute to introducing Japanese food culture, including Western-style food and bars, to the world.洋食やバーなど日本の食文化を世界に紹介するお役に立ちたいと思います。

Takashima

What do you think is your role in running a business in Ginza?

Hoshihara

Let me see. I would say that my role is to provide the kind of environment that supports personal growth. At our company, we have employees who have worked for us for 50 years and I am aware of the importance of taking time in fostering human resources. If we compromise for second best, then we will have no future. Just as in cooking, I will continue to "be careful and make untiring efforts" in my work, running a business in Ginza with the dream of contributing to further increasing Ginza's value.

Takashima

I have been told that you are also involved in the activities of Gimikai, an association for young entrepreneurs in Ginza.

Hoshihara

Yes, since you must be 40 years old or younger to be a member, this is my last year of membership, and thus I am particularly committed to Ginmikai's activities this year. I feel that it is my mission to pass down what I have learned from my seniors.

Takashima

Ginza is blessed with people like you who are dedicated to the town. I am sure that Ginza will continue to be full of energy in the future.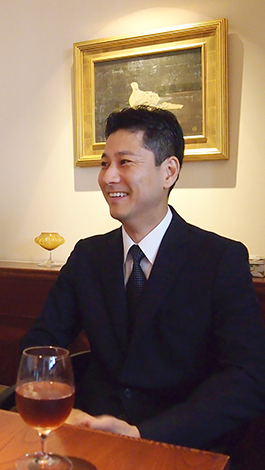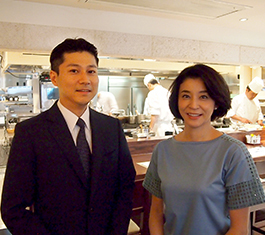 Chisako Takashima
Violinist. Takashima started taking violin lessons from the age of 6. After a successful career abroad, she moved her home base to Japan, where she currently performs in concerts across the country. Highly noted for her character in TV and radio appearances, she has currently opened up her career to more diverse fields with an unchanged focus on her profession.
Chisako Takashima official website
Takashi Hoshihara
Hoshihara assumed the position of CEO at carioca.Ltd when his father, former CEO, passed away in 2008. His hobbies include Japanese tea ceremony and golf. Father of a five-year-old boy, he also enjoys parenting. He prioritizes spending time with his family during the weekend, and takes joy in seeing his son grow everyday.
Written by Mizuho Takahashi; Place of interview: Namban Ginentei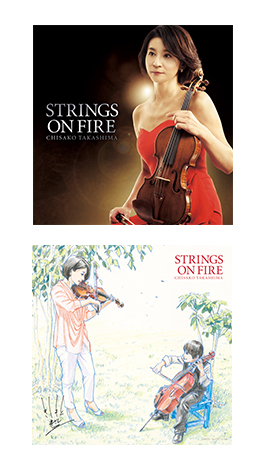 Strings on Fire New album by Chisako Takashima available in stores!
Finally released! Chisaka Takashima's long-awaited new album, Strings on Fire.
A compilation of 12 tunes: 3 originals, including "Some Day, Just the Two of Us," a duet with the cello, played by her second son (age 6), and other classical standards.
Celebrating the 20th anniversary of violinist Chisako Takashima, opening new frontiers with the second album released under her new record label.
Visit Chisako Takashima's official website for more information.

Area linksInquiriesTerms of Use
System RequirementsAbout Us
© Ginza Information Management