GINZA CONNECTIVE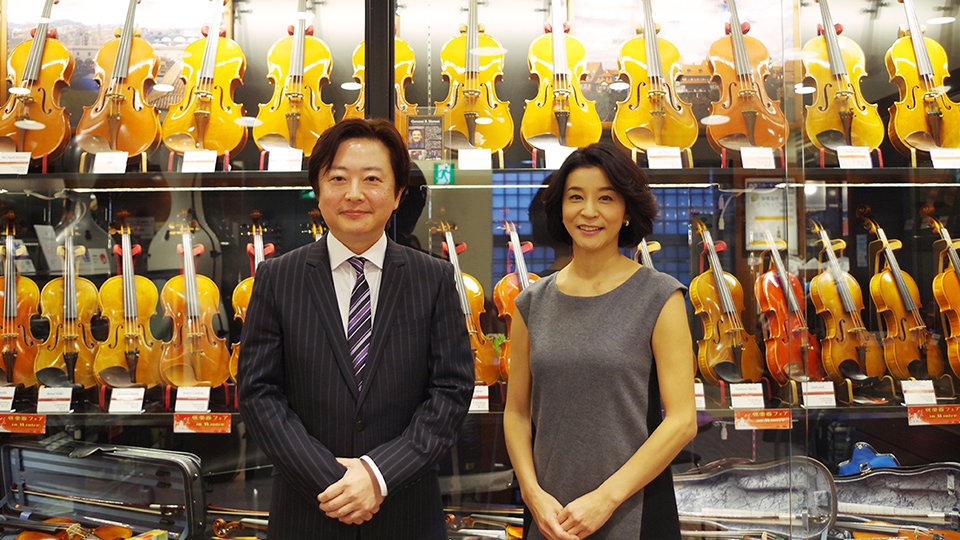 GINZA CONNECTIVE VOL.52
Masahiko Yamano×Chisako Takashima
2016.02.15
An interview series featuring Ginza people in conversation with violinist Chisako Takashima. With a special fondness for Ginza, which holds many memories both from her professional and private lives, Takashima explores Ginza from various dimensions with her guests.In this volume, she welcomes Mr. Masahiko Yamano, President and CEO of Yamano Music, established in 1892.
From Mikimoto to Yamano Music. Traditional Christmas tree illuminations in Ginza.
Takashima

Last year, you took over the Christmas tree illuminations that Mikimoto used to do annually.

Yamano

Yes. It all started with a live TV program called Morning Bird that happened to be doing a special report on Mikimoto ending its Christmas tree illuminations. Kazushige Nagashima was on the show and he said, "Yamano, you should take over!" Kazushige and I have been very close friends since kindergarten. We went to school together from kindergarten to university.

Takashima

Really! What a coincidence. My son currently goes to school with Mr. Nagashima's child. What a small world we live in.

Yamano

The broadcast aroused rumors on Twitter, etc. that the Christmas illuminations would be continued by Yamano Music, and there was a lot of expectation. It was almost as if I had the world encouraging me to man up and take on this project, and there was no turning back. So, I decided to do the illuminations.

Takashima

That is an interesting episode. I wasn't aware of that.

Yamano

I told Kazushige, "You started this, so it is your job to come to the tree-lighting ceremony," and he really did. I plan to continue the Christmas tree illuminations every year.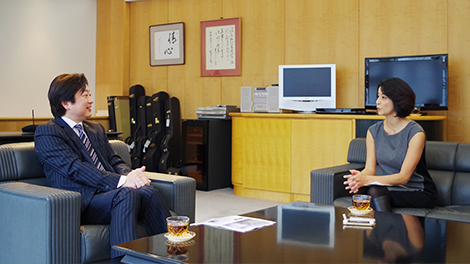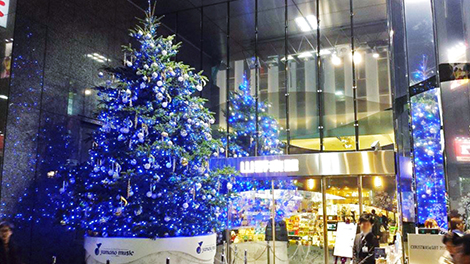 Christmas tree at Yamano Music
Ginza is originally a shopping street. I hope our boutiques will always be the source of Ginza's sparkle.
Takashima

Before we close, please tell me how you feel about Ginza.

Yamano

I have watched Ginza develop since I was born and I am sure I have stronger feelings for this town than many other people. I still clearly remember street cars running through in the streets and looking up to see the electric cables of the street car system extending over the streets like a spider web.

Takashima

Did you perhaps live in the floors above the Ginza store?

Yamano

Our family lived in this building up to my father's generation. I have never lived here, but my permanent address is here in Ginza and I am proud of that. It is one of the reasons why I do not want Ginza to change. I would like for it to always be the safest town in Japan for adults to stroll in.

Takashima

I see. What do you think is the most attractive feature of Ginza.

Yamano

Our sidewalks are very wide in Ginza. The wide sidewalks allow us to hold events in front of our shops. At our store, we invite artists who performed in the Red and White Year-end Song Festival to come in for an event every year on January 2. If it were not for the sidewalks, it would be impossible to hold such an event in front of the store on a day when the street has not been designated a vehicle-free "pedestrians' paradise".

Takashima

That is very true.

Yamano

The best part about Ginza is that it has developed as a shopping street with many boutiques and specialty stores. We have a firm local network. Since everyone used to live in the back or in the upper floors of their store, we were all close neighbors. The owner of our next-door neighbor, Ginza Kimuraya, and his wife were the go-betweens at my parents' wedding.

Takashima

How interesting! Ginza really is a traditional shopping street.

Yamano

The Ginza Toraya hat shop is another long-established business in Ginza. They make the best hats. Ginza Toraya has always made uniform hats for children at Chiisaki Hana Kindergarten.

Takashima

This is unbelievable! My brother also went to Chiisaki Hana Kindergarten. I've noticed that the children at that kindergarten wear very nice hats.

Yamano

We have many things in common (laughs). I strongly feel that it is my mission to continue Yamano Music as a specialty store on Ginza's shopping street. The demon in me occasionally whispers that it would be much easier to rent out the building, but I am determined to continue to pursue our music business.

Takashima

That is just wonderful.

Yamano

I would hope that Ginza will continue to be a place where boutiques and specialty stores can continue their trade.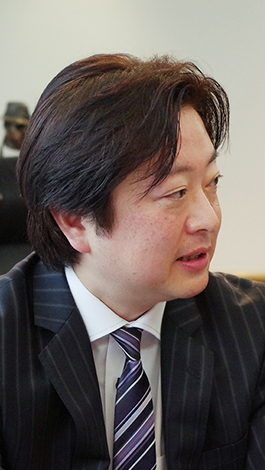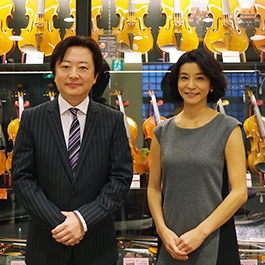 Chisako Takashima
Violinist. Takashima started taking violin lessons from the age of 6. After a successful career abroad, she moved her home base to Japan, where she currently performs in concerts across the country. Highly noted for her character in TV and radio appearances, she has currently opened up her career to more diverse fields with an unchanged focus on her profession.
Chisako Takashima official website
Masahiko Yamano
Fourth President and CEO of Yamano Music. Yamano assumed his position as President in 2003. He is currently engrossed in the electric guitar, which he began to play when he became 50. With a passion for baseball sine he was very young, he has been coaching a little league baseball team for ten years. He is a loving father of two sons.
Written by: Mizuho Takahashi; Place of interview: Yamano Music, Ginza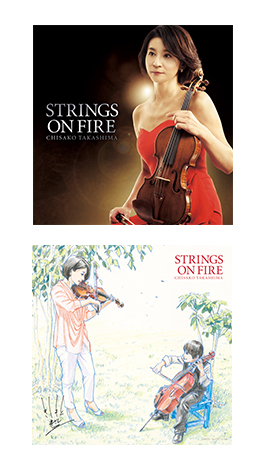 Strings on Fire Chisako Takashima's new album is available in stores!
Finally released! Chisaka Takashima's long-awaited new album, Strings on Fire.
A compilation of 12 tunes: 3 originals, including "Some Day, Just the Two of Us," a duet with the cello, played by her second son (age 6), and other classical standards.
Featuring special album cover art drawn by Masashi Kishimoto, author of the popular manga NARUTO.
Celebrating the 20th anniversary of "true" violinist Chisako Takashima, opening new frontiers with the second album released under her new record label.
isit Chisako Takashima's official website for more information.

Area linksInquiriesTerms of Use
System RequirementsAbout Us
© Ginza Information Management