GINZA CONNECTIVE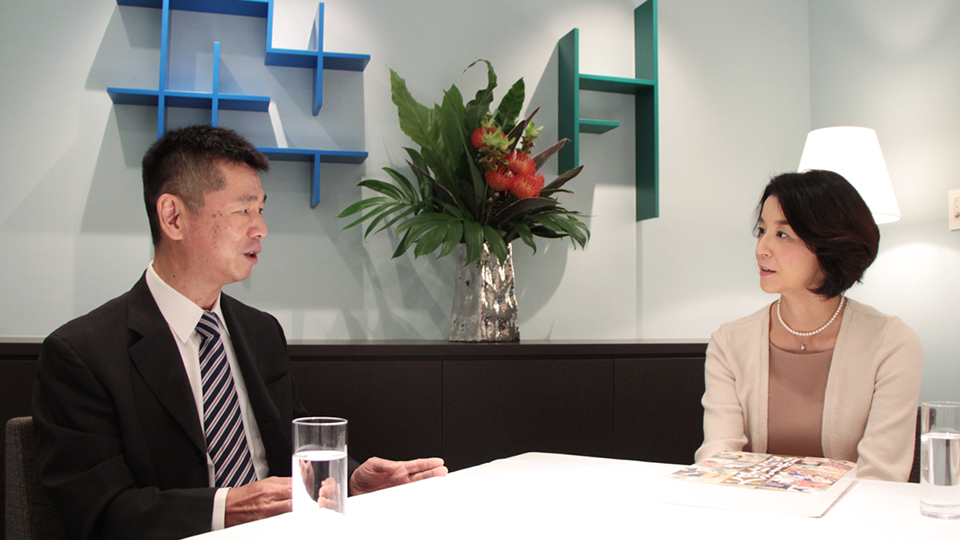 GINZA CONNECTIVE VOL.37
Shoichiro Watanabe×Chisako Takashima
2014.10.07
An interview series featuring Ginza people in conversation with violinist Chisako Takashima. With a special fondness for Ginza, which holds many memories both from her professional and private lives, Takashima explores Ginza from various dimensions with her guests. In this volume, she welcomes Mr. Shoichiro Watanabe, CEO of S.WATANABE COLOR PRINT Co., a heavyweight ukiyo-e printer with a history dating back to the Meiji era.
I enjoy listening to classical music, which in connection with ukiyo-e is…?
Takashima

Now, please allow me to ask you some personal questions. Do you have any hobbies?

Watanabe

I feel uneasy saying this before you, but I have loved listening to classical music since I was a child.

Takashima

Really? Which genre of classical music do you like?

Watanabe

I enjoy listening to orchestra music. I have been attending the NHK Symphony Orchestra's concerts for 45 years now. A subscriber since I was ten, I must be one of their oldest subscribers. (laughs)

Takashima

I often went to hear them play with my mother, as well.

Watanabe

I was deeply impressed when I travelled to Munich on business. There was a musician performing classical music on the street. Dressed like a rock musician, he was playing Vivaldi's "Four Seasons" and he was very inspiring. He was just reading off sheet music, but it sounded completely different from music played in a concert hall. It was classical music with a taste of rock. It hit me then that that might be music in its true colors.

Takashima

I know what you mean. I believe that it may be the same with the fine arts, but classical music is originally a source of entertainment. It started as music performed at the palace for the king, and musicians were underservants who would come and go through the servants' door. That somehow changed…

Watanabe

That is similar to ukiyo-e, which was originally a commercial product for amusement that came to be acknowledged as artwork.

Takashima

The same can be said for the opera. Opera is basically daytime drama, storywise, but now you are required to wear a tuxedo to see a performance.

Watanabe

Music has nothing to do with my profession.

Takashima

Oh, music is entertaining when it is a hobby. (laughs) Do you also play an instrument?

Watanabe

I used to play the piano. It is nice to be able to play an instrument – any instrument.

Takashima

I would recommend the cello! It is a much better choice than the violin! (laughs) The cello is popular because few people play the instrument and it gives a sense of stability. I really recommend it.
Ginza is in need of the instincts of an ukiyo-e artist
Takashima

Finally, please tell me your thoughts about Ginza.

Watanabe

Today's Ginza is full of designer boutiques from overseas. They are, of course, more than welcome here, but I just wish that Japanese brands could lead the world. In that context, since ukiyo-e is a part of Japanese culture that we can be proud of, I am honored to be running a business that allows me to deliver Japanese culture overseas with great confidence.

Takashima

And your store is has a history of over 100 years.

Watanabe

Yes, but Ginza has a relatively short history compared to Paris, Vienna and other major cities of the world. In the beginning of the Showa era, "modern girls" and "modern boys" dressed in cutting-edge fashion appeared in the streets of Ginza, and Japan's first department stores opened consecutively. Ginza was renowned for always having something new to present, but from some point in time, it has come to be looked upon as a town full of the oldest stores. My store may be counted among those long-established businesses, but I hope to bring new things into the world. I feel that the instinct for struggling to make products that will amuse customers – to create entertainment – that publishers had possessed back in the days of the ukiyo-e, might be what we need now.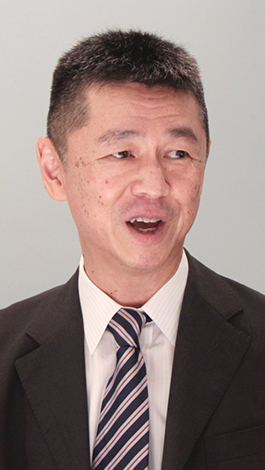 The next guest will be…
Takashima

May I ask you to introduce the next guest?

Watanabe

The next guest is Mr, Keiji Shinmoto, Executive Director of Tenshodo, a long-established retailer of watches and precious metals and also famous for model railways.

Tenshodo has a long history of constantly introducing novel ideas and being committed to the development of watches and jewelry in Japan.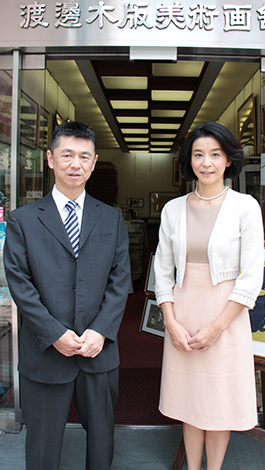 Chisako Takahashi
Violinist. Takashima started taking violin lessons from the age of 6. After a successful career abroad, she moved her home base to Japan, where she currently performs in concerts across the country. Highly noted for her character in TV and radio appearances, she has currently opened up her career to more diverse fields with an unchanged focus on her profession.
Official website of Chisako Takashima
Shoichiro Watanabe
Third owner of S.WATANABE COLOR PRINT Co.. After graduating from college, he worked for WAKO Co., Ltd. until he assumed his current position in 1985.
His extensive activities include appearing on TV Tokyo's popular program "Kaiun nandemo kanteidan," to which viewers bring in their "treasures" seeking to learn their true value, and giving lectures.
S.WATANABE COLOR PRINT Co. website
Written by: Mikiko Okai Place of interview: Ginza Grand Hotel(http://www.ginzagrand.com/)

Area linksInquiriesTerms of Use
System RequirementsAbout Us
© Ginza Information Management