GINZA CONNECTIVE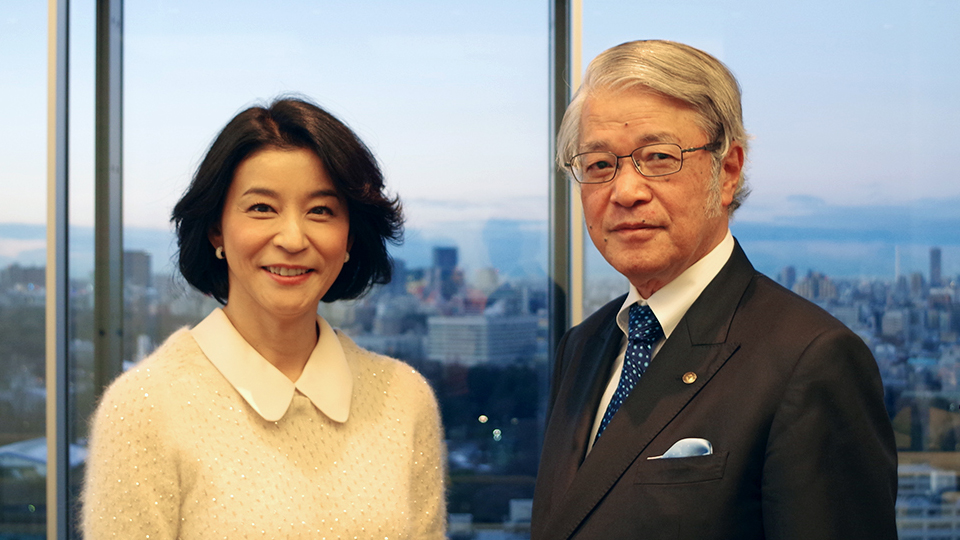 GINZA CONNECTIVE VOL.53
Kiyoshi Kanazashi×Chisako Takashima
2016.03.29
An interview series featuring Ginza people in conversation with violinist Chisako Takashima. With a special fondness for Ginza, which holds many memories both from her professional and private lives, Takashima explores Ginza from various dimensions with her guests.In this volume she welcomes Chairman and CEO of Tokyu Fudosan Holdings Corporation, Mr. Kiyoshi Kanazashi.
Singing in a choir as a hobby, performed in "Yappa Ginza-dabe" a project for the reconstruction of earthquake-affected areas
Takashima

Please tell me about yourself. What are your favorite pastimes?

Kanazashi

I love music, especially classical music. I am particularly fond of the violin.

Takashima

I am so happy to hear that! Do you often go to concerts? Do you have a favorite artist?

Kanazashi

I do go to concerts very often, but I not to hear a particular artist play.
I also sing in a choir myself. We gather at least once a month to practice.

Takashima

You really do have a liking for music! Which choir do you sing in?

Kanazashi

Actually, I launched the choir myself. A few of us originally started it as a post-retirement pastime, but the membership has gradually increased into a group of around 20 members.

Takashima

Do you hold concerts?

Kanazashi

Tokyu Fudosan Holdings has supported the "Yappa Ginza-dabe" project that supports the economic reconstruction of areas affected in the Great East Japan Earthquake. We sang in Kesennuma as a part of our activities under the project. We have also been granted the opportunity to sing regularly at a nursing home in Tokyo. The audience listens to our performance with tears in their eyes. Please come support us in our activities one day.

Takashima

That is wonderful! Please call whenever there is something I can do to contribute.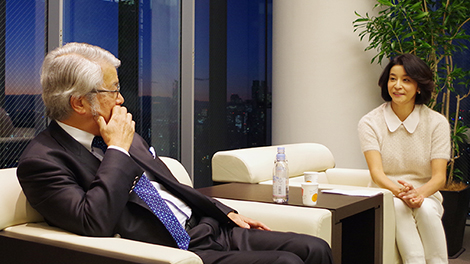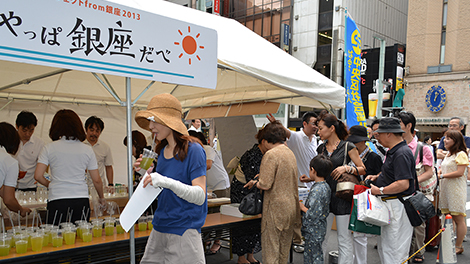 "Yappa Ginza-dabe" event in Ginza
Passion for Ginza
Takashima

As we close, please tell me about your feelings for Ginza.

Kanazashi

Ginza is a special town, unparalleled by any other town in all of Japan.

Takashima

What do you mean by "special"?

Kanazashi

Ginza is Japan's No.1 commercial area, and everyone knows Ginza. Personally, I always came to Ginza on special days when I was growing up, so it is a great joy to be able to build a commercial establishment on the corner of such a special town.

Takashima

Is there anything that you find challenging or worrisome?

Kanazashi

I believe what is important is to involve the town and the local people.

Takashima

Do you mean the Zen-Ginza-kai, for example?

Kanazashi

Of course, the members of Zen-Ginza-kai, too. We have pursued our development plans with the notion that as newcomers, we should not destroy the culture of "Ginza" that has been carefully built and prized by the local people.

Takashima

Will Tokyu Plaza Ginza blend in with Ginza?

Kanazashi

From the development stage, we have been careful about designing a façade that will match the townscape and providing public spaces for visitors in Ginza. Our project also includes improvement plans for Sukiyabashi Park, adjacent to the Tokyu Plaza Ginza. We will have a local information corner on the first floor, looking out to the park.
We hope that Tokyu Plaza Ginza will be an important spot for Ginza strolling.
The real challenges of running a commercial establishment arise only after its opening, so I would like to keep my ears open to the voices of our customers and collaborate with the local community to hold events. It would be my pleasure to welcome you to our event, so please look forward to it.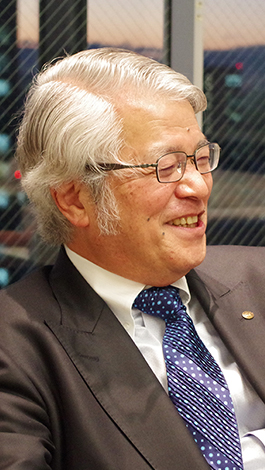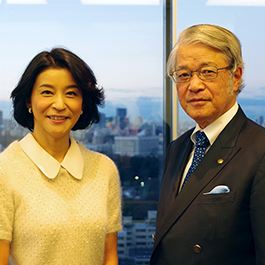 Chisako Takashima
Violinist. Takashima started taking violin lessons from the age of 6. After a successful career abroad, she moved her home base to Japan, where she currently performs in concerts across the country. Highly noted for her character in TV and radio appearances, she has currently opened up her career to more diverse fields with an unchanged focus on her profession.
Chisako Takashima official website
Kiyoshi Kanazashi
Chairman and CEO, Tokyu Fudosan Holdings Corporation
Graduated from Waseda University in 1968 and joined Tokyu Land Corporation,
After assuming positions as general manager of the Urban Business Unit and president of Tokyu Homes Corporation,
he became president of Tokyu Land Corporation in 2008. He assumed his current position in 2013.
>Written by: Mizuho Takahashi; Place of interview: Tokyu Fudosan Holdings Corporation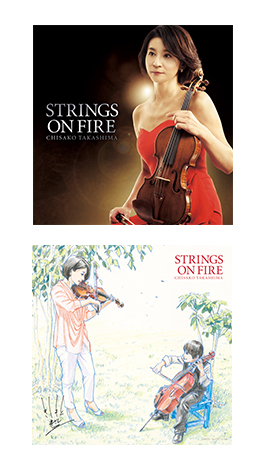 Strings on Fire Chisako Takashima's new album is available in stores!
Finally released! Chisaka Takashima's long-awaited new album, Strings on Fire.
A compilation of 12 tunes: 3 originals, including "Some Day, Just the Two of Us," a duet with the cello, played by her second son (age 6), and other classical standards.
Featuring special album cover art drawn by Masashi Kishimoto, author of the popular manga NARUTO.
Celebrating the 20th anniversary of "true" violinist Chisako Takashima, opening new frontiers with the second album released under her new record label.
isit Chisako Takashima's official website for more information.

Area linksInquiriesTerms of Use
System RequirementsAbout Us
© Ginza Information Management