GINZA CONNECTIVE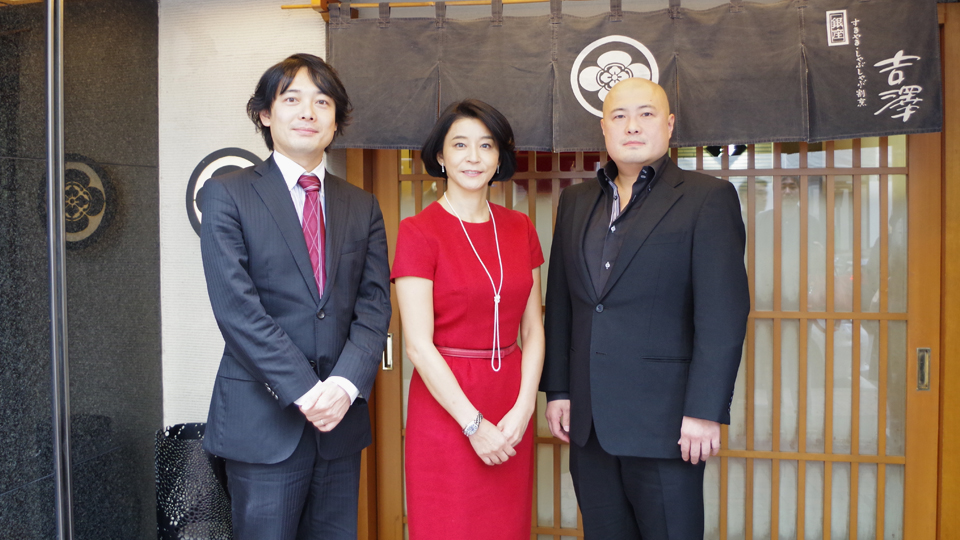 GINZA CONNECTIVE VOL.63
Naoki Yoshizawa×Yusuke Yoshizawa×Chisako Takashima
2017.02.01
An interview series featuring Ginza people in conversation with violinist Chisako Takashima. With a special fondness for Ginza, which holds many memories both from her professional and private lives, Takashima explores Ginza from various dimensions with her guests.In this volume, she welcomes Mr. Naoki Yoshizawa, President of Yoshizawa Shoten Ltd., and his brother Yusuke Yoshizawa, Senior Managing Director. Yoshizawa Shoten Ltd. manages a meat shop and Yoshizawa, a sukiyaki & shabu-shabu restaurant.
Brand beef isn't everything. How do you distinguish good meat?
Takashima

Wagyu beef has become popular all over the world.

Naoki

Yes. I have tried beef from worldwide but my impression is that nothing can equal Wagyu beef.

Yusuke

I don't think people anywhere else can take such good care of cows.

Takashima

How would you define savory beef?

Naoki

It is beef with good fat. Meat is savory because of the sweet taste of the fat. Cow fat is the best because its melting point is lower than that of oxen or bulls. It is so low that it melts at body temperature, and therefore, it doesn't sit heavy on your stomach. Sometimes I hear people saying, "The beef was so beautifully marbled that I had two or three slices and it sat on my stomach." However, that only means that it was not good-quality meat.

Takashima

I see. Then, it does not matter if you are having brand beef or not?

Naoki

Each animal is individually different, so brand beef does not always taste the best. It is the same with humans, isn't it? We were born from the same parents and yet we are so different (laughs). But that does not mean that one is better than the other. Different qualities are valued in different places. It is the same with beef. Grade A5 or brand names are not necessarily the best choice. There is a balance of marbling that is perfect for cooking meat on a teppan (iron griddle) and some cuts are especially good for shabu-shabu. It is best to choose the cooking method that best suits the meat.

Yusuke

Even with meat, there is a right place or the right method of cooking for the right portion. A balanced combination brings the best out of the meat.

Takashima

I know exactly what you mean. I love beef so much that I have my butcher order specialty meat for me and I always ask the store how I should cook it. Even if I get the same cut as the previous time, they might tell me that this time it would best to make beef cutlets. I have learned so much that I have gradually developed a selective eye for beef. I can tell by looking at the meat how I should cook it.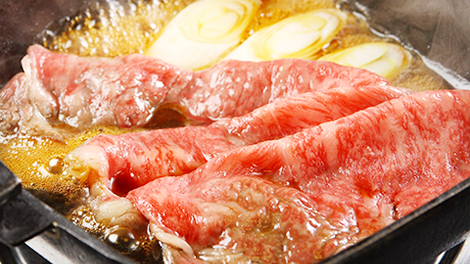 Sukiyaki at Yoshizawa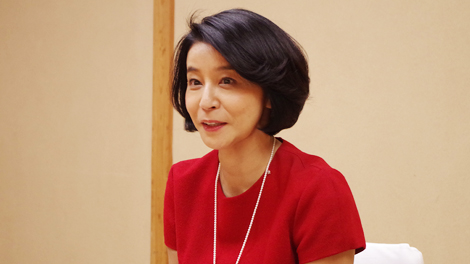 Naoki

I wish we could have more people eat beef by letting them know that marbled meat and brand meat are not always the best and proposing the many different ways to enjoy different meat.

Takashima

I only eat beef. When go to doctor for a check-up, I am always to have more vegetables, but even if I don't, there is no problem with my data. My theory is that it is because the cows eat my vegetables for me.

Naoki & Yusuke

Really!? (gales of laughter)

Naoki

I drink green juice to be on the safe side (laughs).

Takashima

I only eat beef and pastries (laughs). Beef gives me a lot of energy.

Yusuke

We have many elderly clients, who look very young and healthy, too.

Naoki

It is also true that the Japanese came to live longer lives after they began having beef in their diet. The fat from beef includes a lot of unsaturated fatty acid, which balances your hormones and controls cancer-inducing agents.

Takashima

Then I will continue to pursue a life with only beef (laughs).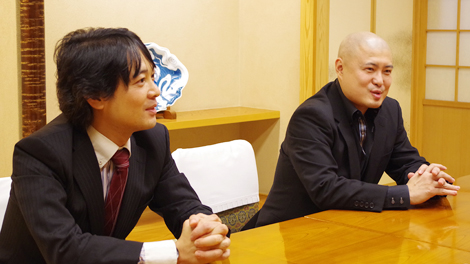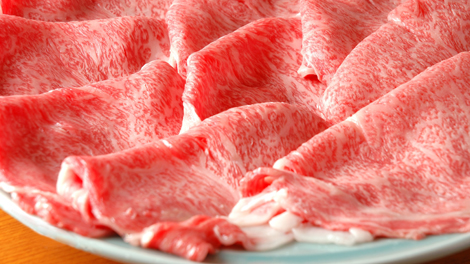 Dedicated to business in Ginza, where only authentic goods gather.
Takashima

Please tell me how you feel about Ginza.

Yusuke

When you look at Ginza from the outside, it has so many wonderful features that are unique to the town. It is a fascinating place.

Naoki

Ginza is home not only to the latest high fashion brands but also to meat shops and kimono shops, which are located on the narrow back streets. There are few towns with this kind of mixture. We have a strong relationship with other storeowners, including many who are more experienced than us, regardless of the business field.

Takashima

Ginza is a very fashionable shopping town.

Naoki

When I chaired the Ginmikai during its 60th anniversary year, I learned quite a lot from the older members. One member said, "Many different stars together form a cluster large than the moon. Even the smallest stars can shine like the milky way when they are together." I feel exactly the same way. For Ginza to shine, individual stores have to be dedicated to our busineses.

Yusuke

Ginza is open to everything but only the authentic can survive. Therefore, it is a very attractive place for people devoted to their business.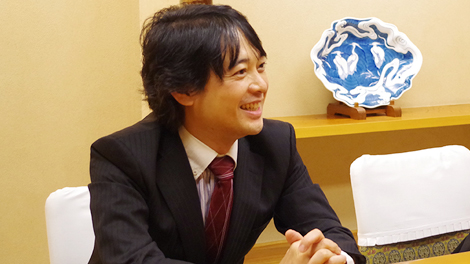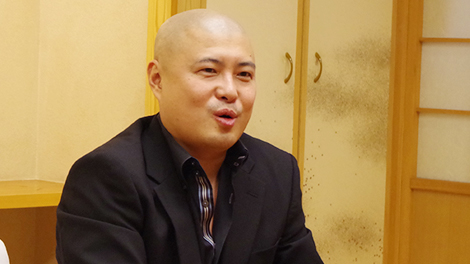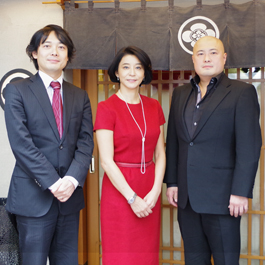 Chisako Takashima
Violinist. Takashima started taking violin lessons from the age of 6. After a successful career abroad, she moved her home base to Japan, where she currently performs in concerts across the country. Highly noted for her character in TV and radio appearances, she has currently opened up her career to more diverse fields with an unchanged focus on her profession
Chisako Takashima official website
Naoki Yoshizawa
Born in 1971, Naoki joined Zenchiku Co., Ltd. (currently, Starzen Co., Ltd.) after being graduated from Nippon University. He later worked for Ogawa Chikusan Shokuhin Co., Ltd. until he joined Yoshizawa Chikusan Co., Ltd. in 1998. He assumed the position of President & CEO in 2007. He is a board member for the Greater Tokyo Meat Product Wholesalers Cooperative and the Tokyo Meat Product Wholesalers Cooperative
Yusuke Yoshizawa
Born in 1974, he graduated from Meiji University and joined Arai & Co., Ltd. He joined Yoshizawa Shoji Co., Ltd. in 2000 and assumed the position of board director in 2004. In 2007, he became board director of Yoshizawa Chikusan. Having been vice-chair of Ginmikai and board member of the Ginza Cuisine and Drinks Association, he enjoys a close relationship with Ginza.
Written by Mikiko Okai; Place of interview: Ginza Yoshizawa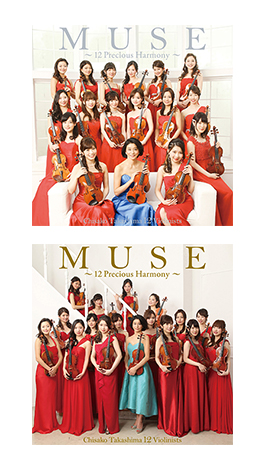 Released! A new album by Chisako Takashima 12 Violinists: MUSE -12 Precious Harmony-
Chisako Takashima 12 Violinists have released their first album in four years: MUSE -12 Precious Harmony-.
This diverse album celebrates the 12 Violinists' tenth year with many classical numbers.
With three original pieces, including "SPLASH!!!," a novel number written and co-performed by Sukimaswitch, the album comprises twelve numbers.
Click here for details, including information on individual numbers.
iv>

Area linksInquiriesTerms of Use
System RequirementsAbout Us
© Ginza Information Management