People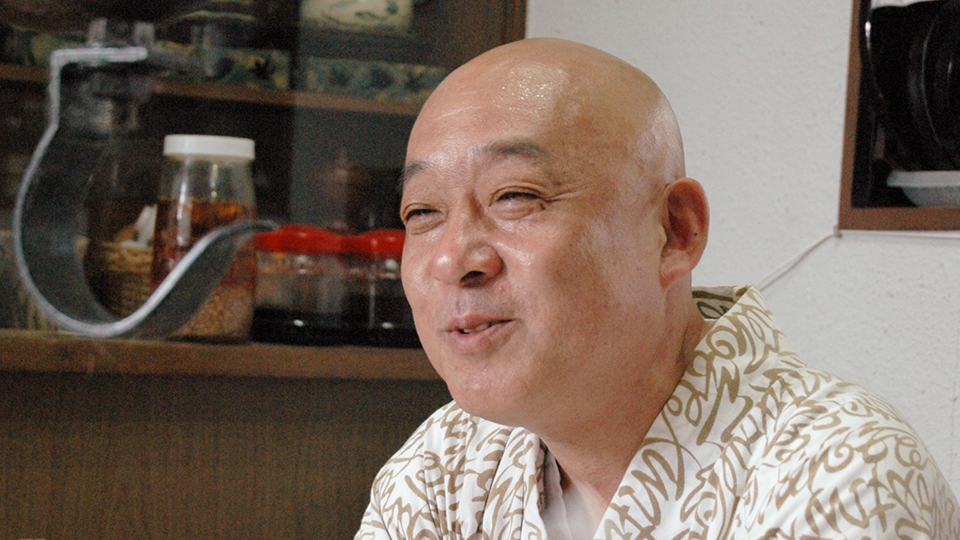 Ginza×People VOL.1
Rakugo Performer Yanagiya Sansho
2011.08.31
The Ginza x People series invites guests to talk freely about Ginza from an outside perspective—about its charms and its future. The first guest is rakugo (comical story-telling) performer Yanagiya Sansho, who will celebrate his 20 years as a full-fledged rakugo master next year.
Known for enjoying a relaxed lifestyle together with his wife (an excellent cook) and three cats, Sansho often visits the Ginza area both for work and pleasure. His sophisticated take and unique way of talking about Ginza come from many years of observation and an obvious love for the area.
KIDS YEARN FOR GINZA; ADULTS ARE SUITED TO IT.
I HOPE GINZA WILL ALWAYS BE CONFIDENT.
It's amazing how rakugo is able to paint a world just through spoken words.
I originally wanted to be an actor. But I happened to see a rakugo performance, and the experience was a like a powerful punch to head. It was on May 24, 1975 at the National Theater of Japan that the human-interest story "Ohatsu Tokube'e" was performed by the 10th Kingentei Basho, who has since passed away. It was simply amazing! I had come to Tokyo from the sticks only two months before and I still hadn't seen a houseboat or the Sumida River, but the scene was there in my head. I could see Ohatsu and Tokube'e embracing, though there was only Master Basho sitting there alone in front of a gold screen. It blew me away.

Rakugo had me in its grips.
Three times a week, I would go to the Shinjuku Suehiro-tei Theater with a bento lunch box and listen to rakugo performances from noon until nine.
I gradually stopped attending my classes at the university (laughs)!
I had a bit of a yearning for Ginza.
In terms of rakugo, my memories of Ginza include doing performances on days when the area was turned into a pedestrian paradise. I was part of the rakugo club at university and the upperclassmen enjoyed doing crazy things. They would put on kimonos and announce, "I'd like to tell a little story!" I didn't really like it at the time, but looking back now, it was fun.

I've spent 35 years as a comical story-telling artist, and next year I celebrate 20 years as a headliner. We decided to try something interesting and started the Sansho San-nen(three-year) Project last year. We paid special attention to finding the right location, and decided on the Ginza Hakuhinkan Theater.
Master Shunputei Koasa once did a month-long show at Hakuhinkan, so I had a bit of thing for doing it there as well. I'm in rehearsals now. I also do a monthly dinner-show kind of performance at Genkai Sushi. People enjoy rakugo performances and sushi at the same time. I'm often in Ginza for tea or meetings anyway.
Ginza is like an adult who knows how to keep just the right distance.
Ginza is a great place for grown-ups. It's like an adult who knows how to keep just the right distance. I really began to feel at home in Ginza in my 30s. It's different from Shinjuku and Shibuya—it is crowded but it doesn't have that sense of bustle. You can step into the side streets and find great places that feel like they've been there for ages. Ginza is an intriguing place.

I've always liked the Beatles. There's a Ginza coffee shop named Ki no Hana that John Lennon once visited. I bring my books to spend a few hours there. My favorites are not franchise chains but independent cozy coffee shops. I also go to the Toraya for hats and Koju for incense quite often. As a rakugo artist, I've always wanted to walk around in kimono, and it became my everyday clothing choice once I became a headliner. Naturally, I wear a Toraya hat with my outfits!

Recently, I've been fascinated with taking black-and-white photos with a digital camera. So now I walk around in a kimono with a camera hung around my neck. Black-and-white photography and the world of rakugo have something in common—they both require imagination. Sometimes, the black and white even feels more colorful.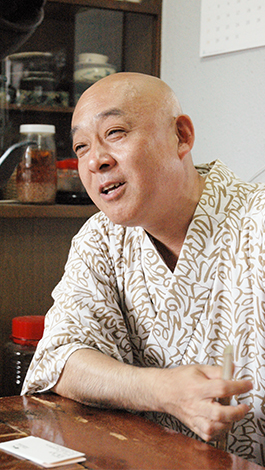 I hope Ginza stays inconvenient and confident.
A lot of stores and areas cater to the young these days, right? The seasoning of food, lifestyles and TV programs are all centered on children. Kids today aren't given the chance to develop a sense of yearning, that attitude of "I'll show you—I'll go there when I'm an adult." But Ginza maintains that sense of the right distance. There's a katsudon(deep-fried pork cutlet over rice) shop I really like named Umebayashi—their sauce has this rich salty-sweet flavor that kids wouldn't like. It's delicious. It goes to show that you don't need chase after waves. If you maintain a high level of quality, those waves will most definitely find you sooner or later.

I also hope that Ginza stays inconvenient. Inconvenience certainly has an aspect to appreciate. I like the idea that you get good things in specific places—for good pencils you need to go over to Ginza 1-chome, but for pencil cases it's the store in 6-chome. I think it can be inconvenient when everything is convenient.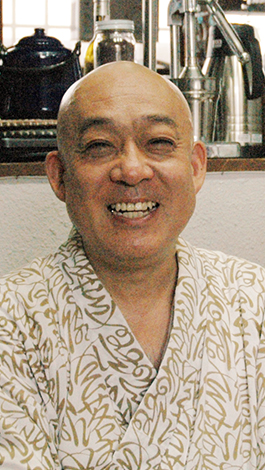 Yanagiya Sansho
Born in 1957 in Toyama Prefecture. Apprentices to rakugo master Yanagiya Komon(whose master was Yanagiya Kosan) beginning in 1977 and performs as an opening act under the name Shoyu.
Elevated to rakugo master in September 1993, taking the name Sansho.
In addition to classic performances, Sansho is highly active with study groups and one-man shows around the metropolis.
He held a four-day show from September 2 at Ginza Hakuhinkan Theater広重三本勝負titled Hiroshige Sanbon Shobu (Hiroshige's three-game match).
It was a must-see with old stories, new stories and guest appearances.
Yanagiya Sansho official website: Sansho-san chi no daidokoro (Kitchen of the Sansho Family)
Interview and Text: Mikiko Okui

Area linksInquiriesTerms of Use
System RequirementsAbout Us
© Ginza Information Management