People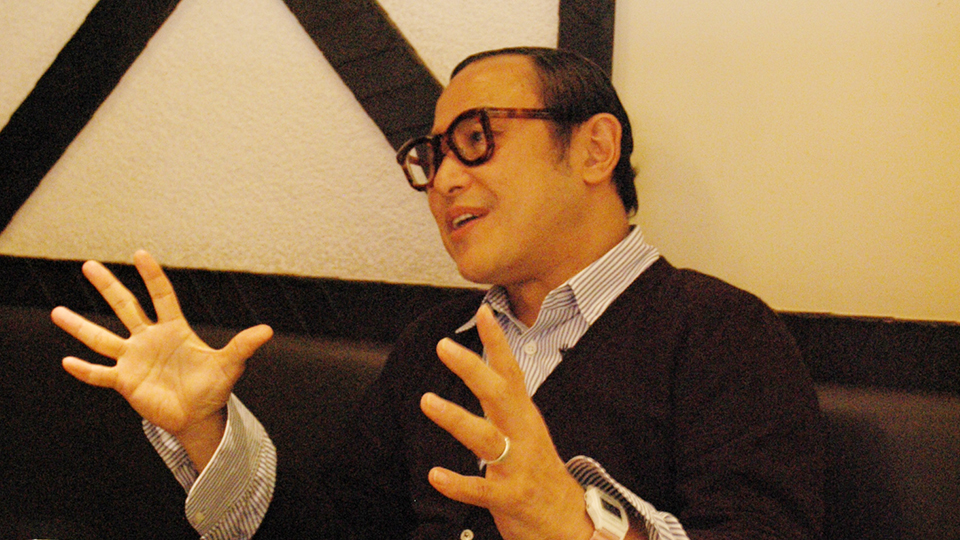 Ginza×People VOL.2
Smiles Co., Ltd. CEO Masamichi Toyama
2011.10.14
The Ginza x People series invites guests to talk freely about Ginza from an outside perspective—about its charms and its future. Our second guest is Masamichi Toyama, CEO of Smiles Co., Ltd., who is much talked about as the manager of 53 stores of "Soup Stock Tokyo," a necktie brand "giraffe" and a chain of recycle shops "PASS THE BATON." Mr. Toyama, renowned for his competence in business, is a passionate man with an unpretentious personality and air of sophistication. He appeared in his fashionably unique outfit and talked about Ginza from an intriguing point of view in an alluring way.
GINZA IS A CHALLENGING AREA WITH TOUGH COMPETITORS. ONCE THE BATON HAS BEEN PASSED DOWN TO YOU FROM THE PREVIOUS GENERATION, YOU JUST KEEP ON RUNNING.
It all started when an image of a woman eating soup appeared in my mind.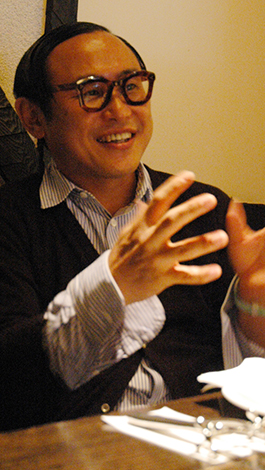 I used to be an employee of Mitsubishi Corporation. I was with the company for 10 years, feeling that I wouldn't be satisfied if I continued to live and finish my life that way. I had thought that, if I ever started my own business, it would be about something linked to our day-to-day lives, like food.
I was lucky enough to be given the opportunity later to propose the idea of "Soup Stock Tokyo" as an intra-venture business of the company. One day, an image of a woman eating soup suddenly appeared in my mind. I developed a story with theme "a day with soup" and drew up a project proposal. Its key concept was "small investment & high sensitivity," which had me considering that a small investment could be complemented with good sense. I wanted the signs and products to be simple. Fast food restaurants were so gaudy and at odds with their surroundings that I used to feel uncomfortable seeing them.
Next, I launched the necktie business "giraffe." It was a completely different category of business, but it was also born of my dissatisfaction as a company employee. Many so-called "salarymen" go for drinks after work and complain. I felt that it was a shame, and wanted them to feel more confident about themselves. "Hey, don't let others choke you. If you ever get choked, you should be the one doing the choking"-that's how I used to feel. The giraffe has a long neck and its head is high above the ground. If each one of us has a high perspective, like the giraffe, the world will be a better place. That's why the brand was named "giraffe."
The third business I launched was "PASS THE BATON." It started when I was solicited to do something new in the Marunouchi Brick Square which was scheduled to open. After some deliberation, I thought that a recycle shop might be an interesting idea in this age of surplus. A recycle shop in Marunouchi also gives an interesting sense of mismatch. When you actually visit the shop, however, you will see that it's more like a European antique shop.
I absolutely love creating new ideas, though I know my staff have a rough time giving them shape (laughs).
I wanted to preserve "KOOL" and my many memories associated to that long-standing bar in Ginza.
When asked about my memories associated with Ginza, "KOOL" comes to mind. It was a historic standing-bar that was famous as one of the three most renowned bars in Ginza. My father frequented KOOL almost every day since when he was a bachelor. Every New Year's Eve, my family made it a custom to eat toshikoshi-soba (Year-End soba noodles, traditionally eaten on New Year's Eve) delivered from Yoshida restaurant to the bar and see the old year out together. After becoming an adult myself, I felt too overawed to bring myself to visit the bar. Then one day I heard a rumor that KOOL was going to close because the owner, Rokuro Furukawa, was turning 88. To make things worse, the bar was going to be taken over by a ramen noodle shop.
I couldn't stand the thought of losing the bar and its atmosphere filled with memories, so 15 people including myself who were emotionally attached to KOOL pooled our money, bought the place and converted it to the bistro "Ginza Stock," keeping the exterior brick walls and interior counter and other furnishings as the remnants of KOOL.
When I go to Ginza Stock, I often order my favorite dishes like grilled eggplant salad, duck confit or turnip and apple salad. We receive some KOOL customers too.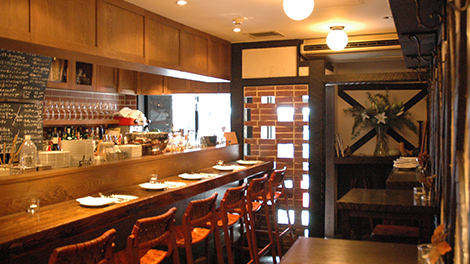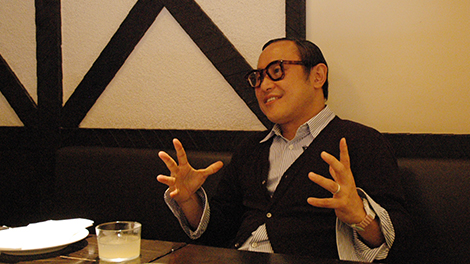 I enjoy wandering into new places.
I think Ginza is a town with history, where you can see many stores with attractive side signboards. After eating at Ginza Stock, I like to stroll through the neighborhood alone, check out the signboards and wander into unfamiliar places. I am usually greeted with phrases like "You were courageous to open the door" or "It's been eight years since we had the last walk-in" (laughs). But I like the tense feeling of opening a door for the first time, which is worth the challenge. Throughout all my walk-in experiences, my ideal bar is managed by a woman who must have been beautiful when she was younger or a manager who is oddly called "Johnny" even though he is Japanese (laughs). I would prefer to be left alone,the manager simply greeting me with a "Hello again." A small round window would give you a night view of Ginza while a band performs live……though I haven't actually found this ideal bar yet (laughs).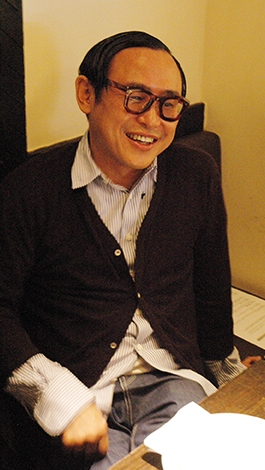 Once you think the baton has been passed down to you from the previous generation, all you can do is just keep on running.
I believe everyone feels uneasy when starting something new. What is important is that you do something meaningful for your company or for society, or something inevitable for you. This is the point you should never mistake. If you start something simply for profit, you will never make it through. Nothing is ever smooth at the beginning. It took me five years, eight years to get my business going. I could hang on because of my conviction that I refused to compromise, an ambition that I was determined to achieve. I tried hard and focused on high ideals especially when things didn't go well and I was feeling down.
As for Ginza, there are many long-standing stores full of history and tradition. Hereditary succession is therefore inevitable. Some heirs may resent the situation they find themselves in, but I actually envy the system because it gives you a cause. Once the baton has been passed down to you from the previous generation, you just keep on running. You keep running forward towards the next successor to pass the baton to. The relay in Ginza is worth challenging because your competitors are tough. In that sense, too, Ginza is a good place.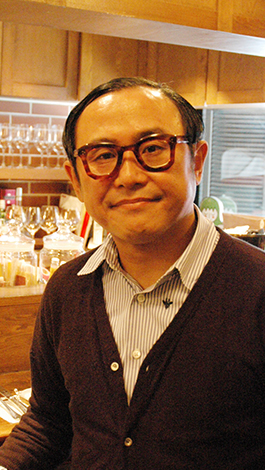 Masamichi Toyama
Born in Tokyo in 1962. CEO of Smiles Co., Ltd.
Established Smiles Co., Ltd. as the first intra-venture business of Mitsubishi Corporation.
He is the planner /manager of "Soup Stock Tokyo", a necktie brand "giraffe" and a chain of innovative select recycle shops "PASS THE BATON." He recently wrote "Seiko suru koto o kimeta (Determined to succeed)" (SHINCHOSHA Publishing Co., Ltd.).
Smiles Co., Ltd.
Ginza Stock
Interview and text: Mikiko Okai  Place: Ginza Stock

Area linksInquiriesTerms of Use
System RequirementsAbout Us
© Ginza Information Management