People
Ginza×People VOL.3
Photographer Kishin Shinoyama
2011.11.11
Guests who are closely connected to Ginza are invited to this corner to talk freely about the appeal and future direction of Ginza, as seen from the outside. The third part in the Ginza×People series focuses on Kishin Shinoyama, a leading Japanese photographer. Shinoyama's career has surpassed its 40th year. He is still active on the front lines, and while it is common knowledge that he is a legend and a master, his true face is friendly and open, and he is strongly service-minded. He mischievously cracked jokes but did so with extreme charms. Shinoyama spoke about his current exhibition in Ginza including behind-the-scenes stories about the photo shoots, as well as his recollections of Ginza.
I FEEL THAT GINZA IS FINE AS LONG AS THE PEOPLE WORKING HERE LOOK HAPPY. SOME ASPECTS CHANGE WHILE OTHERS DO NOT. GINZA IS PERFECT AS IT IS.
I was not particularly interested in photography at the start.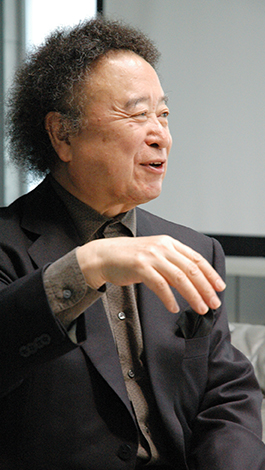 The catalyst for starting my career as a photographer was my rejection from the university I tested for. I did not like the idea of taking a year off, so I applied for and was accepted to the Nihon University College of Art that was still looking for new students. I was not particularly interested in photography at the start, but I sort of felt that it would be interesting to try photography and chose it as my career. Then, I majored in photography at university, but they wouldn't teach me anything at all about the subject. What annoyed me the most was physical education class. Because they told us to jump the vaulting horse (laughs). If I jammed my finger, what finger would I hit the shutter with? (Laughs) I figured this wasn't going anywhere, so while continuing to attend university, for two years I also attended a professional photography college at night to perfect my practical skills. Just as I was graduating from the photography college, a really famous production agency in Ginza called Light Publicity was looking for a cameraman. I applied for the position after being recommended to do so, and was lucky enough to get it. I stayed with them for 6 years, studied techniques, then went on to freelance. I had to take all sorts of photos, from people to cars and architecture. Some people say that I used to be a rakugo storyteller, but that's just gossip! (Laughs)
Ginza was the place of my youth. I figured men had to drink in Ginza.
At the time, I used to go to a place called Iwashiya that's no longer around. I was a university student and I was broke, so I couldn't go to expensive places like clubs, but there were places like Torys (Whiskey) bars that I often used to go to for drinks.
When we finished work, we would all head over there and chat about photos and other stuff. Ginza was the place of my youth.
I was first taken to Club Gres, shown in this book (Shinoyama's Photo Collection, "GINZA SHIAWASE," published by Kodansha), by my editor. There was a piano there at the time, and I was told to sit on something like a waiting chair next to the piano and wait. At midnight, the lights went dark, and "Hotaru no hikari" (= Auld Lang Syne; often played at closing time in Japan) started playing. When the lights went bright again, I was finally allowed to go to the women's seat. They wouldn't let me go before that because I got a student discount (laughs). So, after that, I starting going just before midnight, to shorten the waiting time (laughs). At the time lots of people of culture came to Gres, like the novelists Shotaro Yasuoka and Junnosuke Yoshiyuki. Yasuoka was really cool, singing French songs at the piano. I figured men had to drink in Ginza. But I actually drank in Shinjuku (laughs). There are many Ginzas in Japan, but the one in Tokyo is the original Ginza. The original one is definitely the most seductive.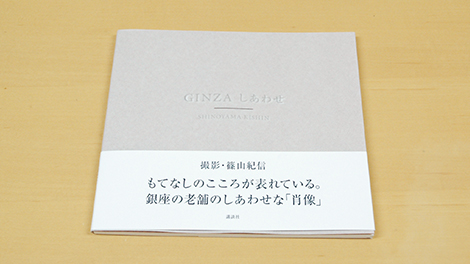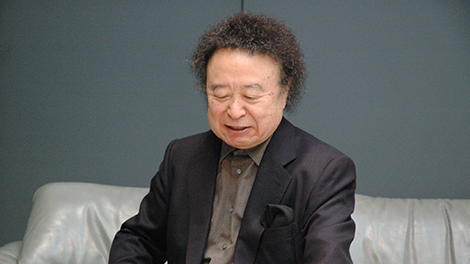 I felt that the people of Ginza, with their class and their warmth, looked happy.
The "GINZA SHIAWASE" exhibition being put on right now by Tokyo Gallery+BTAP displays photographs I took of Ginza shop owners. I felt that if I were to take a photo of something in Ginza, I wanted to take one of something that focuses on people. I've been living in Ginza forever, and I felt that the people in shops that are considered well-established were interesting. Ginza has undergone a constant process of renewal and change, but each era has its own masterpieces, and I wanted to meet and photograph the people in this era who have always worked in Ginza. When I actually met them, they all had something in common. They had class, livelihood, and warmth. I like to shoot on first impression, so when I take photos, I don't do location hunting, give instructions, or do anything special. I love the smiling face I see when I just show up and snap the photo. They look happy. That is why I used the title, "SHIAWASE" (=happiness). At first, I considered naming the exhibition, "Willows of Ginza." There is the song that says, "even willows find some winds unpleasant." I though that the people of Ginza were like willows, staying in Ginza at the mercy of the wind whether they liked it or not, but I realized I was wrong. That this was "happiness." I sensed that they possessed a spirit of wanting to give their customers strength and make them happy. But I guess some of the people were really displeased that I took the photos so quickly (laughs). The shop owners probably spent the whole week thinking about what to wear, what pose to make… and then I show up, snap a picture, and am gone, just like that (laughs). But that was the best way. Even though it was our first time meeting, I felt like everyone was really wonderful. That's why it was so easy to take the pictures, without any hesitation.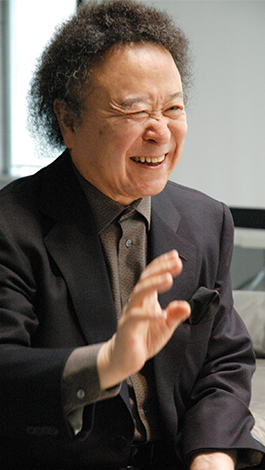 I feel that Ginza is perfect as it is.
Ginza has certainly changed, but it looks clean and very elegant, and the people walking the streets are all very fashionable. It has a special atmosphere that's different from other districts. People in Ginza are often concerned about where to go from here, but I think Ginza is fine as it is. I hope they never forget this point. I feel that the past is the past, and the present is the present. I'm the type of guy who doesn't look back, and always looks towards tomorrow. But of course it's sometimes difficult just to endure. Perhaps the trick is to change about 90% and keep 10% the same. And this 10% is really important. There has to be the proper density.
Just for the record, my 10% is a secret (laughs).
Kishin Shinoyama
Photographer. Graduated from the Nihon University College of Art and Tokyo College of Photography. After working for an ad-making agency called Light Publicity, started freelancing from 1968. Recipient of many awards including the 1st APA (Japan Advertising Photographer's Association) award. Starting with people, events, and cities that symbolize the era, he constantly uses new means of expressions and new techniques such as "Gekisha" and "Shinorama" to break open a new era of photography.
He recently began displaying photos and videos taken by digital camera, what he calls "digi+KISHIN," and presents and discusses them on his website, "shinoyama.net"
Kishin Shinoyama's official website SHINOYAMAKISHIN.JP
Kishin Shinoyama's exhibition, "GINZA SHIAWASE" (Tokyo Gallery+BTAP Website)
Interviewer/writer: Mikiko Okai  Interview location: KISHIN SHINOYAMA STUDIO

Area linksInquiriesTerms of Use
System RequirementsAbout Us
© Ginza Information Management