People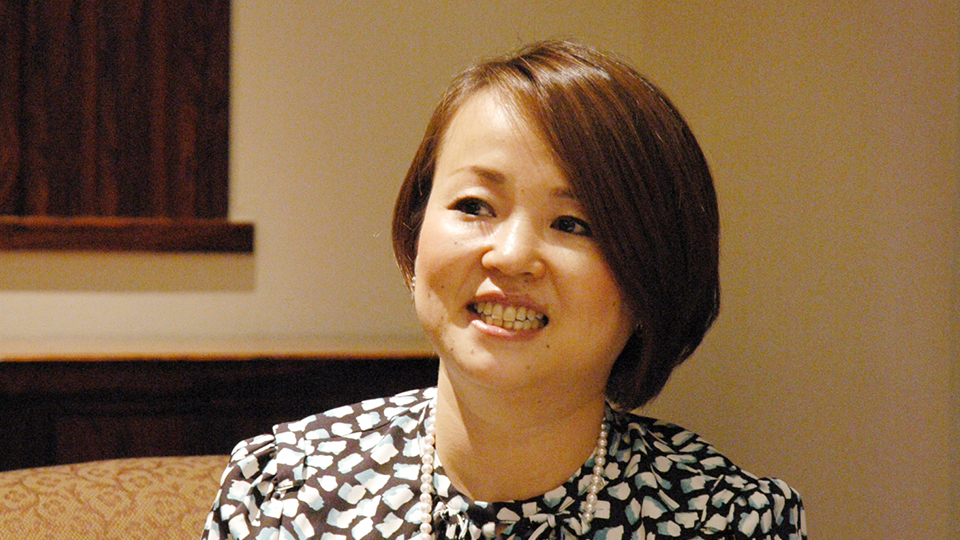 Ginza×People VOL.4
Mikimoto Display Designer Chie Kawai
2011.12.05
Guests who are closely connected to Ginza are invited to this corner to talk freely about the appeal and future direction of Ginza, as seen from the outside. The fourth part in the Ginza×People series focuses on Chie Kawai, who works in the Production Department at Mikimoto. In addition to creating display designs for shops in Japan and around the world, this year Kawai took on the role of managing and decorating the Mikimoto jumbo Christmas tree that has become a winter tradition in Ginza. Everyone who visits Ginza gets at least one glance of this tree. Kawai tells us stories connected to its production, including its history and the various ideas that went into its making.
I WANT TO WARM PEOPLE'S HEARTS AND MAKE THEM FEEL GLAD THEY CAME TO GINZA. MIKIMOTO PINNED THIS HOPE ON THE JUMBO TREE, STARTING WITH THE VERY FIRST ONE.
Based on a wish to enrich the Ginza neighborhood and the hearts of the people there.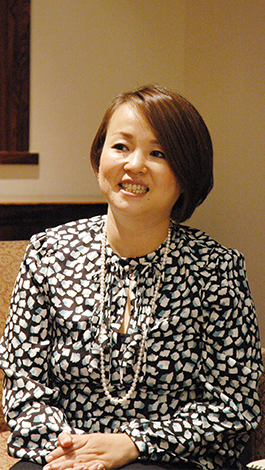 The year after next will mark 120 years since Mikimoto's founding. From the day Mikimoto was established, it's business has grown under the care of the Ginza community. The jumbo Christmas tree tradition was started in 1976 to return this kindness. As the Christmas season is devoid of greenery, this tradition was initiated to enrich the Ginza neighborhood and the hearts of the people there. I hope that visitors to Ginza see the tree and feel energized, their fatigue swept away, leaving Ginza with a new warmth in their hearts.
Our coexistence with nature is also a binding theme and mission of Mikimoto, as pearls, our main product, are created and developed by the natural world. Rather than throwing the tree away simply because the Christmas holidays have passed, we wish for these trees to continue living in a new place, and insist on choosing only Momi Fir trees that still have their roots. Every year, after December 25th, we donate that year's tree to a community facility in a Tokyo suburb, so that it can continue to be cherished and nurtured in each of these places. I think it is wonderful if this spirit of Mikimoto lives on even when the trees are far way from the shop.
In my school years, I too would always look forward to seeing the Mikimoto Christmas tree when I visited Ginza during the Christmas season. I was interested in this project even from those days, and am so happy that now my dream has come true.
With hopes of earthquake disaster reconstruction, this year's concept is "The Dreams of Children."
The concept behind this year's jumbo Christmas tree is "The Dreams of Children." The tree is decorated with 3000 or so LED lights with basic tones of red and white and 35 glass message balls inscribed with the future dreams held by children. The glass balls that simulate Mikimoto's pearls are lined in red in the spirit of Christmas and contain an LED bulb. When music plays every hour on the hour, only the glass balls light up, giving you an image of each child's dream blossoming. Since not all the messages can be read with only this display, you can also find a picture book of trees inscribed with the dreams of each child at the shop entrance.
After the great earthquake disaster this year, we actually debated whether or not to display a tree at all, starting from square one, but we strongly felt that this is exactly the time to use the Mikimoto Christmas tree to make people feel even just a little extra strength. The world is still full of uncertainty under the continuing impact of the earthquake disaster and the stagnant economy, but I believe our role as adults is to create a world in which children, who are the treasures of society as a whole, can live with hope in their hearts. I hope, as seeing, that the children of the same generation would share their dreams with each other, adults would be reminded of their own days as children. When children are happy, adults are happy, and the entire country of Japan becomes stronger. I am holding this thought in my heart this Christmas.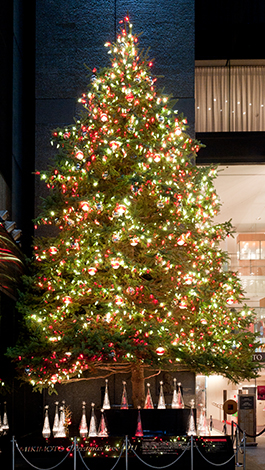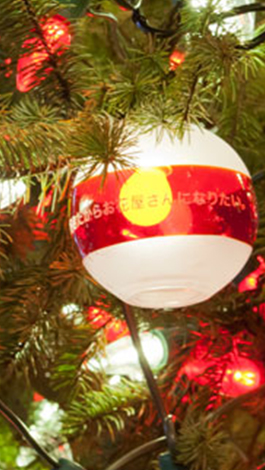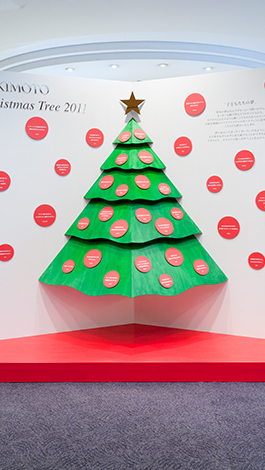 The happy cheers from customers truly fill my heart with joy, making me forget all my troubles.
Tree installation and decoration had to be completed over three days late in the evening, and there was a lot of pressure because everything would be spoiled if we were even a single day late. It was especially difficult to bring in the Momi Fir tree by truck, but I'm extremely grateful because, with everyone's help, we were able to finish the work without any problems again this year. We have to use a large crane late in the evening to bring in the tree, causing a great inconvenience to people nearby, but each year is always completely free of problems thanks to the terrific understanding and cooperation from everyone. This really is quite amazing. It is no doubt a busy time for everyone working in neighboring stores as well. I think this also reflects the sense of unity and grace of the Ginza district.
This year we were also conflicted about another issue. As an unspoken tradition, the Mikimoto Christmas tree is always 10 meters high with roots and decorated with incandescent bulbs to create a warm atmosphere. On this year's tree we chose LED lights instead of incandescent bulbs. We considered the current energy problems and felt that this is an era for using LED lights, but debated whether it was acceptable to alter a tradition that has been passed down from the beginning and worried that visitors who come to see our tree each year might feel disappointed. We wavered back and forth until the very last minute. We searched for lights that were similar to incandescent bulbs, and found the LED lights we finally chose to use only two weeks before the tree-lighting ceremony. We have shortened the duration that the tree is lit up and succeeded in cutting our use of energy to 1/10 of what we had been using in previous years. Even I am amazed.
Even when there is a lot going on in my life, the happy cheers from customers coming to see the tree-lighting ceremony truly fill my heart with joy, making me forget all my troubles.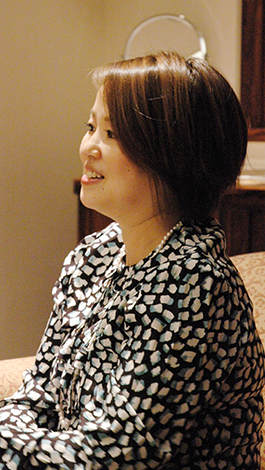 I want Ginza to always be a place of longing for visitors.
As for my own memories of Ginza, when I was a child, I remember that my mother would take me to Tokyo during the fall and spring breaks, and we would always go to Sembikiya that was on 8-chome at the time. What I always looked forward to the most there was eating custard pudding a la mode. That's why even as an adult I still love custard pudding a la mode. Even to this day, when my mother wants to go shopping she always says she wants to go to Ginza, so we often wander around there together. Ginza was always a dream place to my mother, and I think it is an area whose allure has remained throughout the years. An area like this, where parents and their children can go together even after they grow up, is really wonderful. Like Fifth Avenue in New York and Bond Street in London, I want Ginza to always be the place in Japan that visitors long for.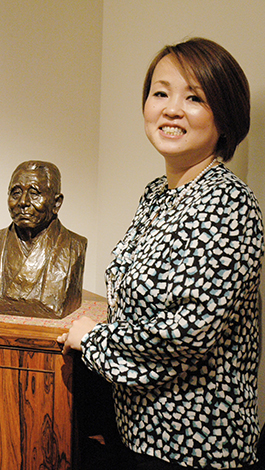 Chie Kawai
Mikimoto Display Designer.
Studied design at Harcum Junior College in Philadelphia in Pennsylvania, U.S.A. and joined Mikimoto in 1992. Since then, she has worked in display design. In addition to the Mikimoto main store's Christmas tree and the main store and GINZA2 Christmas design, she has created the shop design for new stores across the country and around the world.
Mikimoto
Interviewer/writer: Mikiko Okai  Interview location: Mikimoto Main Store

Area linksInquiriesTerms of Use
System RequirementsAbout Us
© Ginza Information Management