People
Ginza×People VOL.5
Sotokoto Monthly Magazine Editor in Chief Kazumi Oguro
2012.01.16
Guests who are closely connected to Ginza are invited to this corner to talk freely about the appeal and future direction of Ginza, as seen from the outside. The fifth part in the GINZA×People series focuses on Kazumi Oguro, Editor in Chief of the monthly magazine, Sotokoto. Ogura is a persistent leader of current concepts and lifestyles and is active in numerous areas.
We asked Ogura about his motivation for opening a new restaurant and for a message about the future of Ginza.
I LOVE NEW THINGS AND I ALWAYS WANT TO DO SOMETHING DIFFERENT FROM EVERYONE ELSE, SO I THINK GINZA MUST ALSO CHANGE IN SOME RESPECTS.
I sensed that environmental issues could become a business opportunity.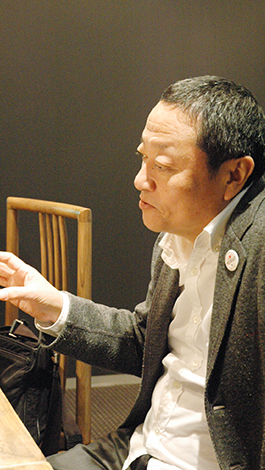 When I founded Sotokoto in 1999, there was still little awareness about the values of LOHAS (Life of healthy and sustainability). I sensed that environmental issues would spark new lifestyles, becoming a great business opportunity, but at the time my ideas were not well understood. When you think about an eco-fashion magazine, it may seem that ecological conservation and fashion are opposing ideas. Consider my reasoning. Luxury European brand items are treated carefully for a long time, and are rarely thrown out at the side of the road.
People tell me now that I had a lot of foresight, but the Prius was already released and I felt it was the obvious next step. I could see that the environment would become a fashion market, and artists were already putting out this message. I wanted to ask people in the fashion and music industry, "shouldn't the environment be your theme?" I feel that eco-conscious consumerism is cool and fashionable.
After the recent earthquake, volunteer work and NPO/NGO activities that had always been a focus at Sotokoto became the natural choice. People started placing more value on links and bonds. It became ubiquitous for people to help others outside of their work life. Well, I might be an exception… (laughs).
I think the Bama lifestyle is the most attractive in the current times.
I decided to open the Bama LOHAS Café after meeting a certain Chinese person. A while ago, when I was covering creators from Italy and New York, I would visit their homes and see photos of their trips to Africa on the walls. I was very impressed and built a lodge in Kenya about 20 years ago. The lodge began receiving a steadily growing influx of affluent Chinese tourists. A Chinese businessman who saw my lodge was very surprised by it and came to see me. The final thing a successful person thinks about is longevity (laughs). There is a place in China called Bama County that is famous as one of the top five places in the world for longevity. It is a veritable Shangri-La where 100 year old people work vigorously. It has been well-known as a resort in China since long ago. The limestone caves release negative ions, and many stories are heard about people who recovered from cancer or diabetes after performing tai chi there. It is commonplace in Bama County for three generations to live in harmony under a single roof, and nobody considers older people as a burden on the younger people. I felt that this was the most attractive lifestyle. The Chinese businessman who came to me said that he was considering building a resort lodge with a hospital attached in the village and wanted to create an environment that would please local minorities. He said that my Kenyan lodge that took on activities such as sharing water with nearby residents and building a school met his ideal, and he wanted to work together with me. That was the beginning of the Bama LOHAS Café. To share the dietary culture of the local Bama people with people in Tokyo, we serve meals made with hempseed, an ingredient that is eaten by the villagers every day.
With a sophisticated atmosphere that befits Ginza and reasonable prices, our café is well-received by diners. I am fundamentally very service-minded, so I am happiest when I am making other people happy.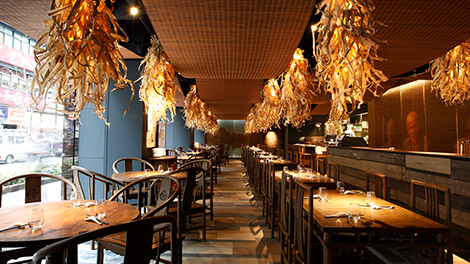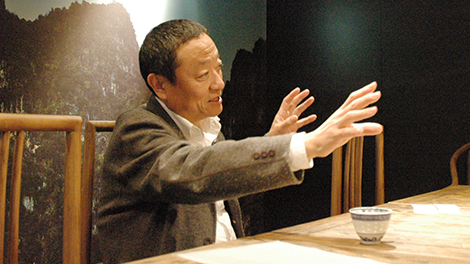 I think it has become a never before seen Vermeer exhibit.
I love new things and I always want to do something different from everyone else (laughs). The same building (Ginza Sotokoto LOHAS Building) will hold Vermeer Center Ginza (www.vermeer-center-ginza.com) for a limited time between January 20 and July 22, 2012, supervised by biologist Shinichi Fukuoka.
This plan was realized through collaboration with the Vermeer Center in Delft, Holland, Vermeer's hometown. I had hoped to borrow some of his original paintings, but I learned that a single painting would cost millions of yen, so I would only have been able to display a few. That would never amount to something you could call a Vermeer exhibit. The usual response in such a case is to display works by other related artists to somehow manage to make it presentable (laughs), but I didn't like that idea. I then considered displaying the story of Vermeer's life, to show what kind of character he was, thinking that such an exhibit would be very unique.
If you take a look at Vermeer's paintings, you'll find that about a third of them show some kind of instrument. This led me to thinking that Vermeer must have been listening to music while painting, so I enlisted the help of the musician, Joe Hisaishi, who created new songs in a style that Vermeer would have enjoyed. To show what angle he would have painted from, I recreated Vermeer's studio. Exhibits are usually accompanied by audio guidance, but I thought it would be boring to provide the normal type of guidance. With actor Kaoru Kobayashi as Vermeer and actress Rie Miyazawa as his daughter, we created narratives for all 37 prints.
Even though the displayed Vermeer paintings are all replicas, with the help of this 'supporting team of authenticity', I feel we were able to come close to achieving the sentiment felt when viewing the originals. I think it has become a never before seen Vermeer exhibit.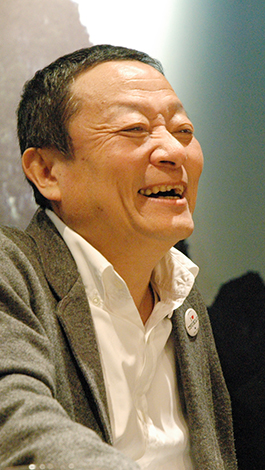 I think Ginza must also change in some respects.
From the perspective of someone from China, Ginza is said to be a very special area that is even more enchanting than Paris. However, I think Ginza must also change in some respects. Nihonbashi was also reborn after redevelopment.
I think the greatest potential lies in the empty buildings. Especially in the entertainment area, there are many empty spots, like missing teeth. It's a waste of potential. Wouldn't it be great to have the long-standing shops lined up next to new shops run by creative young entrepreneurs? Of course, the same could probably be said for seductive late night establishments (laughs).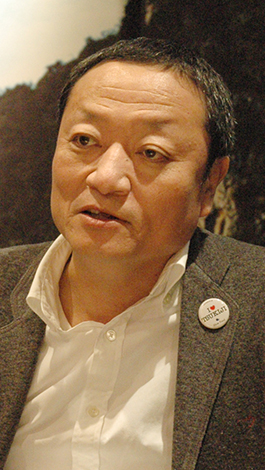 Kazumi Oguro
Oguro was born in Tokyo in 1950. He joined Magazine House, Ltd., where he served as editor for a number of magazines including Gekkan Heibon and Brutus.
After leaving the company in 1990, he founded Todo Press. In 1992, he opened the Mpata Safari Club resort lodge in Masai Mara, Kenya, named after Simon George Mpata, an African artist produced by Ogura. In 1999, he founded the monthly eco-lifestyle magazine, Sotokoto. He was one of the first to introduce the slow food, slow life and LOHAS lifestyle to Japan and advocates new values through various media outlets including radio and magazines. Recently, in 2011, he published a new magazine Magonochikara (the power of grandchildren) as an extra edition to Sotokoto, the first magazine ever to be published about grandchildren.
Sotokoto monthly magazine
Magonochikara (the power of grandchildren)
Bama LOHAS Cafe
Vermeer Center Ginza
J-wave radio's LOHAS TALK
Interviewer/writer: Mikiko Okai  Interview location: Bama LOHAS Cafe

Area linksInquiriesTerms of Use
System RequirementsAbout Us
© Ginza Information Management