People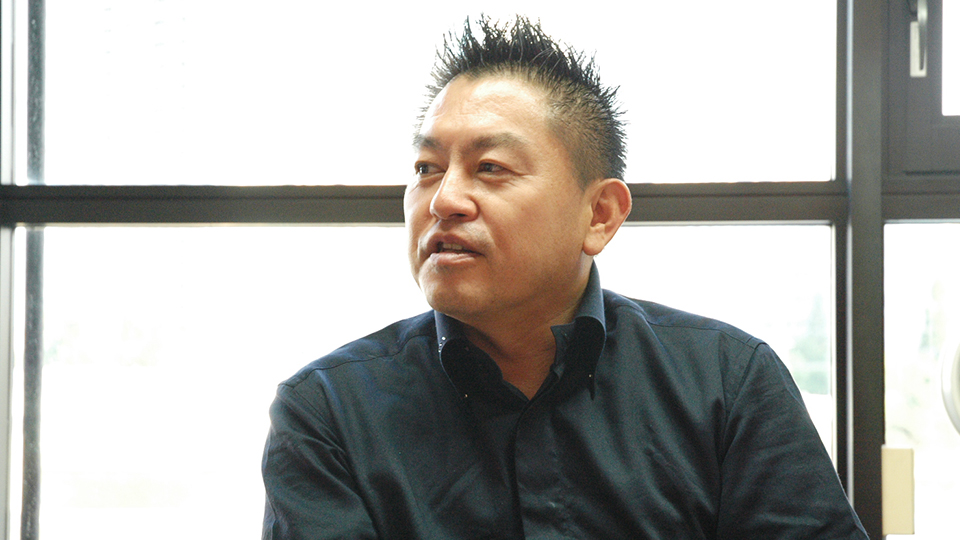 Ginza×People VOL.6
Idea Crent Inc. President Masanori Shinozuka
2012.10.15
Guests who are closely connected to Ginza are invited to this corner to talk freely about the appeal and future direction of Ginza, as seen from the outside. The sixth part in the GINZA×People series focuses on Masanori Shinozuka, president of Idea Crent Inc. Shinozuka has created many designs, including the Nagano Olympics emblem as well as numerous logos and product packages for well-known companies. He is a leading designer and created the G Free logo for Ginza's free WiFi service that started on September 30. We asked him about designing the logo, about his designing the Nagano Olympics emblem, and for a message about Ginza.
THERE ARE VERY FEW PLACES LIKE GINZA THAT ARE ADORED BY EVERYONE. I HOPE IT REMAINS DISTINCTIVE FROM OTHER PLACES.
As a child, I loved drawing pictures and making things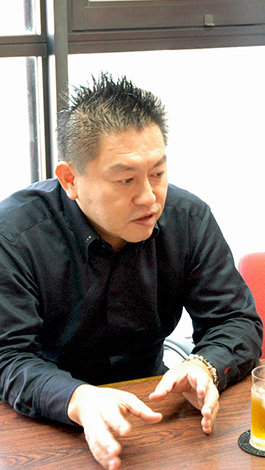 Ever since I was young, I have always loved drawing pictures and making things. As a child, I would often draw pictures without being told to do so. In junior high, I learned all about poster color and lettering and was so excited that I could make a real poster by myself that looked as if it was printed. I took the initiative and began making posters for things like student council meetings and athletic meets. My first award was for a fire safety poster I made during art class. I was presented with an award in the morning assembly and was very happy (laughs).
I think the next time was during high school. At the time, there was a pop idol named Chieko Matsumoto, and there was a contest open to general applicants to design her LP jacket. I made a collage out of pictures I had cut out from magazines and sent it in as my design. It didn't make first place, but it did win a prize, and my design was shown on the back of the LP jacket. This was probably my first piece to be released to the public.
The Nagano Olympics emblem was selected from over 1000 proposals
I was already planning to go to art college from the time I started high school, so I went on to Tama Art University and majored in graphic design. Under recommendation from one of the professors I met there, after graduating I went overseas to study at the Art Center College of Design in California. I ended up staying in the United States to work, and was able to get a job at the design company, Landor Associates, where I had been aspiring to work since long before. After working there for 2 years, I was transferred to their Tokyo branch, which is where I came to be involved in the Nagano Olympics emblem.

When it comes to big projects like these, over a thousand drafts are collected from over a hundred designers from around the world. I spent about 2 months working on my design. Landor Associates branches around the world held numerous internal screenings, and only 12 designs were submitted for the first presentation to the Organizing Committee of the Nagano Winter Olympic Games. The number of designs was reduced to 7, then 4, then 3 in further presentations, and it was really nerve-wracking making it to the end. Being the Olympics, the top three designs would receive an award, but I needed to have 1st place because that was the only design that would be used (laughs). So, when I heard my design was chosen, I was so happy I felt like jumping. The motifs of the Nagano Olympics emblem are a snowflake to represent the Winter Olympics, a ring of people, and a flower blooming on snow. The flower has six petals to represent the hexagonal shape of snowflakes, and each petal is shaped like an athlete practicing a different sport to form a ring. The colors are four of the Olympic colors, excluding black, joined by purple to represent Japan and orange as the color of Nagano prefecture. I tried to make a global image that did not focus too much on Japan, so I did not include the rising sun flag, but what struck me was that non-Japanese people still said it looked like a very Japanese design.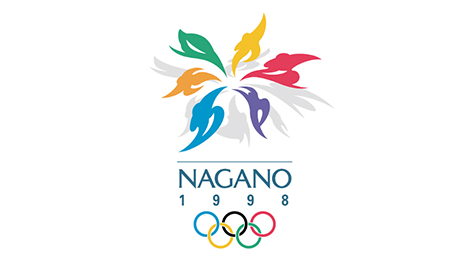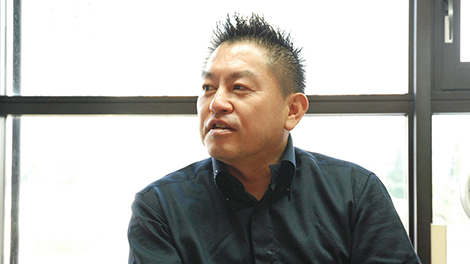 I tried to create a "G Free" design that anyone could easily understand, regardless of sex or age, and that was liked by everyone
When creating a design, I strive to create something that will be liked by 10 out of 10 people. It needs to be developed for a wide audience, so I want it to be a straightforward design that is liked by everyone, regardless of sex or age. With that in mind, I make a very strong effort to look at my own design objectively.

I developed the logo for Ginza's "G Free" service, which is a free WiFi service that started on September 30. My focuses were the same when designing that logo as well. The design is a "G" for Ginza transmitting the symbol for wireless service. I made it as simple as possible, so that anyone who sees it would understand that WiFi access was available in Ginza. The request for the logo design came from Akira Ito, the president of Ito-ya (a giant stationary shop in Ginza). We have actually been friends for a while, since we studied abroad at the same school (the Art Center College of Design) in the United States. We still get together often throughout the year, for meals or what have you.
See here for information on the G Free service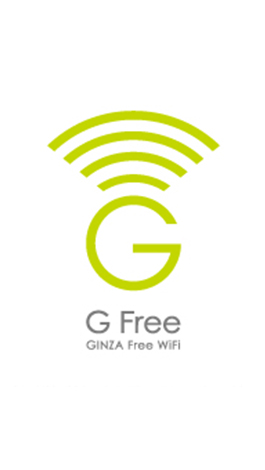 A great part about Ginza is that it remains slightly restrained while maintaining a unique elegance and long history
I am from Tokyo's Koto Ward, but my parents often took me to Ginza, ever since I was young. In elementary school, I was a boy scout and belonged to the Ginza chapter, so I went there nearly every week. As for which shops I frequented, I often went to Ito-ya since my elementary school days, even before I met its president. I would wander throughout the entire shop, spending whole days there. Also, they are no longer around, but there were lots of foreign bookshops back in the day, and I often went to them to take a peek. After coming to work in Tokyo, my office has always been close to Ginza, so I've been going there for nearly all my meals. Nowadays I often go to a Spanish bar. It is a cozy counter-style little bar that serves great tapas and wine.

Being a Tokyoite, I prefer the unpretentious atmosphere of traditional shopping districts. I think a nice point about Ginza is that it still has this feeling to it. There are very few places like it that are also adored by everyone. In recent years, Ginza has been seeing a superfluous influx of new business, and I feel like it's a waste of Ginza's potential. I think that the more modern it becomes, the more it will be reduced to the same level as other areas. I personally prefer the mature and relaxed image of Ginza, so I hope it remains distinctive from other places. A great part about Ginza is that it remains slightly restrained while maintaining a unique elegance and long history. I hope it continues to hold its traditional atmosphere.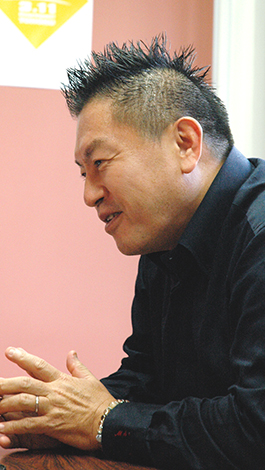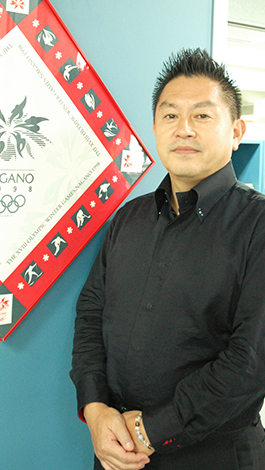 Masanori Shinozuka
Born in 1960. President and Creative Director of Idea Crent Inc.
Graduated from Tama Art University, then went abroad to study in the United States. After graduating from the Art Center College of Design in the U.S., worked as a designer at Landor Associates, one of the largest corporate identity design companies in the world that has its headquarters in San Francisco.
In 1993, designed the emblem for the 1998 Nagano Olympics.
In 1995, established his own company. In addition to creating corporate identity, brand identity and package designs, he also teaches classes as a lecturer at universities and vocational colleges.
Idea Crent Inc.
Shinozuka's blog
Interviewer/writer: Mikiko Okai  Interview location: Idea Crent Inc.

Area linksInquiriesTerms of Use
System RequirementsAbout Us
© Ginza Information Management