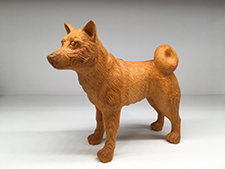 * The image shown is for illustrative purposes only.
Ichii-itto-bori is a traditional woodcarving technique of Hida Takayama,
in which the wood is left uncolored to bring the natural beauty of the grain to life.
This variety of carving is characterized by the beauty of the untreated wood and the natural luster it develops over time.
The Taniguchi Choukoku studio mostly produces traditional works of art,
but also comes out with novel and humorous pieces as well.
This exhibition introduces artwork representing 2018 zodiacal symbols and good luck charms,
made entirely with traditional woodcarving techniques.
■November 29 (Wed.) – December 5 (Tues.)
■7th floor, Japan Edition