GINZA CONNECTIVE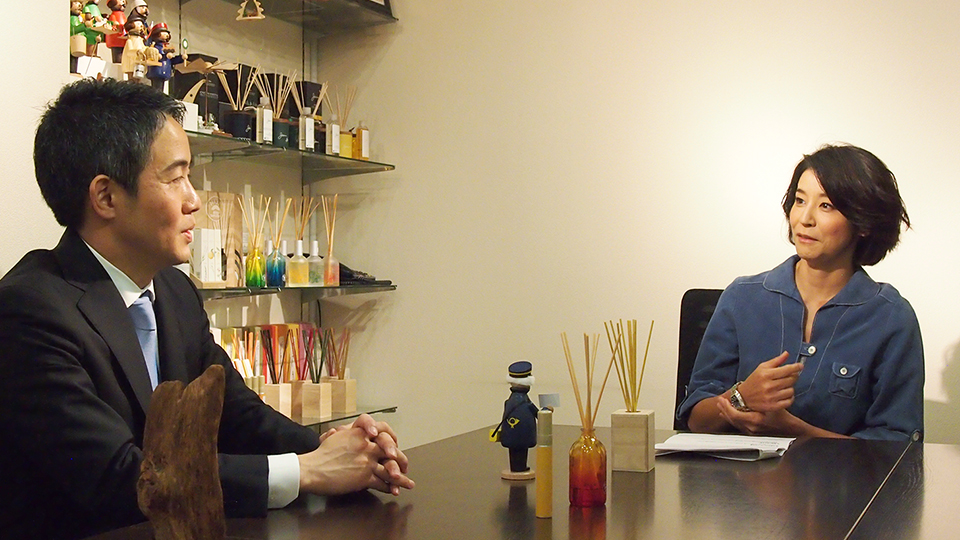 GINZA CONNECTIVE VOL.43
Masaya Konaka×Chisako Takashima
2015.05.01
An interview series featuring Ginza people in conversation with violinist Chisako Takashima. With a special fondness for Ginza, which holds many memories both from her professional and private lives, Takashima explores Ginza from various dimensions with her guests. In this volume, she welcomes Mr. Masaya Konaka, Managing Director of DAIKO,INC., which offers fragrances from all over the world.
A symbol of prayer? Fragrance is used differently in Europe and Japan.
Takashima

Please tell me how fragrance was used in ancient Japan?

Konaka

Fragrance has been an important part of people's lives since ancient times. For example, aristocrats in the Heian era would impregnate their clothing with fragrances in a fusego (a basket used upside-down to cover incense burners or braziers). It was not customary for them to take a bath every day like today, and since they seldom soaked in the bathtub, I would suppose that it was also a means to deodorize themselves.

Takashima

I see. I have heard that in Medieval Europe, too, the sanitary conditions were terrible, and since there were few toilets in the Palace of Versailles, people used perfume as deodorants. I guess that is why many foreign perfumes have strong scents.

Konaka

That is true. Perfume is used very different in Europe. In Japan, even in modern times, people tend to prefer to use fragrance indirectly. The Japanese enjoy using scented softeners when washing their clothes or burning incense.

Takashima

The Europeans and the Japanese do have different approaches to fragrance. Did fragrance have any special meaning to people in Europe?

Konaka

Like in Japan, fragrance was used for prayers in Europe as well. The English word "perfume" originates in a Latin word meaning "through smoke", and as this work implies, people used to let their prayers be carried by the scented smoke. In the Christian belief, the three wise men from the East offered gold (symbol of the throne), frankincense and myrrh (symbol of death; used as antiseptics for corpses) to baby Jesus. Frankincense is resin obtained from trees of the Boswellia genus and an expensive fragrance used for worship. It is a symbol of prayer.

Takashima

So it was sacred.

Konaka

People used scents to purify themselves. When the plague broke out in Medieval Europe, people blended spices to make perfume, which they would use as an antiseptic. They believed that the scent would keep the plague away.

Takashima

So that is how perfume came to be widely used in Europe.
Assuming the position of President of Ginmikai, I would like to break out of my shell.
Takashima

Before we close, please tell me your thoughts about Ginza.

Konaka

Ginza is full of inspiring people. Many people in Ginza are proud of their town. I believe that is why we have been able to preserve our unique culture to hand down to future generations. This strong sense of unity is what creates Ginza.
I have been granted the honor of being President of Ginmikai from this April and I hope to communicate the charm of Ginza by making new friends.

Takashima

Congratulations on your becoming President? How large is the membership of Ginmikai?

Konaka

It is composed of young entrepreneurs aged under 40 and current has 70 members.

Takashima

Seventy members! That is a large number of people to manage? You must be looking forward to a busy year!

Konaka

Yes. There will be much to be gained. I believe it will a good opportunity for me to have new experiences. First of all, I would like to break out of my own shell.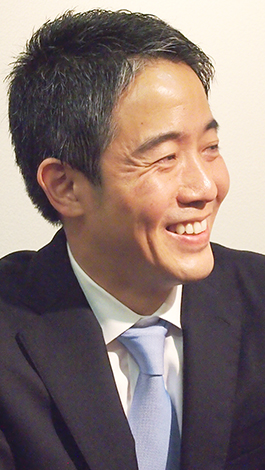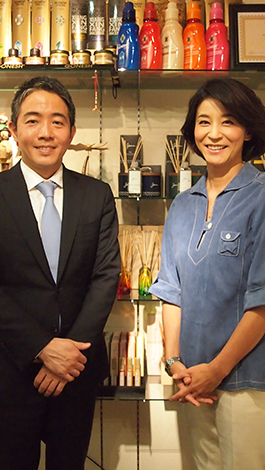 Chisako Takashima
Violinist. Takashima started taking violin lessons from the age of 6. After a successful career abroad, she moved her home base to Japan, where she currently performs in concerts across the country. Highly noted for her character in TV and radio appearances, she has currently opened up her career to more diverse fields with an unchanged focus on her profession.
Official website of Chisako Takashima
Masaya Konaka
Managing Director of DAIKO,INC. After being graduated from college, Konaka worked for a bank and later studied abroad. He assumed his current position in 2009. His hobbies are tea ceremony, camping and mountain climbing. He is currently engaged in planting a herb garden, "Fingredient" on the rooftop of a company warehouse in Kasai.
DAIKO,INC. website
Written by Mikiko Okai; Place of interview: DAIKO,INC main office

Area linksInquiriesTerms of Use
System RequirementsAbout Us
© Ginza Information Management