GINZA CONNECTIVE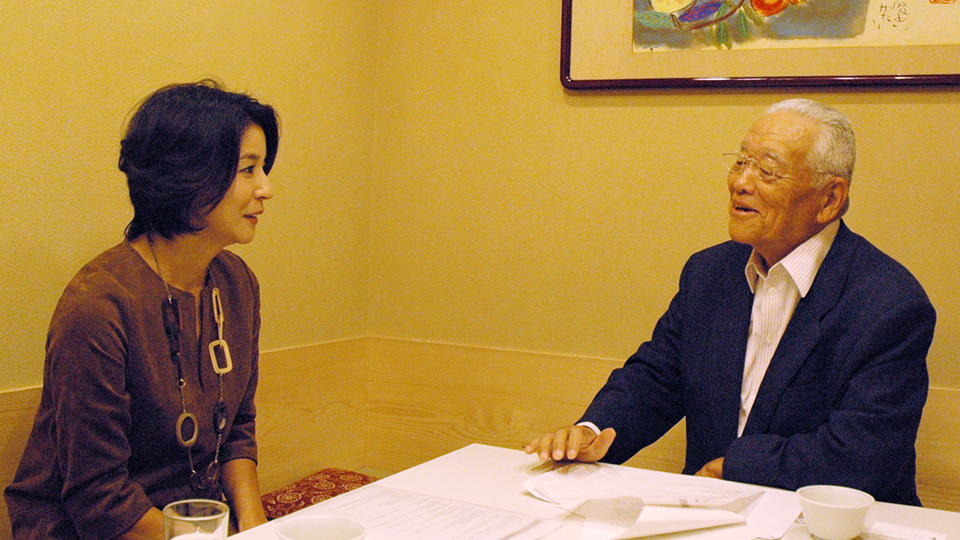 GINZA CONNECTIVE VOL.3
Hitoshi Ishihara×Chisako Takashima
2011.12.01
A talk series with the violinist Chisako Takashima and the Ginza people. Ginza holds many personal and professional memories for Takashima. In this talk series, she thoroughly explores various aspects of the Ginza culture with her guests. Today's guest is Hitoshi Ishihara, the second generation owner of Ginza Yasuko, an oden shop and a central figure in Ginza.
In the olden days, Ginza-dori was glamorous, lined with stalls every day.
Takashima

I came here today knowing I might hear some stories about the old Ginza that would surprise everyone. I heard that you were born and raised in Ginza.

Ishihara

I was born in Fukagawa in 1930. My father originally ran a lumber shop. Then, in 1933, my father and mother opened the oden shop. I transferred to Taimei Elementary School in the second term of grade 1, just after the summer holidays.

Takashima

Really?
There aren't so many people living in Ginza nowadays. How many students were there at Taimei Elementary School in those days?

Ishihara

There were a lot of shopowners' kids at the time, so there were about 100 students per grade, with a total of about 600 students.

Takashima

That many! There were quite a lot of kids, then.
Were there places to play?

Ishihara

Yes, plenty. One of my most memorable places was the Hachikan shrine on 8-chome. I used to play there all the time. It was demolished during the bubble period. I played in the schoolyard on the way home from school, and picture card shows came to the shrine grounds. Ginza was the downtown area back then.

Takashima

That was the atmosphere on Ginza-dori?

Ishihara

On no, Ginza-dori was different.
Kids were told that it wasn't a place for them to be running around.
There were willow trees, and beautiful people were walking around in their street clothes. My parents told me to walk home by the back alleys (laughs).

Takashima

That's enchanting.
Unfortunately, there are no signs of that at all anymore.

Ishihara

You're right.
Now there is a highway running through Ginza, but it used to be all rivers.
My memories are of willow trees, promotional hot air balloons in the sky, streetcars, and rivers.

Takashima

Does that mean the highway runs where a river used to be?

Ishihara

Exactly. Sukiya-bashi and Shin-bashi are names of bridges, right? All those intersections had rivers running through them. We would go fishing and ride boats down the river.
Also there were the streetcars that ran through Ginza to Kanda and Shinagawa.

Takashima

Wow, the atmosphere must have been completely different.

Ishihara

The biggest difference was the stalls that lined the streets every night.

Takashima

That's surprising. It's just like a festival!

Ishihara

Exactly! Stands lined the streets every day, just like a festival. Before New Years, we would go to the stalls to buy karuta cards or playing cards. I remember there were lines of people like Fuuten no Tora-san (=Tora-san, His Tender Love).

Takashima

It sounds like you could enjoy the Ginza night differently than how we do now.

Ishihara

Now the streets get very lonely after 8 o'clock, but in the olden days, the stalls stayed open past 9, and the area was very lively. Events were held three times a month behind Matsuya, and they sold inarizushi and yakisoba. It really was like a festival every day (laughs). I felt that it wouldn't have been Ginza otherwise.
Oden made by a professional has distinct qualities.
Takashima

Your shop has been here a long time. Do you have any regulars who have continued coming for years and years?

Ishihara

Yes, we have customers who have been coming for 40 or 50 years.

Takashima

Wow, that's amazing! Was it difficult to learn all the work?

Ishihara

My father never raised a hand against me, but he was pretty strict.
He would only teach me something once, never showing me something carefully again and again.

Takashima

Are you the same to the third generation?

Ishihara

No, I'm pretty easy on him (laugh). He is working hard to pass on his father's recipes. But, even so, it is certainly important to make it all by our hands professionally. Using machines can make food to a certain extent, but it has no personality. The distinct qualities of our products were different between my generation and the previous one, and also now with the third generation. This is a good thing.

Takashima

Did you grow up eating oden at home from when you were a kid?

Ishihara

Yes, I did. I still often eat oden. When I'm not well, I eat oden and it makes me feel better.

Takashima

At my home, when we make oden, we continue eating it for the next 3 or 4 days. It's healthy and it's easy for young kids to eat. Are there any distinctive differences between oden in the Kanto area and the Kansai area?

Ishihara

They use different items. Whether the soup stock is stronger or weaker depends on the store, but you usually won't find hanpen or fish balls in the Kansai region. And in Shizuoka, they often use black hanpen. But in anywhere, oden is a common dish, and I think everyone eating out of the same pot suits Japanese people.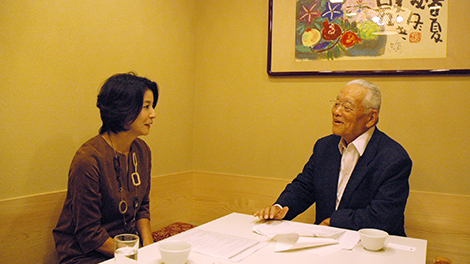 Area linksInquiriesTerms of Use
System RequirementsAbout Us
© Ginza Information Management