GINZA CONNECTIVE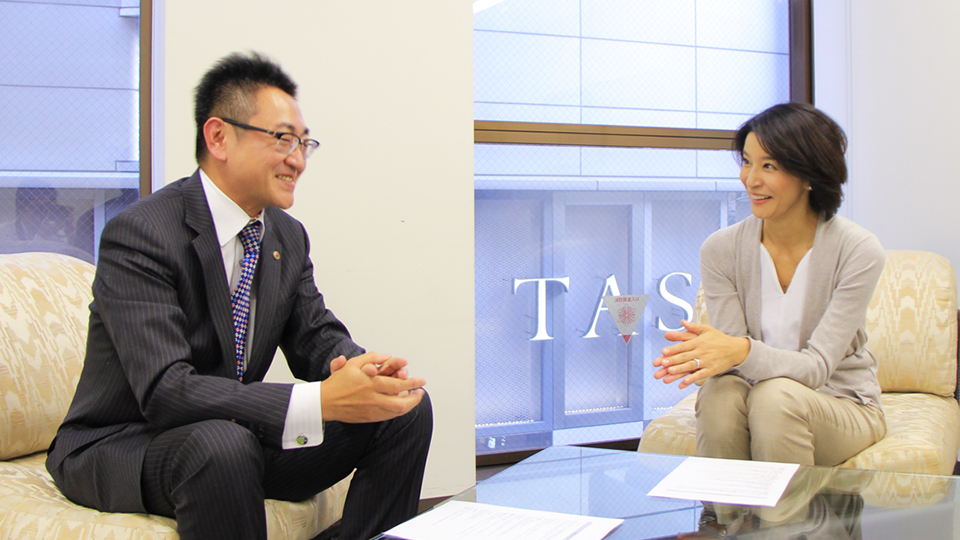 GINZA CONNECTIVE VOL.30
Shigeyuki Ando×Chisako Takashima
2014.03.05
A talk series with the violinist Chisako Takashima and the Ginza people. Ginza holds many personal and professional memories for Takashima. In this talk series, she thoroughly explores various aspects of the Ginza culture with her guests. Today's guest is Shigeyuki Ando, the president of the Tokyo Ando Cloisonne shop known for such gorgeous techniques that it even receives orders from the Imperial Household Agency.
Ginza is a branch shop — the main shop is in Nagoya.
Takashima

Thank you for talking with me today. Let me start by saying that my sister used to make cloisonne ware. When I called my mother this morning and told her I was going to see you today, she said, "That place is truly amazing."

Ando

She is too kind. What kind of cloisonne pieces did your sister make?

Takashima

As a hobby, she made things like ornaments for kimonos and bag hooks.

Ando

Is that so? Cloisonne can be enjoyed in many ways, from hobby to artisan level. We also sell bag hangers. People may think cloisonne is very expensive, but the pieces we sell range widely from those you can buy easily at only a few thousand yen to more expensive items.

Takashima

Please tell me all about it. You're the president of the Tokyo shop. Tokyo is a branch shop?

Ando

Yes. Many people think the shop in Ginza is the main shop, but the main shop is actually the one in Nagoya.

Takashima

I love Nagoya! The food is delicious, so when a musician gets asked to play there, they immediately say yes (laughs). Are you from Nagoya?

Ando

Yes. I was born and raised in Nagoya. My father is still actively running the main shop as its president, so I left him in charge there and moved here in my early 30s.

Takashima

That's amazing that the Ginza shop is just a branch.

Ando

Most Ginza shops are main branches, so it is certainly rare. Aichi Prefecture is famous for its crafts, with earthenware and Tokoname ceramics in addition to cloisonne ware.

Takashima

The business was founded over 130 years ago. How old is the Tokyo shop?

Ando

The Ginza shop opened in 1890. Before opening the cloisonne shop there, it was a tobacco pipe shop. The decorative part of the pipe is made of metal fittings and silverwork, so the cloisonne business was started to make those parts. My great-grandfather's brother-in-law turned it into a specialty cloisonne ware shop in 1880. Ten years later, in 1890, he went to Ginza in search of a larger market.

Takashima

Was it located here from the start?

Ando

No, it actually started in a rental house in front of where Matsuya is currently located. But Nagoya people have a strong desire to do business in a shop they own personally, so the current place was purchased and the shop was moved here.

Takashima

This building is very big. Is it completely devoted to cloisonne ware?

Ando

The shop is only on the first and second floors, and the third floor is our office. The rest is rented out to tenants.

Takashima

Sounds like a pretty good deal (laughs).

Ando

I have to be very grateful to my past relatives.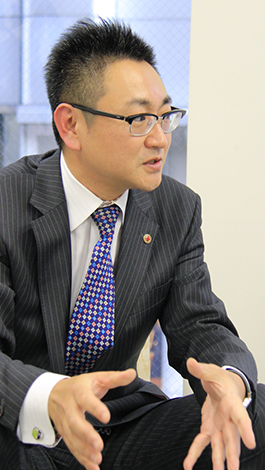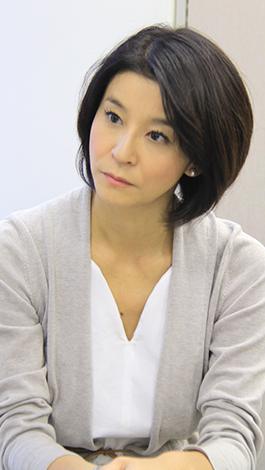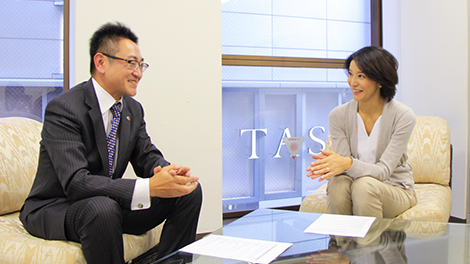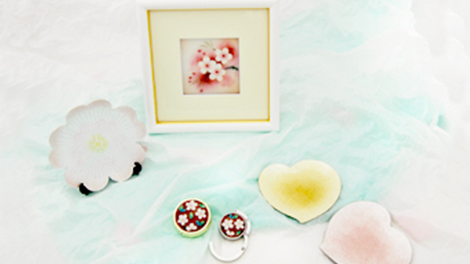 Perhaps because Empress Michiko likes cloisonne, orders are also filled for the Imperial household.
Takashima

How do you make cloisonne ware?

Ando

Today I'm going to brief you on the entire process until completion. From its appearance, many people think it is porcelain, but it is actually made from metal. Almost all is made from copper plate.

Takashima

Really? I had no idea. Doesn't it break?

Ando

It actually doesn't. Sometimes it gets small cracks in it, but it does not break.

Takashima

How does copper plate get such vivid colors?

Ando

We use an enamel-like material. Cloisonne is precious metal decorated with glass. For the primary example, you first add a white glaze to get rid of the redness of the copper. Then you hand paint flowers and other designs.

Takashima

Interesting… On this piece, the outline of the design is raised up.

Ando

This is because the lines are laid on by placing ribbons of it along a sketch of the design so they stand up vertically.

Takashima

That is incredible. You would have to be extremely dexterous!

Ando

Yes. You have to lay the lines with tweezers and scissors. They are tacked in place with a paste made by dissolving powdered orchid bulb in hot water.

Takashima

Ah, my husband would be good at that. He is really dexterous (laughs). What is the next step?

Ando

Colored glass that has been pulverized into a powder is used as the paint to fill the compartments between the lines. Red is put in the red compartments, pink in the pink ones, and so on until they are all filled with color, and then the piece is fired.

Takashima

And these steps are all repeated.

Ando

Yes, exactly. When done only once, the color sinks down after firing, so colors have to be lain the same way 2 or 3 times until they reach the height of the lines. After firing, the surface becomes slightly uneven, so it has to be polished. First, it is smoothed down with a sandstone, then polished with oxidized tin or carbon to bring back the shine.

Takashima

What a complicated art. It takes patience, like the people who draw pictures on grains of rice. I had no idea cloisonne ware required such complex techniques.

Ando

We have not advertised enough, and many people do not know about it.

Takashima

You also receive orders from the Imperial household?

Ando

Yes. In 1900, we were made purveyors to the Imperial Household Agency, but this system no longer exists, so now we simply fill orders we have received from the supplies department of the Agency.

Takashima

Amazing. What types of items do you deliver there?

Ando

The members of the Imperial family each have a special emblem that is a symbol used to represent their own things. For example, we have made a jewel box decorated with a white birch of Japan that is the emblem of Empress Michiko and we have made sets of cherry blossom decorated serving plates. These are given as gifts during official business with the Imperial household within and outside Japan.

Takashima

How much do the most expensive cloisonne ware pieces cost?

Ando

We have pieces from the Meiji era in Nagoya made with very advanced techniques that are used as models for our craftspersons. They are not priced, but considering the time and effort that would have been required at the time, they would be in the range of tens of millions of yen.

Takashima

Really? That much!

Ando

Yes. At the Ginza shop, we recently made a cloisonne Globe that is almost 9 million yen, so if the piece is really complex, the price can run quite high. Cloisonne is different from gems like diamonds, gold or silver in that the price is not intrinsic — the time and effort that went into making it is what is paid for, so when pieces are really expensive, it shows just how much time went into it by a very accomplished artisan.

Takashima

You are paying for the skills and the time. It is a wonderful craft that Japan can be proud of.

Area linksInquiriesTerms of Use
System RequirementsAbout Us
© Ginza Information Management