GINZA CONNECTIVE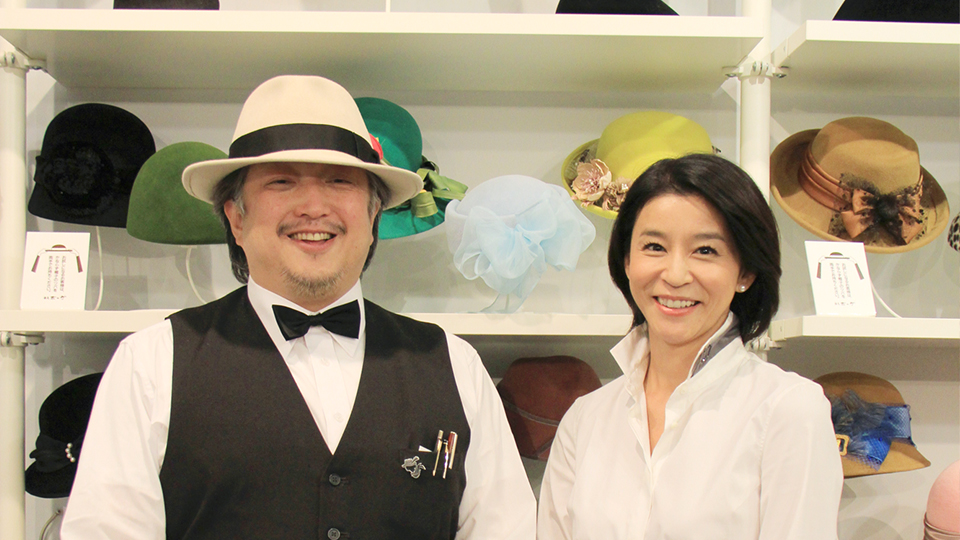 GINZA CONNECTIVE VOL.29
Hiroshi Hara × Chisako Takashima
2014.02.03
A talk series with the violinist Chisako Takashima and the Ginza people. Ginza holds many personal and professional memories for Takashima. In this talk series, she thoroughly explores various aspects of the Ginza culture with her guests. Today's guest is Hiroshi Hara, the president of Ginza Vogue Hat Salon with a history of over 80 years that relocated in 2013.
Specialty hat shop with an 80+ year history that continues to be preserved by the fourth-generation president and hatmaker.
Hara

Excuse me for leaving my hat on today.

Takashima

Not at all, it's wonderful. As would be expected of a specialty hat shop, your shop has quite the number of hats.

Hara

Each of our hats is handmade by one of our ten craftspersons including myself.

Takashima

No kidding! I can't believe these are all handmade. I really like hats, but I haven't been to many specialty hat shops.

What year did Ginza Vogue open?

Hara

Over 80 years ago. I'm the fourth president. Four presidents in less than 100 years may seem like a fast turnover rate, but we aren't hiding any secrets (laughs).

Takashima

Yes, I'm sure (laughs). When did you start making hats?

Hara

At 27. Before that I worked at an advertising agency and learned quite a bit there. My predecessor retired at 82 about two or three years ago, but at first I learned everything from him. Well, he didn't teach me every little thing so I had to watch and learn patiently.

Takashima

And you've continued making hats since then.

Hara

Yes. I was absolutely delighted when my hats were sold in the shop and it became fun. The hats I made that were displayed in the shop felt like shining stars to me.

Takashima

You must be very good with your hands.

Hara

No, I'm horribly clumsy. In my family, my father, older brother and younger brother are all surgeons. They've always said to me, you're too clumsy to sew a person (laughs).

Takashima

Wow, a family of doctors! So, you won't succeed your father then.

Hara

No, I'm succeeding my uncle. I think I've been interested in the hat shop for a long time.

Takashima

Now that you're making all these truly fabulous hats for the world, it's wonderful that you became a hatmaker.

Hara

Thank you.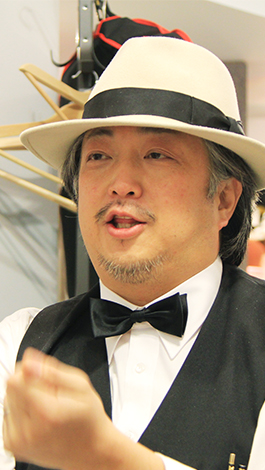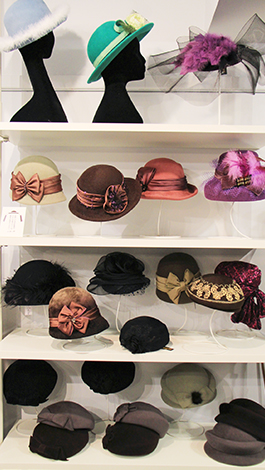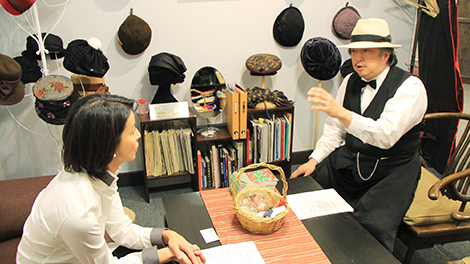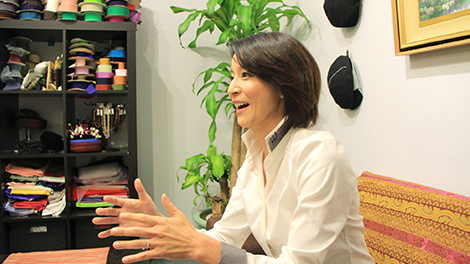 I make one-of-a-kind hats after many conversations with the customers.
Takashima

The hats look very delicate when shown this way. I'm sure that there are all sorts of trends, but Ginza Vogue hats often have elegant designs that look like they'd be worn by the Imperial family.

Hara

Our hats are generally one-of-a-kind. We talk with each customer to determine what design and fabric are best — to "make the hat together with the customer." That is the style we aim for.

Takashima

Each and every one is haute couture. That's just wonderful.

Hara

While talking with the customer we become inspired. We draw ideas from the loads of hints hidden throughout the conversation and use them to propose a design.

Takashima

Can one also buy the hats displayed in the shop?

Hara

That's right. Yes, customers who want a certain item can buy it as is, or they can ask for certain alterations, for example sizing it to their own fit or otherwise making adjustments for that specific customer.

Takashima

I have a hat I really like, but after five years of wear, it's coming apart. Do you also repair old hats?

Hara

Certainly. We repair hats from other shops too.

Takashima

Wonderful! I'll bring my hat over. It's a straw hat that started falling apart when I took the kids to the pool and wore it in the water.

Hara

Straw hats are actually immersed in water when they are first made. As long as the original material is not degraded, I'm sure I can fix it.

Takashima

Great! Next time I will bring it, so please give it a try. By the way, is there a certain type of hat that looks great on anyone?

Hara

The hats that suit a person depend on the balance between the hat and the wearer. But, in my experience, the hats that suit a person are not always the same as those the person likes.

Takashima

I'm sure you are right about that. What shape of hat would suit me?

Hara

I think you would look good in a floppy fedora. The so-called "Casablanca hat." Berets would probably also suit you.

Takashima

Really? That's unexpected!

Hara

That said, hats suit a person more the longer they wear them. This is because the wearer learns the best angle. People's faces are never symmetrical, so there is a best angle. Also, we tell customers that half of it is about attitude.

Takashima

I see. Fashion is really all about finding something you love.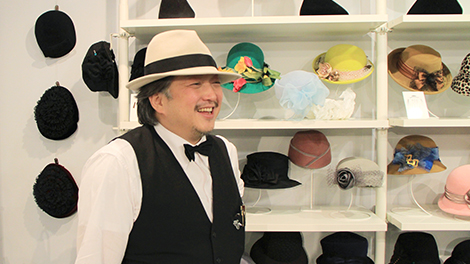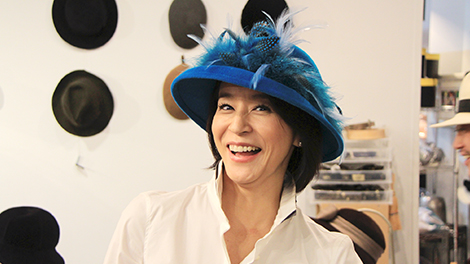 Area linksInquiriesTerms of Use
System RequirementsAbout Us
© Ginza Information Management