GINZA CONNECTIVE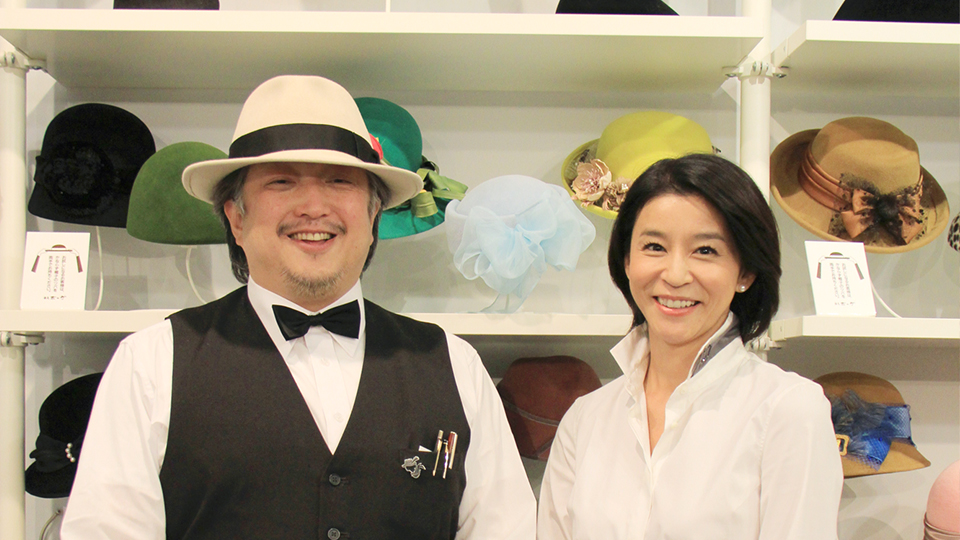 GINZA CONNECTIVE VOL.29
Hiroshi Hara × Chisako Takashima
2014.02.03
A talk series with the violinist Chisako Takashima and the Ginza people. Ginza holds many personal and professional memories for Takashima. In this talk series, she thoroughly explores various aspects of the Ginza culture with her guests. Today's guest is Hiroshi Hara, the president of Ginza Vogue Hat Salon with a history of over 80 years that relocated in 2013.
We overcame a sudden shop closure and reopened with the new feeling.
Takashima

Ginza Vogue moved here and reopened in 2013. What was the reason for that?

Hara

Before I started, my aunt was running the place, but she suddenly shut the shop as she approached her 90th birthday because she said she wanted to have fun enjoying the rest of her life. I just happened to be on a 10 day business trip to Hiroshima and was told over the phone on my second day there.

Takashima

What?! That's really sudden. What trouble for you.

Hara

That's right. Yes. I was told to find my own money and place and do my best on my own. I was pretty shocked.

Takashima

So the shop was shuttered in January, 2013. What did you do after that?

Hara

We had sold the rest of our stock in a closing sale, but you need hats to have a hat shop. So, I kept on making hats and hats until I could reopen the shop. It was a great opportunity. While they may not be hot-selling items, I tried using beautifully colored fabric and creating new designs of hats. I churned out loads and loads of hats with designs I had always wanted to create but never could before, and it was quite a lot of fun.

Takashima

Your wife didn't object?

Hara

She asked me what my intention was, but I convinced her that it wasn't forever and I was making products to sell, and she was okay with it.

Takashima

Men lead such a care-free existence (laughs).

Hara

But I really got a lot of help from people. The manager who had been working at the shop forever was a really important employee who knew our major customers well and would hold out for the new shop to open, or said, if it was too difficult, would even forfeit the salary.

Takashima

How chivalrous!

Hara

It's a woman, actually (laughs). Also, the owner of the building, Mr. Watanabe who owns Ichibankan, is a friend of mine, and kept the space open without renting to anyone for the many months it took until we were ready. I truly sensed human compassion.

Takashima

That is so nice to hear. It's also great that the first floor is a clothing shop. That way, the building is equipped so that you can pick your clothes and your hat together.

Hara

Yes, we're lucky.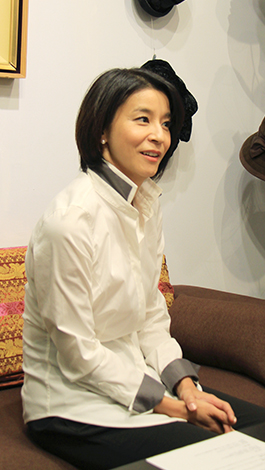 I want to continue blazing my small path as one start in the Ginza galaxy.
Takashima

You've told me some great stories. Lastly, can you tell me your thoughts on Ginza?

Hara

The people of Ginza are warm-hearted. When we reopened the shop, I was so pleased that everyone in Ginza was really happy for us. People brought us customers, saying they were friends with the previous owner, and some of our long-cherished customers went out of their way to call and make orders during the period when the shop was closed. I truly felt the strong bonds we had with people.

Takashima

You are a man of virtue.

Hara

No, not at all. I am always worried about whether I can really fulfill that role and can actually do it. It's just a small business, so I'm trying my best to do what I can — make good hats that will make people happy.

Takashima

That is what is most important.

Hara

Yes. The previous president of Ginza Sayegusa once said that Ginza is like a galaxy, and I thought that was a lovely way of putting it. Just like a galaxy, it is sprinkled with all sorts of shops. I want to continue blazing my small path as one of those shops. I'm sorry for going on and on. I'm an artisan of chatting.

Takashima

Not at all, I've enjoyed listening to your many interesting stories. Thank you.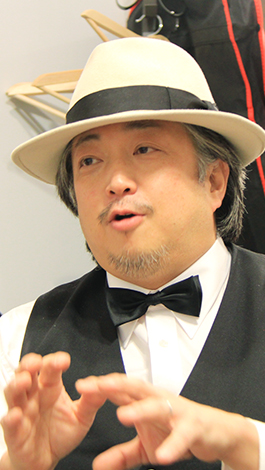 The next guest will be…
Takashima

Could you tell us about the next guest?

Hara

It's Shigeyuki Ando, manager of the Tokyo branch of Ando Cloisonne. Ando Cloisonne has won awards from around the world, and is a fun shop with lots of wonderful products.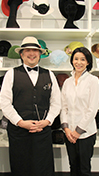 Chisako Takashima
Violinist. Started playing the violin at age 6. After playing abroad, she moved her home base to Japan, and gives concerts all over the country. Although her current focus is on performing music, she also appears on TV and radio programs. Thanks to her much-loved personality, she is appearing in more and more venues.
Chisako Takashima's official website
Hiroshi Hara
President of Ginza Vogue Hat Salon. After working on magazines in the Media Department of the Media Division in an advertising agency, began working at Ginza Vogue and became a hatmaker. Took over as fourth president in 2013. Gets ideas from talking with customers and looking at the tablewear section of department stores, boutique shop windows and foreign photo collections to create hats that are overflowing with originality.
Ginza Vogue Hat Salon blog
Writer: Mizuho Takahashi  Interview location: Ginza Vogue Hat Salon

Area linksInquiriesTerms of Use
System RequirementsAbout Us
© Ginza Information Management