GINZA CONNECTIVE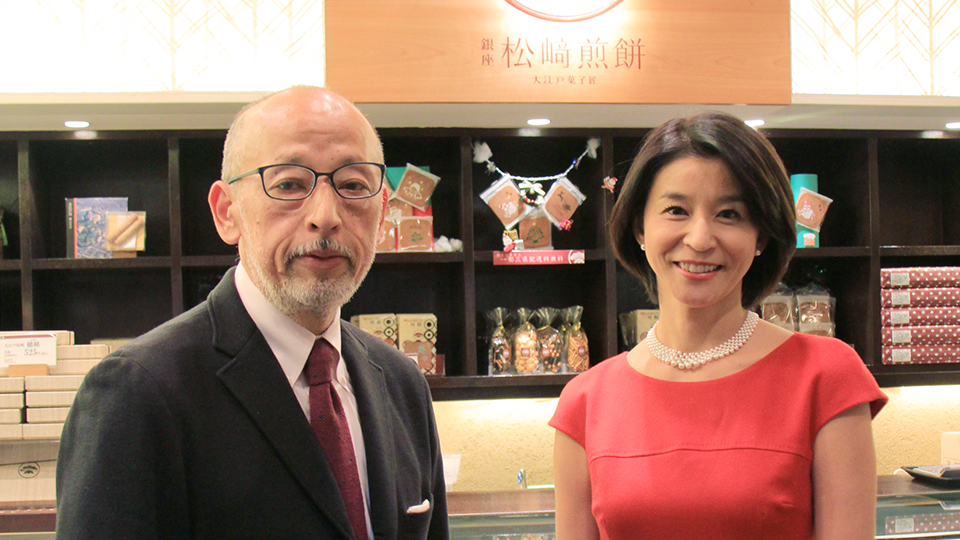 GINZA CONNECTIVE VOL.28
Munehito Matsuzaki×Chisako Takashima
2014.01.01
A talk series with the violinist Chisako Takashima and the Ginza people. Ginza holds many personal and professional memories for Takashima. In this talk series, she thoroughly explores various aspects of the Ginza culture with her guests. Today's guest is Munehito Matsuzaki, the president of Ginza Matsuzaki Senbei t hat has a long history going back to the Edo period.
Veteran sembei shop of over 200 years that boasts one of the longest histories in Ginza.
Takashima

I was amazed to hear that your shop opened in the first year of the Bunka era! It has a history of over 200 years.

Matsuzaki

That's right. It opened in 1804. It first started in the Mikawa Province in the Kansai area and then a shop was opened in Shiba in Tokyo. It remained there for three generations before moving to Ginza in 1865.

Takashima

So, it also has a particularly long history among veteran shops in Ginza.

Matsuzaki

Yes, from the Edo period, so it is quite old. I am the seventh president, and my son will be the eighth.

Takashima

Was it always a sembei (cracker) shop?

Matsuzaki

Yes. We now also have a sweets parlor and a gallery, but we have always had sembei. Our sembei is actually kawara-sembei (tile shaped crackers), because our roots are in Kansai. They're very different from the Kanto style sembei that is hard and soy sauce flavored.

Takashima

Really?? I did not know there was a difference between Kanto and Kansai sembei. I was looking at the products in the storefront. They have lots of cute pictures on them and are fun to look at.

Matsuzaki

Thank you. We make "shamido" crackers that are our original brand of kawara-sembei. These pictures are drawn on with syrup. The fourth president of the shop started this because he said he wanted to add a seasonal touch.

Takashima

What is in them?

Matsuzaki

Just flour, sugar and eggs. They are then poured into a mold. A characteristic of our shop is that we try to simulate baking by hand as closely as possible and bake them very carefully. They have no butter in them, so the flavor is very simple.

Takashima

Kawara-sembei with a simple and wonderful sweet flavor — sounds wonderful. Do you sell other products than sembei?

Matsuzaki

We also sell some Japanese-style sweets. Today I have brought out for you a traditional Yamagata sweet that we sell from the end of the year until the beginning of January. These are sugar-preserved eggplant sweets, so people either love them or hate them. It's a rare sweet, so please give it a try.

Takashima

Oh, thank you! This is the first time for me to try an eggplant sweet.

Matsuzaki

As the saying goes, ''First, Mt. Fuji; second, hawks; third, eggplants," so eggplant sweets are favored around New Years as a bringer of good luck.

Takashima

(Takes a bite) Delicious! Preserving it in sugar makes it taste like a fruit. I love it. Thank you for such a special treat.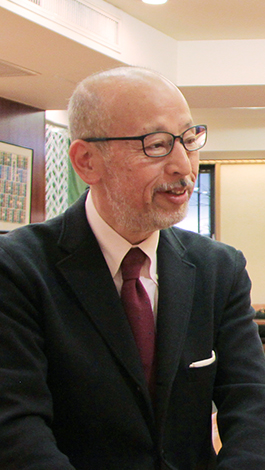 original kawara-sembei: Shamido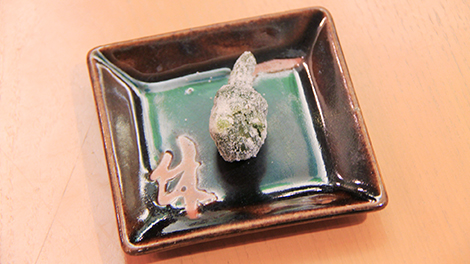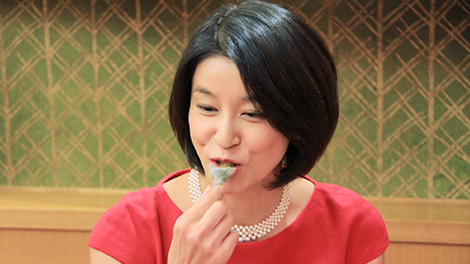 Chisako Takashima eating "Yume," a sugar-preserved eggplant sweet that is a limited-time product
I was born and raised in Ginza. I remember playing catch on Namiki-dori when I was young.
Takashima

Were you born in Ginza?

Matsuzaki

Yes, I was born in Ginza. My mother, son and daughter were also born in Ginza.

Takashima

That's so cool! So you have been watching it change and grow since long ago.

Matsuzaki

Yes. I lived in Ginza until my 30's, so I have watched it change over the years. When my mother was a little girl, the famous Daikokuya bag shop was still a dry food grocer's. If there wasn't anything to go with rice for dinner, my grandfather would send her grocery shopping there and give her some extra money to buy herself a treat. That was the atmosphere of downtown Tokyo at the time. The area around Namiki-dori at 4-Chome was not so bustling, so we played catch there the first three days of the new year.

Takashima

Wow! That is hard to believe now!

Matsuzaki

Until after I turned thirty, the Yomiuri Shimbun newspaper building was where Printemps is now, and the Asahi Shimbun newspaper building was where the Marion is now. This area was filled not with boutiques and restaurants, but with office buildings, mahjong halls, red paper lantern diners and cafes, so it was relatively quiet on weekends.

Takashima

Now it seems completely like an area that never sleeps. I give a concert once every three months at Oji Hall and hold a closing party afterwards in Ginza. It doesn't seem like a recession at all — in fact it's hard to even find a parking spot. I always get the sense that Ginza is a glamorous, thriving district.

Matsuzaki

Yes it is. Even now, it becomes relatively quiet from around 2 in the morning, but it has changes dramatically since the olden days. That said, I think it is its acceptance of this change that gives Ginza its charm.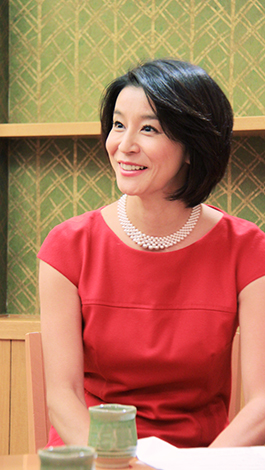 Area linksInquiriesTerms of Use
System RequirementsAbout Us
© Ginza Information Management