GINZA CONNECTIVE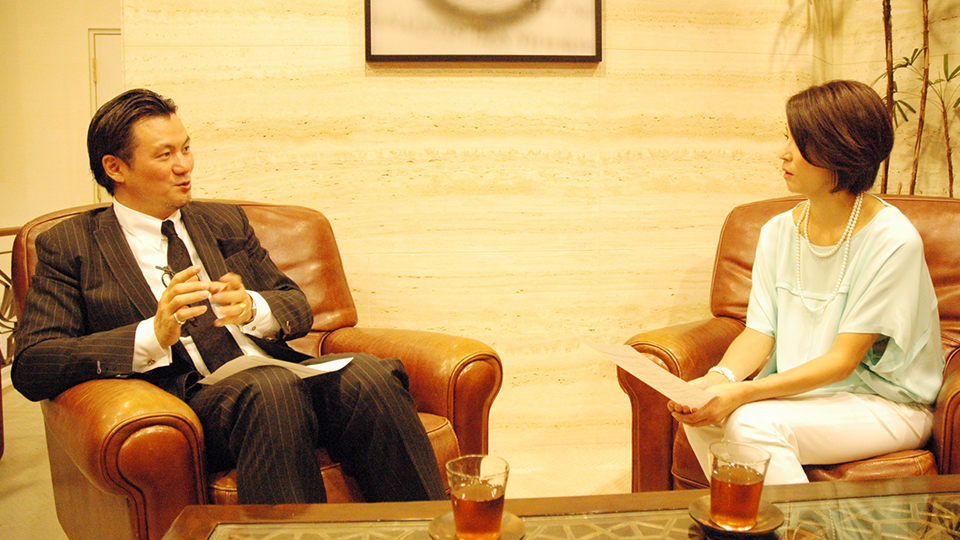 GINZA CONNECTIVE VOL.12
Shin Watanabe×Chisako Takashima
2012.09.03
A talk series with the violinist Chisako Takashima and the Ginza people. Ginza holds many personal and professional memories for Takashima. In this talk series, she thoroughly explores various aspects of the Ginza culture with her guests. Today's guest is Shin Watanabe, the president of Ichibankan Tailor, a venerable tailor loved by many artists.
I want to change tourism in Japan starting with Ginza.
Takashima

I understand that you have taken on a key position in the Ginza PR team created for the IMF World Bank Annual Meeting that will be held in Tokyo in October this year.

Watanabe

A total of 20,000 guests will be coming, so it will be a great plus for tourism. I strongly want to turn this into a catalyst. I think it would be great if people thought that international tourism in Japan had changed since the IMF meeting, not only in Ginza but throughout Japan. I am currently working out the best way to achieve this.

Takashima

What kind of plans do you have in mind?

Watanabe

I would like foreign visitors to be able to experience Japanese culture more easily. One specific idea is to have lunch bentos made for them from Kanetanaka (a long-established "ryotei" Japanese cuisine restaurant in Ginza) that they could enjoy while watching geisha dance. This would let them enjoy ryotei culture at a reasonable price.

Takashima

I'm sure they would love it.

Watanabe

We have many other plans. Cocktails in Japan, and especially the ones at bars in Ginza, are by far the tastiest in the world. Even in Paris, London or any other place said to have great cocktails, the taste is indistinct.

Takashima

Is that so? That's surprising.

Watanabe

It's true. But the cocktails in Ginza bars are sharp and have a deep and pleasant flavor. So I want non-Japanese people to also enjoy Japan's cocktails. Not only customers connected to the IMF, but I want all people to be able to casually visit bars in Ginza that until now have seemed to have a high entry level. In particular, I want them to be able to enjoy conversing with the owners. Whether a bar, sushi or tempura restaurant or a confectioners, I want us to steadily introduce Japanese craftsmanship that can only be found in Ginza.

Takashima

That sounds interesting!  I hope you do other things too, like introduce Japanese beef.

Watanabe

That's a good idea. There are so many shops, restaurants and other establishments in Ginza. I think it would be great if we could work on presentation techniques to introduce them in an easy-to-understand manner. That way they could be enjoyed by not only Japanese but also foreign customers.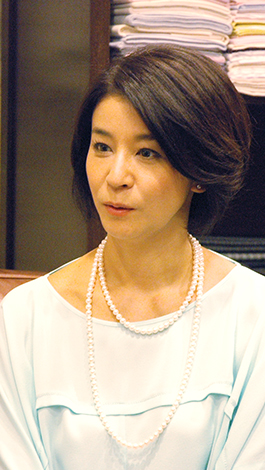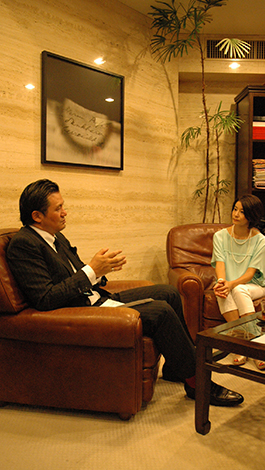 Even if it doesn't go down well, the surreal atmosphere is great.
Takashima

Do you have any hobbies?

Watanabe

Yes, air shamisen. (Watanabe's original custom-made shamisen appears)

Takashima

What is that?! Does that shamisen make a sound?

Watanabe

Yes, is sure does.

Takashima

But you use it for "air" shamisen, right? Do you actually make a sound?

Watanabe

Sometimes (laughs).

Takashima

Is that your special trick?

Watanabe

Yes. I don't make any mistakes because I don't touch the strings when I play (laughs).

Takashima

Why the shamisen?

Watanabe

Because I wanted to be a geisha (laughs).

Takashima

You don't actually play air shamisen with that in front of actual geisha, do you?!

Watanabe

I sure do (laughs). It really doesn't go down well with them. The surreal atmosphere is really great (laughs).

Takashima

Yes, there are those kind of people. Who like a cold atmosphere…

Watanabe

Because I am a Heisei (modern) era surrealist (laughs).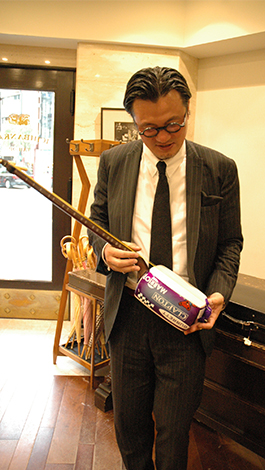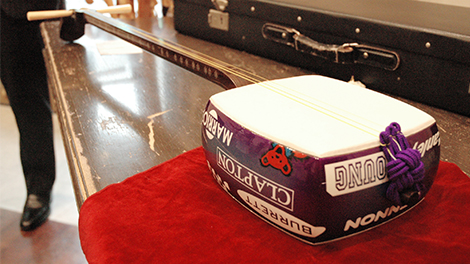 Watanabe's original custom-made shamisen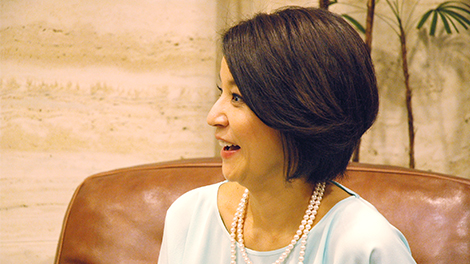 Using music as an analogy, Ginza is like a place with daily live shows.
Takashima

What kind of place is Ginza to you?

Watanabe

Using a music analogy, Ginza is like a live jazz show or a place with daily live shows at all sorts of venues. If you want to just listen to music, a CD is fine, but live shows are different.

Takashima

Yes, they are completely different.

Watanabe

The tension and concentration are completely different. Many establishments in Ginza are really ambitious, fighting with all they've got. Ginza is a place that customers and establishments can enjoy like a jazz session.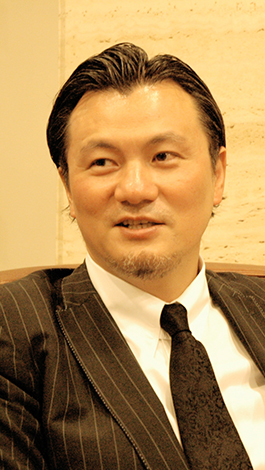 The next guest will be…
Takashima

Could you tell us about the next guest?

Watanabe

It's Mr. Tsuda, president of Ginza Tsudaya, a kimono accessory shop. The shop carries many products like makeup for the stage that you cannot usually see. I'm sure he will tell you some interesting stories.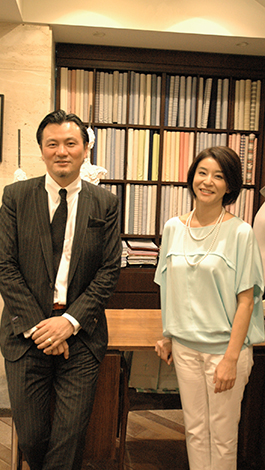 Chisako Takashima
Violinist. Started playing the violin at age 6. After playing abroad, she moved her home base to Japan, and gives concerts all over the country. Although her current focus is on performing music, she also appears on TV and radio programs. Thanks to her much-loved personality, she is appearing in more and more venues.
Chisako Takashima's official website
Shin Watanabe
Born in 1966. President of Ichibankan Tailor. Graduated from the Keio University Faculty of Law Department of Political Science and went to Europe. Studied fashion making at the Central Saint Martins College of Art and Design in England and the Domus Academy in Italy.
Ichibankan Tailor Website
Writer: Mikiko Okai Interview location: Ichibankan Tailor

Area linksInquiriesTerms of Use
System RequirementsAbout Us
© Ginza Information Management