GINZA CONNECTIVE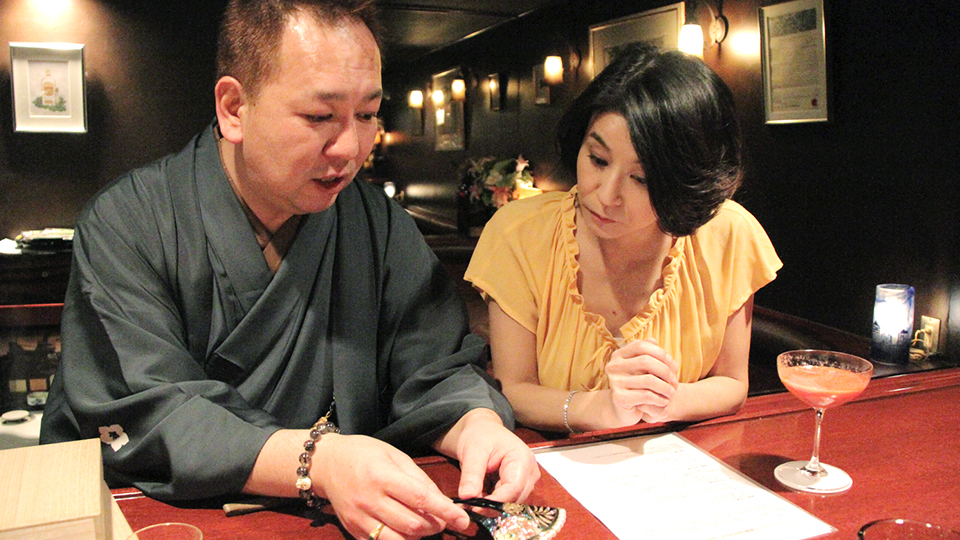 GINZA CONNECTIVE VOL.20
Koji Shibata×Chisako Takashima
2013.05.01
A talk series with the violinist Chisako Takashima and the Ginza people. Ginza holds many personal and professional memories for Takashima. In this talk series, she thoroughly explores various aspects of the Ginza culture with her guests. Today's guest is Koji Shibata, the third generation owner of Ginza-Kanameya, a kimono accessories shop that has been operating since the early Showa period.
Kimono accessories are the kaname (=cornerstone) of a kimono outfit.
Takashima

I understand that your store was founded in 1934. Has it always been in Ginza?

Shibata

In 1934, my grandfather opened the shop in Nihonbashi Muramatsu-cho, which is now an area between Higashi-Nihonbashi and Hamacho. He moved the shop to its current location in Ginza in 1945.

Takashima

Could you tell me the origin of the shop name, Kanameya?

Shibata

It's derived from the 'kaname' part of kanjin kaname (=cornerstone). The word 'kaname' also refers to the clasp at the base of a folding fan that holds the ribs of the fan together.

Takashima

I never knew that.

Shibata

It signifies that kimono accessories that add glamor to a kimono wearer are the 'kaname' (=cornerstone) of the outfit and are an essential element.

There is actually one more meaning. My grandfather, Kaneaki, who was the founder, told me that it also contains a message for successors (us) expressing a lesson on the difficulty of assembling and selling products from the innumerable varieties and unlimited volume available, and the considerable effort required to gather and lead the staff needed to take on those duties.

Takashima

I see. The entire look of an outfit changes with just a single accessory. By the way, the street your shop is on has an unusual name – 'Kenban-dori.' Does this name have any significance?

Shibata

'Kenban' does not refer to piano keys (laughs). (Piano keys are called kenban in Japanese.) The office and training center for geishas is also called a 'kenban,' and that's where the street name comes from.

Takashima

Is that so? Is there still a geisha call-office here?

Shibata

Yes. It's in the 7-Chome side corner building on this street. Even today, rickshaws are still sometimes driven by.

Takashima

No kidding?! I had no idea.

Shibata

According to my father, there used to be loads of rickshaws passing by the shop, and there were always dozens parked along this street. Partly because of this history, our shop is still often patronized by geisha customers.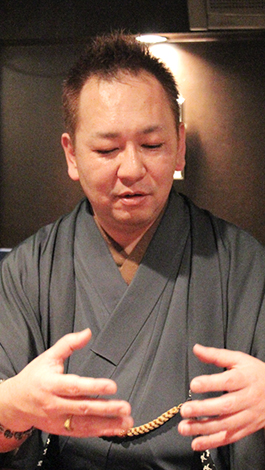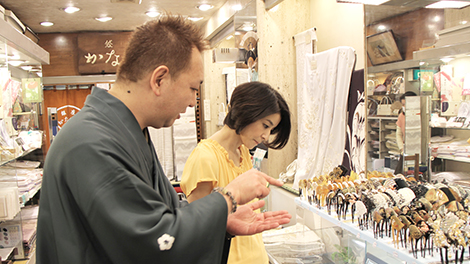 Interior of Ginza-Kanameya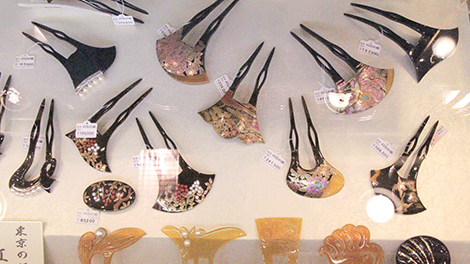 We cannot fixate only on preserving traditions.
Takashima

When did you decide you would take over the shop?

Shibata

During university, I came to realize I would have to take over the family business eventually (laughs). Now I'm working in a traditional Japanese-related job, but at the time I had never even worn a kimono, and was not very interested in it (laughs). There was no particular event that triggered my decision, but perhaps I just realized one day that it was in my genes to become the third generation owner of Kanameya.

Takashima

But then you actually tried doing it and found it interesting?

Shibata

Yes, but at first it was less interesting and more exhausting, trying desperately to remember everything, as I had no clue about anything. I was taught bit by bit by my grandfather, father, and our loyal customers, and the more I learned, the more and more interested I became. Even though it is my job, I cannot do it well and keep it up unless I also consider it interesting.

I continue experimenting day by day even now to discover what I can do, as someone running a kimono accessories shop, to link traditional Japanese culture to future generations.

Takashima

I see that you are participating in social networking, such as Facebook and twitter, and write a blog. I'm guessing that this is rare for someone in the kimono industry.

Shibata

Yes, it is still not common here compared to other industries. And it is even more uncommon for the actual shop owner to be the one publishing information, as I do. I started the shop's blog about three and a half years ago, and now, to my great delight, there is a growing number of customers who come to our shop after learning about it on the Internet. Something I learned after starting my blog and talking with customers that came to us for the first time is that many people are having a hard time finding ornamental hairpins to wear with kimonos and other kimono accessories because there are very few shops in Japan that deal exclusively in those products. While there are long-established specialty kimono shops in each area, and you can generally find kimonos if you go to a department store, there are very few shops that specialize in ornamental hairpins and other kimono accessories.

Takashima

Indeed.

Shibata

We have even had a customer who came all the way from Hokkaido after reading my blog. For customers living far away that cannot come to the shop in person, we offer a service for them to purchase items over the Internet. The other day, someone from Okinawa bought an ornamental hairpin to wear at her younger sister's wedding. I am just extremely happy about this.

Takashima

It truly is the age of convenience, isn't it?

Shibata

It certainly is. That said, I always think that it would be best for customers to actually visit our shop in person and make their selection after physically examining the various pieces. The items we introduce on the Internet are only a minute selection of all that we have to offer in our shop. Also, while we pay special attention to tone and texture when photographing products, the images viewed on a computer or smartphone will never look quite the same as the actual products.

People tend to feel a little nervous making orders over the Internet when they can't see the seller in person. I try to place great importance on communicating over email in the same way that I would when selling products face-to-face, and exchange many emails with the customer. Perhaps for that reason, or because of Kanameya's reputation, we have not had a single item returned. If I was in the other position, I would surely feel uncertain about buying something I had only ever seen in photographs and from a store I didn't know. I am extremely happy and grateful for this business.

Takashima

There is an entirely different level of credibility when it comes to long-established shops that have been operating in Ginza for nearly 80 years. Kanameya offers a wide selection of tortoiseshell products, and I see that there are many pieces with modern designs in addition to traditional pieces.

Shibata

In recent years, we have been putting together a wide range of hair ornaments in designs to match Western-style clothes. We also have some traditional ornamental hairpins with removable decorative parts that can be worn as a pendant or broach with Western-style clothing.

In contrast to the past, this era is centered around Western clothes. If we want to pass down valuable Japanese traditions to succeeding generations, we must persistently preserve certain time-honored aspects, while also offering options that match the current lifestyle. We must dare to change aspects that need it. Nonetheless, it is very difficult to know which aspects to change and which to preserve.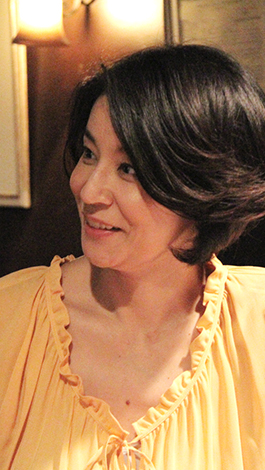 Area linksInquiriesTerms of Use
System RequirementsAbout Us
© Ginza Information Management