GINZA CONNECTIVE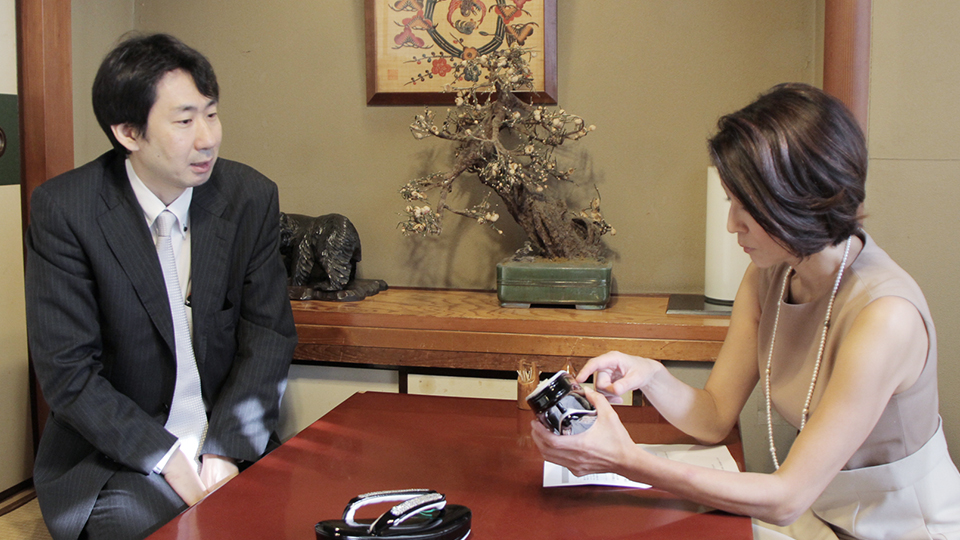 GINZA CONNECTIVE VOL.23
Akihisa Kawaguchi×Chisako Takashima
2013.08.06
A talk series with the violinist Chisako Takashima and the Ginza people. Ginza holds many personal and professional memories for Takashima. In this talk series, she thoroughly explores various aspects of the Ginza culture with her guests. Today's guest is Akihisa Kawaguchi, the president of Ginza Zenya, a long-established shop that sells traditional Japanese footwear and umbrellas.
The shop has been run as a seller of two core products, footwear and umbrellas, since the very beginning.
Takashima

Your shop was founded in 1939. That's relatively young for a Ginza shop, right?

Kawaguchi

Yes, quite. It is especially young for a Japanese-style footwear shop here. There are about five such shops in Ginza that have been around a long time, and ours is the youngest among them. The rest of them were opened in eras like the Tempo era that are the topic of history textbooks.

Takashima

No kidding. It must be rare for a shop to sell both footwear and umbrellas? Was that the style from the very beginning?

Kawaguchi

Yes. When I first took over the shop, I thought it was odd that it sold umbrellas even though it's a footwear shop, and I asked people in the shop, but even they don't know the reason (laughs). But, apparently it did sell umbrellas ever since the beginning. Around the time the shop was founded, zori (Japanese sandals) were selling very well, so they cleared the umbrellas from the sales floor during the off seasons.

Takashima

Are the umbrellas Japanese-style umbrellas?

Kawaguchi

We sell both Japanese-style and Western-style umbrellas. All the fabrics are our original designs. They are not printed fabric, but are actually woven from thread. We use a special weaving method that you don't see elsewhere, so they are quite unique.

Takashima

That's amazing! It must take a lot of time.

Kawaguchi

Not at all. It's just that we've been doing it that way since the beginning, so we try as much as possible to maintain the tradition.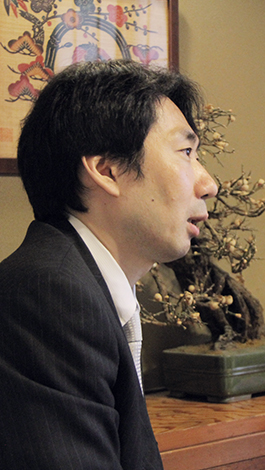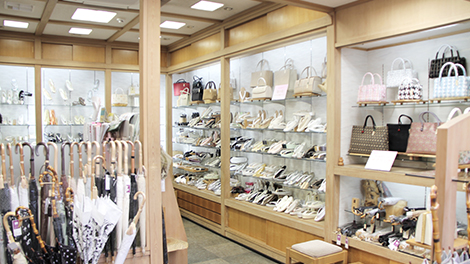 Shop interior with rows of zori and umbrellas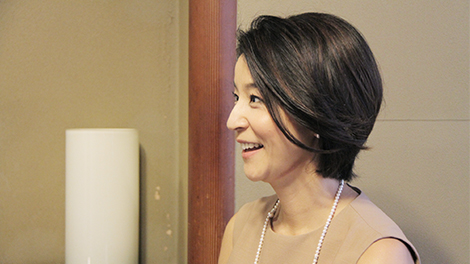 We also make collaboration zori with a magazine company.
Takashima

How exactly are zori made?

Kawaguchi

Not many people know this, but zori are actually made of cork inside. The cork is cut in the shape of a zori and wrapped in leather. Leaving the cork as a single layer or adding a second or third layer changes the height of the heel.

Takashima

I see. So that means you can make zori with quite a high heel, right?

Kawaguchi

Yes. In the past we once made a pair with 13 layers. The cork is all wrapped in leather, and when you add a second or third layer, they are each sewn on individually.

Takashima

Is it all done by hand?

Kawaguchi

These days there are really good adhesives available, so gluing them together can make very stable products, but completely hand-sewn products are still popular.

Takashima

What about the design?

Kawaguchi

That also varies a lot. At our shop, we also make collaboration zori with a magazine company.

Takashima

(Picking up the zori) Wow, this is really flashy. It's wonderful! Are those Swarovski stones on the straps and sides?

Kawaguchi

Yes, they are. A magazine company came asking us to create an original magazine design, and we gladly accepted. We also sold them through the magazine.

Takashima

Around Ginza, there are a lot of night scene girls, so this design must be popular!

Kawaguchi

Yes, you're right. This design with Swarovski stones on it is popular with the girls that work at the cocktail lounges. In that sense, these zori have a very Ginza-like design.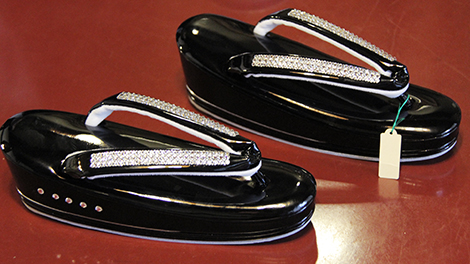 Collaboration zori with a magazine company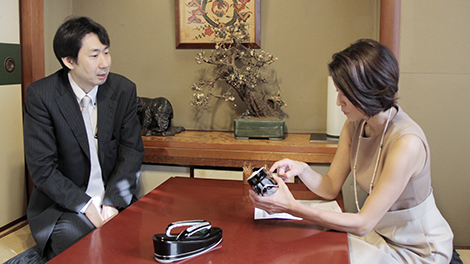 Area linksInquiriesTerms of Use
System RequirementsAbout Us
© Ginza Information Management