GINZA CONNECTIVE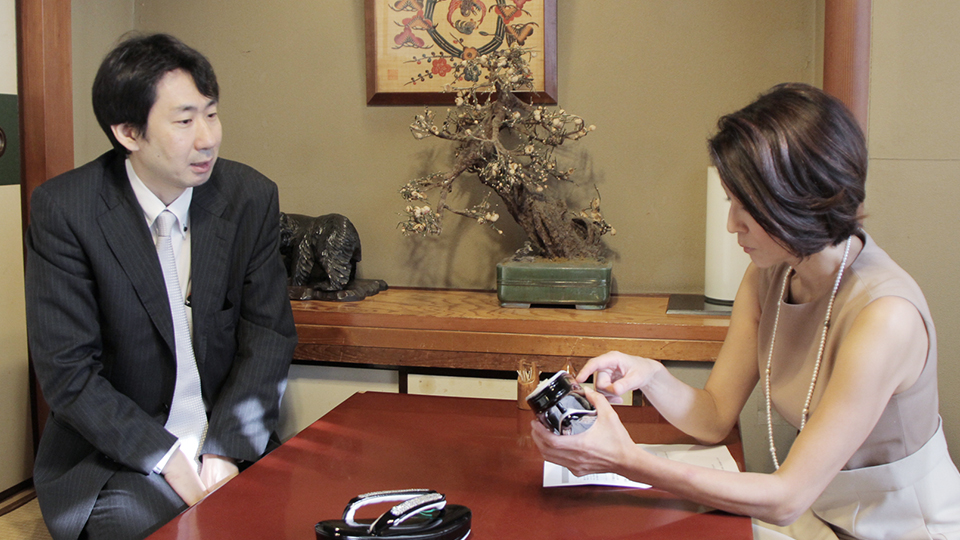 GINZA CONNECTIVE VOL.23
Akihisa Kawaguchi×Chisako Takashima
2013.08.06
A talk series with the violinist Chisako Takashima and the Ginza people. Ginza holds many personal and professional memories for Takashima. In this talk series, she thoroughly explores various aspects of the Ginza culture with her guests. Today's guest is Akihisa Kawaguchi, the president of Ginza Zenya, a long-established shop that sells traditional Japanese footwear and umbrellas.
To look stylish in zori, wear them with the straps sitting lightly on your toes
Takashima

Of course, zori don't have any trends, do they?

Kawaguchi

Actually, they do. Just a little while ago, it was trendy for them to have wide straps. The design changes, becoming thinner or thicker, to suit each generation.

Takashima

Oh, I didn't know that. Could you tell me some tips for choosing zori?

Kawaguchi

Sure. If you are looking for quality, you should check the leather on the bottom. If it's wet-blue leather, for example, or another good quality leather, the zori are also probably good quality.

Takashima

I see! Very informative. But if the bottom is leather, won't they be slippery on rainy days?

Kawaguchi

In general, you shouldn't wear zori on rainy days. In the past, on rainy days people wore geta (casual Japanese sandals) instead. Now you can get zori made especially for rainy day wear. They have rubber on the soles to keep you from slipping.

Takashima

When I hear "zori," I think of beach sandals. When I wear zori, beach sandals, or other shoes with a thong strap, the part between my toes start to hurt. Is there anything I can do about that?

Kawaguchi

This applies for both zori and geta, but those who are not used to wearing them tend to push their feet right into the thong strap, making the part between their toes hurt. Zori and geta are actually made so that the strap sits on your toes a bit.

Takashima

So that's the problem! If your feet hurt when you wear them, you are pushing your feet too far forward.

Kawaguchi

Exactly. Also, those who wear them more loosely look more stylish. They are made so that pushing your foot forward hurts, so that you'll wear them with your feet set back a little. That said, if you want to wear them with the thong snug against your toes, just tell the shop. They can make them so they don't hurt, for example by widening the front a bit or changing the fabric to something a little softer.
To do business in Ginza, the most important thing is to always put your customers first.
Takashima

Does Ginza Zenya also sell geta shoes?

Kawaguchi

Yes. It was originally a geta shop.

Takashima

Of course. Can you tell me, what's the difference between geta and zori?

Kawaguchi

Geta are generally more casual. They are not accepted in certain dress codes.

Takahashi

Are they like the Japanese version of beach sandals?

Kawaguchi

Yes, kind of.

Takahashi

Interesting! When wearing geta, do you usually go sockless? You wear geta when wearing a yukata (casual style of kimono), right?

Kawaguchi

You can wear geta with or without socks. Wearing zori might hurt a bit if you wear them sockless.

Takashima

Do people wear different kinds of zori depending on the occasion, for example a fancy conference or party or what have you?

Kawaguchi

It is best to have a number of different ones. Nowadays people don't have as many chances to wear a kimono, and many people say they just have the one pair from their coming-of-age ceremony, but we also have many families of customers that have come to us for generations.

Takashima

That's wonderful to have a long relationship with some customers. When did you take over the shop?

Kawaguchi

I started working here 14 or 15 years ago. I became the president three years ago, in 2010.

Takashima

Are there any traditions you try to maintain since your father's time?

Kawaguchi

My father ingrained into me the basic concept that I must never forget to put my customers first. He said to find joy in making your customers happy.

Takashima

What a wonderful teaching.

Kawaguchi

I was told many times that I would never get by if I didn't keep that in mind, especially in Ginza. And he was right. So I try to remember that attitude as I work.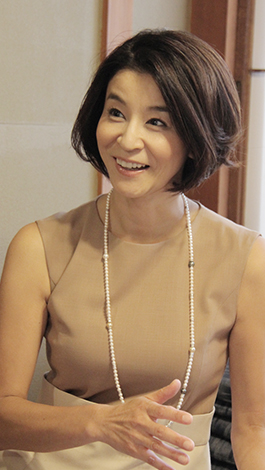 I first learned the attraction of my hometown, Ginza, after entering my 30s
Takashima

Have you lived in Ginza since you were a child?

Kawaguchi

Yes, but I went to an elementary school a little ways away, so I don't have any childhood friend or friends from my school days here. On days off I stay indoors (laughs).

Takashima

That must be rare, for someone from Ginza to be a recluse (laughs).

Kawaguchi

I like the indoors. Before taking over the shop, I worked for a game maker.

Takashima

So you made friends in Ginza after becoming an adult?

Kawaguchi

Yes. After entering my 30s, I joined the Ginza Merchant's Association, a junior merchants' group in Ginza, and finally made some friends in Ginza. Before that, Ginza was just a hometown to me. So it didn't make any sense to me when other people were impressed. Through the Ginza Merchant's Association, I met other Ginza businessman and other people working here. I finally learned the attraction of Ginza, only recently. I guess Ginza is an "adult's district" after all.

Takashima

After actually starting to run a shop in Ginza, have you acquired some new aspirations for yourself?

Kawaguchi

Actually, we have begun making Japanese-style bags using tweed from England and other European fabrics. Ginza is an area where you mix the old with the new. At our shop as well, we keep our previous concepts as our previous concepts, and at the same time also concentrate on developing new styles of products and products with a special twist.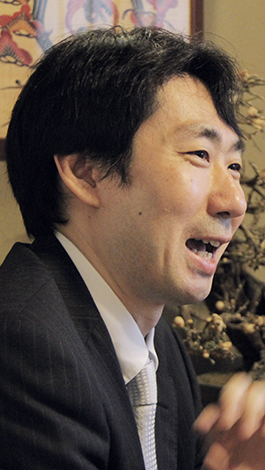 The next guest will be…
Takashima

Could you tell us about the next guest?

Kawaguchi

It's Mamoru Sugiyama, the fourth generation master of Ginza Sushiko Honten, a long-standing sushi restaurant that has been around since the Meiji era.

He can tell you all about anything from the fashionable way to eat sushi to the history of sushi restaurants in Ginza. I'm sure you will learn the attraction of a historical Ginza sushi restaurant that should be enjoyed by all adults at least once.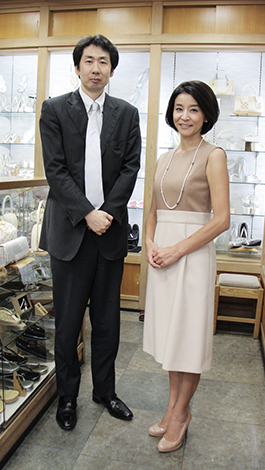 Chisako Takashima
Violinist. Started playing the violin at age 6. After playing abroad, she moved her home base to Japan, and gives concerts all over the country. Although her current focus is on performing music, she also appears on TV and radio programs. Thanks to her much-loved personality, she is appearing in more and more venues.
Chisako Takashima's official website
Akihisa Kawaguchi
Third generation president of Ginza Zenya, a long-standing shop that sells traditional Japanese footwear and umbrellas. Born in Ginza and followed his successors in 2010 to become the next president. While preserving traditional concepts, he also sells zori and umbrellas with new designs that incorporate the latest trends. Previously held the position of Chairperson for the Ginza Merchant's Association, and aids in the development of Ginza.
Ginza Zenya Website
Writer: Mizuho Takahashi  Location: Sobadokoro Yoshida

Area linksInquiriesTerms of Use
System RequirementsAbout Us
© Ginza Information Management