GINZA CONNECTIVE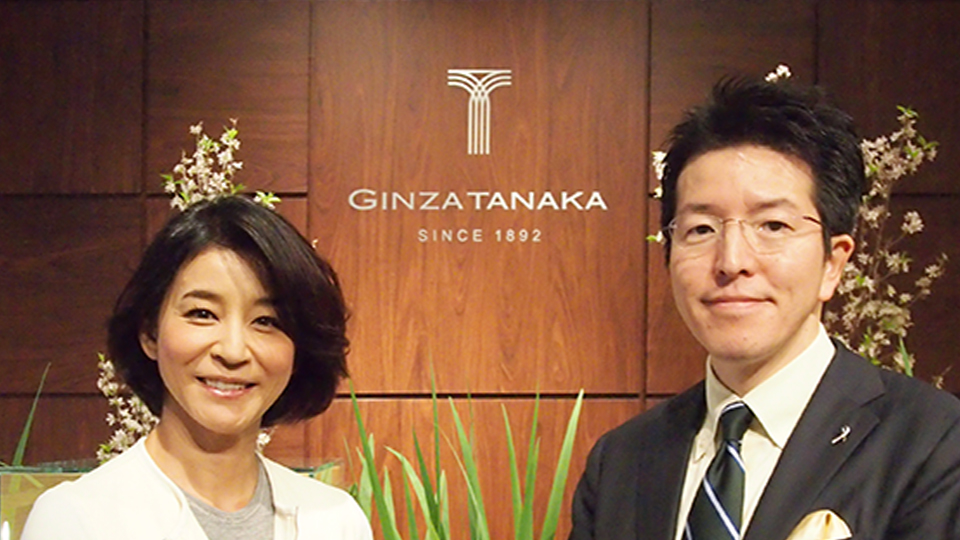 GINZA CONNECTIVE VOL.44
Masakazu Tanaka×Chisako Takashima
2015.06.03
An interview series featuring Ginza people in conversation with violinist Chisako Takashima. With a special fondness for Ginza, which holds many memories both from her professional and private lives, Takashima explores Ginza from various dimensions with her guests. In this volume, she welcomes Mr. Masakazu Tanaka, President of GINZA TANAKA, a long-established boutique that has sold precious metal accessories and jewelry from the Meiji era.
Competitiveness underpinned by reliability and technology fostered in a corporate history of 120 years
Takashima

Many foreign jewelry brands have also opened boutiques in Ginza. Could you tell me your strengths, or anything that you are particularly committed to that make you special?

Tanaka

Originally a wholesale dealer of precious metals, we are confident in the reliability of our precious metals. We have a wide selection of platinum and gold jewelry and I am proud to say that our passion for developing new products and the technology that we put into it is outstanding. This is why we have many customers that have shopped with us for three generations. For example, the son would by his engagement ring here and then when a grandson is born, our customer would by him a gold or silver kabuto (samurai warrior helmet displayed in Japanese homes to celebrate Children's Day).

Takashima

Gold and silver kabuto! How inspiring. It would have been nice to have one in our home (laughs). The diamond sparkles beautifully, too!

Tanaka

This is the Astellion cut, which is exclusive to GINZA TANAKA. It is a high-precision diamond cutting technology only possible by highly skilled artisans. The Astellion is a unprecedentedly finely faceted diamond, which has a special brilliance.

Takashima

Now I see why people would go to Yamazaki for the best diamonds. As I recall, you published "Diamonds and Ginza: GINZA TANAKA's 120 years of History" from Shogakukan in 2012.

Tanaka

Yes, the book is a compilation of interviews with people who are familiar with our corporate history – especially episodes of our founder, Kamekichi Yamazaki – and reference to diamonds that are found in literature by Yukio Mishima and Koyo Ozaki, as well as writings in "Diamonds." which is known to be Japan's first specialized book on diamonds. Portraying a wealth of photographs and diagrams, it is an intriguing book unraveling the history of Japan's diamond industry.
"Astellion", a proprietary diamond cut exclusive to GINZA TANAKA
The charm of Ginz lies in its mixture of old and new.
Takashima

Before we close, may I ask you to talk about your feelings for Ginza.

Tanaka

I believe Ginza is a place where we can see a good balance of the old and new. We are very comfortable with the assurance that some things will never change here, and yet we are enchanted by discoveries of something new every time we visit. Ginza has history but it is not conservative. One of Ginza's charms is its flexibility towards welcoming new ideas.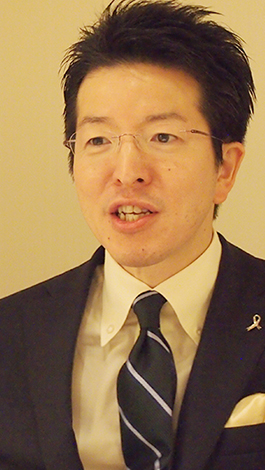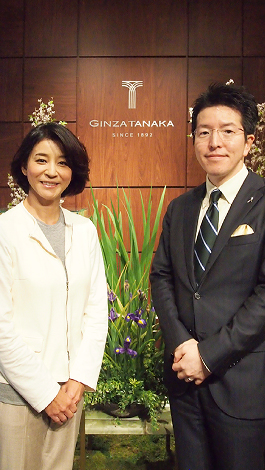 Chisako Takashima
Violinist. Takashima started taking violin lessons from the age of 6. After a successful career abroad, she moved her home base to Japan, where she currently performs in concerts across the country. Highly noted for her character in TV and radio appearances, she has currently opened up her career to more diverse fields with an unchanged focus on her profession.
Official website of Chisako Takashima
Masakazu Tanaka
Born in 1967. President and executive officer of Tanaka Kikinzoku Jewelry K.K. After being graduated from university Tanaka joined the company and assumed his current position after having experienced assignments at a diversity of sections. He is enthusiastically involved in local activities to promote the development of Ginza.
GINZA TANAKA website
Written by Mikiko Okai; Place of interview: GINZA TANAKA Ginza boutique

Area linksInquiriesTerms of Use
System RequirementsAbout Us
© Ginza Information Management