GINZA CONNECTIVE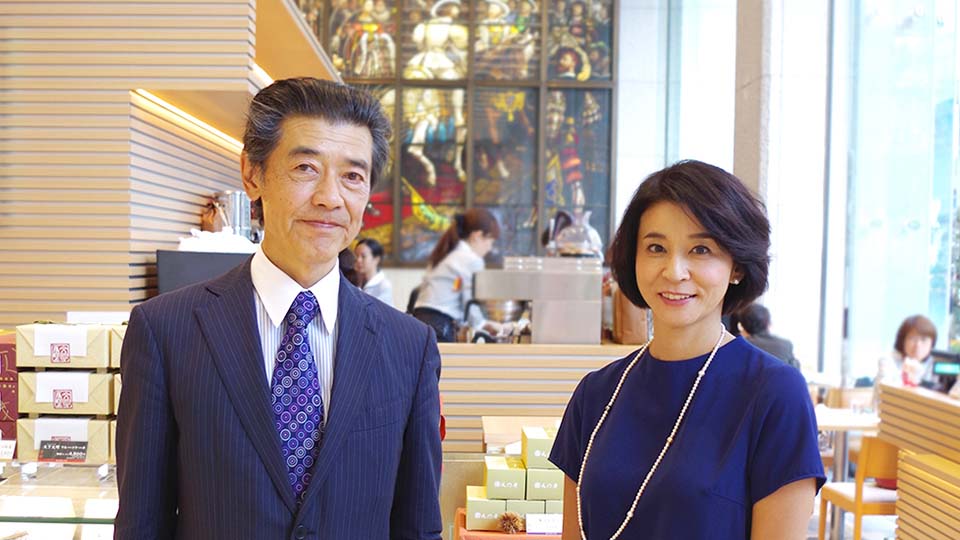 GINZA CONNECTIVE VOL.49
Keisuke Okamoto×Chisako Takashima
2015.11.13
An interview series featuring Ginza people in conversation with violinist Chisako Takashima. With a special fondness for Ginza, which holds many memories both from her professional and private lives, Takashima explores Ginza from various dimensions with her guests.In this volume, we welcome Chairman and CEO of Ginza Bunmeido, Mr, Keisuke Okamoto.
The history of Bunmeido, a long-established castella cake shop founded in 1990
Takashima

When was Bunmeido established?

Okamoto

In 1900, my grandfather's older brother, Yasugoro Nakagawa founded Bunmeido in Nagasaki, and in 1922, my grandfather brought it to Ueno Kuromon-cho in Tokyo. However, he lost his shop in the fires of the Great Kanto Earthquake, after which he returned to Nagasaki for a while. He eventually made a fresh start in Azabu-Tansumachi and our company has continued since. We are relatively new to the castella cake industry.

Takashima

A newcomer founded more than 100 years ago!

Okamoto

The oldest castella cake manufacturer is Shououken in Nagasaki. Nagasaki is still home to many castella cake shops.

Takashima

That is very true. Nagasaki is full of castella cake shops.

Okamoto

Bunmeido Sohonten, the origin of the Bunmeido group is still located in Nagasaki. Once every few years, all of us who have evolved from Bunmeido Sohonten gather in Nagasaki for a reunion. We hold tastings of the castella cakes made in each of our shops and exchange ideas for new products.

Takashima

How interesting! That gives me the impression that you find peers amongst yourselves before you consider yourselves rivals.

Okamoto

That's right. Nagasaki has a very open attitude to business activities.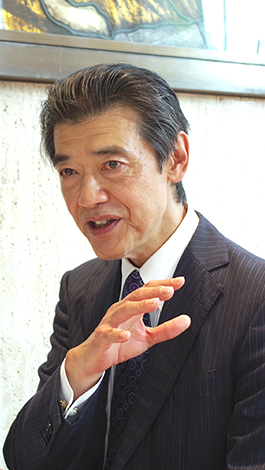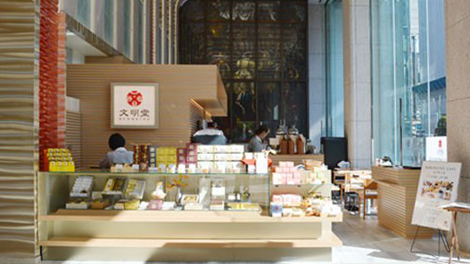 Ginza Bunmeido main store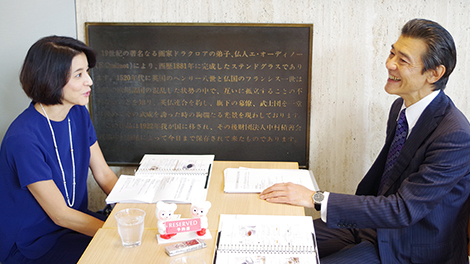 It takes ten years to become a professional castella cake baker
Takashima

I have heard that baking a castella cake requires a great deal of special skills.

Okamoto

Although only the simplest ingredients go into a castella cake, its quality is determined by the mixing and baking skills involved. It used to be said that it took ten years to become a professional at baking a castella cake. Our artisan bakers were granted the opportunity to improve their skills thanks to Koshiro Mori, who was designated a Living National Treasure for foods. As chief artisan, he shifted from the conventional approach of "stealing skills by watching one's masters" to a tailored instruction approach and guided his apprentices individually. Therefore, many of our employees heightened their artisan skills significantly.

Takashima

What kind of person is cut out to become an artisan baker?

Okamoto

I would say, people who are patient and relaxed.

Takashima

Oh, that is not for me (laughs).

Okamoto

You may be right (laughs). If you wanted to bake a castella cake in a limited amount of time, it would be possible to bake one at high temperatures in perhaps 20 minutes. However, in order not to let the moisture escape, it would require 40-50 minutes in a slow oven. Minor adjustments are made every day to the time spent on mixing and baking. These decisions are based on high artisan skills.

Takashima

I had never realized that they were so difficult to make. We enjoy your castella cakes very often at home, because my children are great castella fans. /dd>

Okamoto

Thank you. Castella cakes do not contain butter and other fats, so they have fewer calories than often imagined. Yet, given their carbohydrate and protein content, they have high nutritional value. Many professional athletes enjoy them too. I can recommend them to people of all ages, from children to the elderly.

Takashima

Free of additives, they are healthy treats.

Okamoto

The best way to eat a castella cake is to break it with your fingers in order not to squish it. The last thing you should do is press on it with your fork. I have been told that Ryunosuke Akutagawa said that the right way to eat a castella cake was to break it with your fingers. Because a castella sponge becomes dry within a few minutes, it is best to finish a cake as quickly as you can once you have opened a box.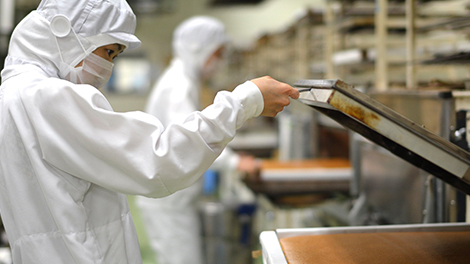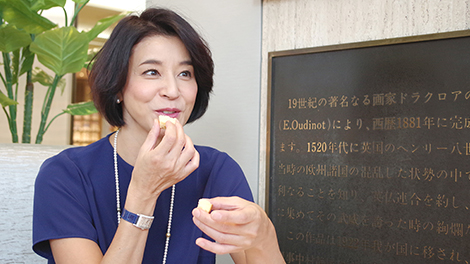 Area linksInquiriesTerms of Use
System RequirementsAbout Us
© Ginza Information Management