GINZA CONNECTIVE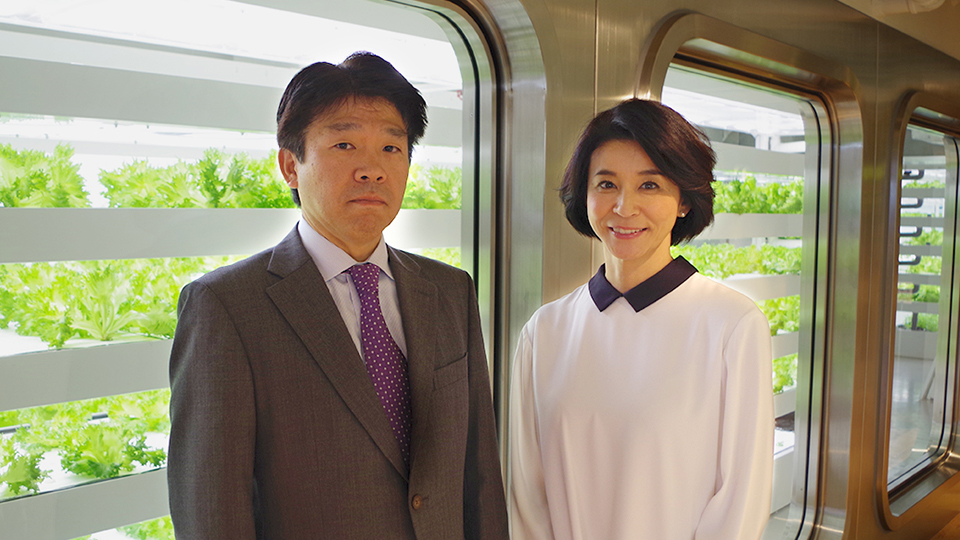 GINZA CONNECTIVE VOL.50
Akira Ito × Chisako Takashima
2015.12.15
An interview series featuring Ginza people in conversation with violinist Chisako Takashima. With a special fondness for Ginza, which holds many memories both from her professional and private lives, Takashima explores Ginza from various dimensions with her guests.In this volume, she welcomes Mr. Akira Ito, President and CEO of Ginza Itoya, a long-established stationery store founded in the Meiji period.
A vegetable factory and restaurant under one roof. Local consumption of local food within one building.
Takashima

You have a vegetable factory!?

Ito

On the eleventh floor, which is called the FARM, we make the hydroponic frilly leaf lettuce that is served at our restaurant on the twelfth floor. We can see the vegetables grow through windows, for which we used the window frames from the old Main Store building. Would you like to have a look?

Takashima

You are right! I remember these window frames from the old building.

Ito

I was advised by Mr. Yamamoto from Tokyo Gallery that I should keep old things too. By the way, my first encounter with a vegetable factory was as a high school student in the U.S. Disney World, in Florida, had a vegetable plant. I had wanted to start my own vegetable factory since then.

Takashima

I wasn't aware of that. It is difficult to imagine vegetables being grown right beside an attraction.

Ito

What you are drinking now is the strawberry lemonade that we offer at our drink bar on the first floor. It contains pureed strawberries, which are also grown here.

Takashima

This is delicious! It has a luxurious savor, that would surely withstand competition from the fancy juice served at expensive fruit parlors. It almost makes me forget that I am at a stationery store.

Ito

Our concept of selling stationery is basically unchanged. It is just that we will no longer pursue our conventional goals of "carrying every type of stationery" and offering an "abundant array of new products," but provide the products that "Itoya can suggest with confidence". Now that stationery can be purchased everywhere, I hope to seek a way to differentiate our business from others.

Takashima

We live in a time when anything can be bought on the Internet. Nevertheless, I like the idea that I can be sure to find the best products if I shop at Itoya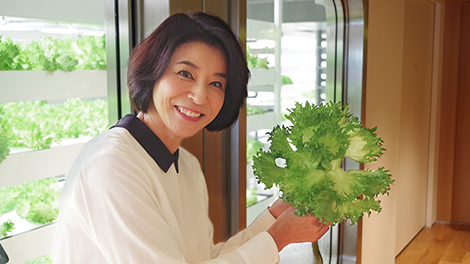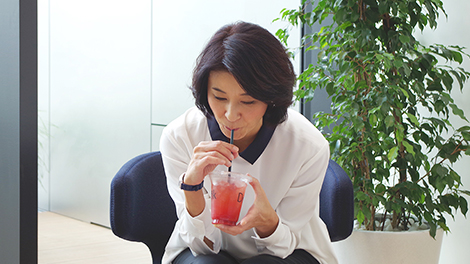 A walkable town- a unique identity
Takashima

What kind of town would you hope Ginza to be in the future?

Ito

I hope people will continue to visit Ginza because there are goods and shops that can only be found here. After renovating, Itoya has welcomed new customers as well as our regular customers. People used to come to shop with us in search of stationery, or merchandise, but our new customers come here to enjoy the place itself.

Takashima

It is indeed a place that cannot found in other towns.

Ito

Sometimes, I wish that Ginza Dori could be a "pedestrian paradise" all year round. Of course, it would cause some inconveniences, too, so it is an unrealistic idea. What I mean to say is that the town should be friendly to pedestrians. Busy streets with a lot of traffic like New York's Fifth Avenue make it difficult for shoppers to cross the street to see shops on the other side of the street.

Takashima

In your travels abroad, which countries have been inspiring in terms of street design?

Ito

There was a place in the U.S. where shops were located on the first floor of the building, parking was on the second and third floors and people lived on the upper floors. You could go by car to your destination and go directly to the shop from the parking lot. It would be interesting if people could live in Ginza.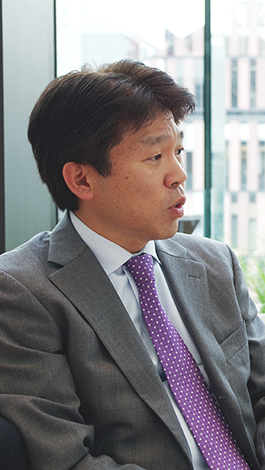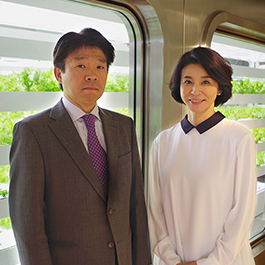 Chisako Takashima
Violinist. Takashima started taking violin lessons from the age of 6. After a successful career abroad, she moved her home base to Japan, where she currently performs in concerts across the country. Highly noted for her character in TV and radio appearances, she has currently opened up her career to more diverse fields with an unchanged focus on her profession.
Chisako Takashima official website
ヴァイオリニスト。6歳からヴァイオリンを始め、海外で
Akira Ito
Born in 1964. After being graduated from Keio University, Ito studied industrial design in the United States. In 1992, he joined ITO-YA Ltd., Japan and assumed the position of President and CEO in 2005. In 2007, he became an executive director of the Ginza Dori Association, and since 2009, he has chaired the All-Ginza Event Committee.
Written by Miki Okai; Place of interview: Ginza Itoya /Hand Shake Lounge (10th floor)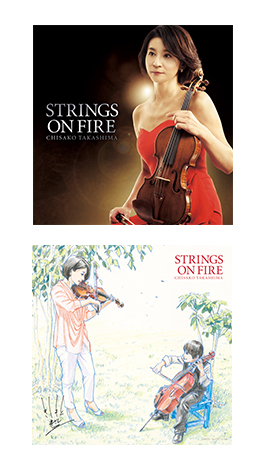 Strings on Fire Chisako Takashima's new album is available in stores!
Finally released! Chisaka Takashima's long-awaited new album, Strings on Fire.
A compilation of 12 tunes: 3 originals, including "Some Day, Just the Two of Us," a duet with the cello, played by her second son (age 6), and other classical standards.
Featuring special album cover art drawn by Masashi Kishimoto, author of the popular manga NARUTO.
Celebrating the 20th anniversary of "true" violinist Chisako Takashima, opening new frontiers with the second album released under her new record label.
isit Chisako Takashima's official website for more information.

Area linksInquiriesTerms of Use
System RequirementsAbout Us
© Ginza Information Management