GINZA CONNECTIVE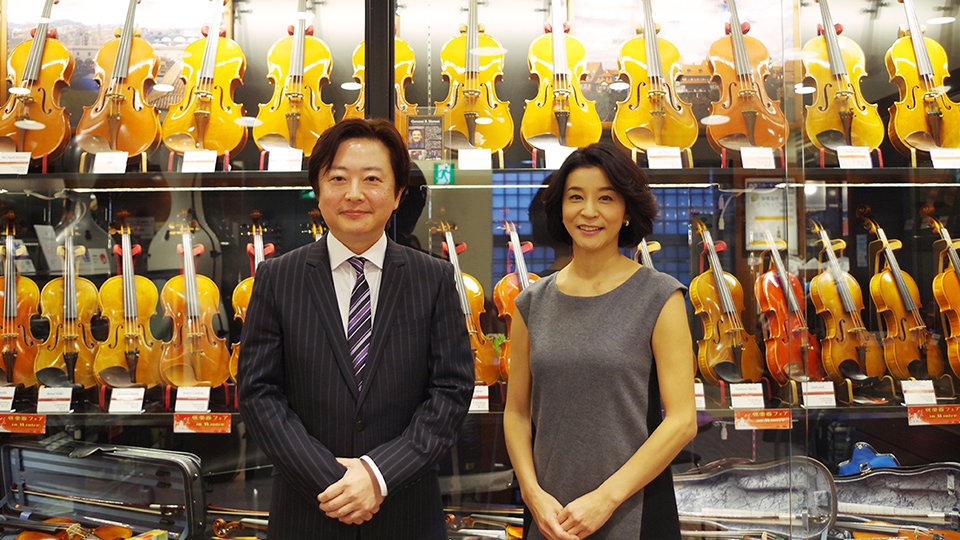 GINZA CONNECTIVE VOL.52
Masahiko Yamano×Chisako Takashima
2016.02.15
An interview series featuring Ginza people in conversation with violinist Chisako Takashima. With a special fondness for Ginza, which holds many memories both from her professional and private lives, Takashima explores Ginza from various dimensions with her guests.In this volume, she welcomes Mr. Masahiko Yamano, President and CEO of Yamano Music, established in 1892.
Thriving in internationally popular Ginza, a long-established music shop leading Japan's future
Takashima

I often shop at Yamano Music. My eight-year-old son recently began taking trumpet lessons and I bought him his trumpet at Yamano Music. Your staff were very helpful setting up the instrument and providing us with advice on which textbook we should purchase.

Yamano

Thank you, on behalf of my company.

Takashima

Could you please tell me about your corporate history?

Yamano

The history of our company dates back to 1892 (Meiji 25), when it was originally founded as Matsumoto Music, a manufacturer and retailer of organs and pianos. Seventeen years later in 1909 (Meiji 42), the company was placed in the hands of my great-grandfather whose mission was to bring it out of financial crisis. He established Yamano Music in 1915 (Taisho 4).

Takashima

For how many generations have you been in business?

Yamano

I am the fourth president of our company. I have grown up being reminded that I was to pursue my life as the fourth president of Yamano Music from the day I was born. Music is not actually a profitable trade, but I feel a sense of responsibility that our legacy is in my hands and that I must not quit (laughs). Located in Ginza, an internationally popular location, I am thriving everyday with the determination to lead Japan's music industry.

Takashima

Many of us download songs from the Internet nowadays, but when it comes to musical instruments, it is important to actually touch and check inside before purchasing. Conversations with store staff can also be an opportunity to catch the latest information. I believe it is very important to have stores like Yamano Music.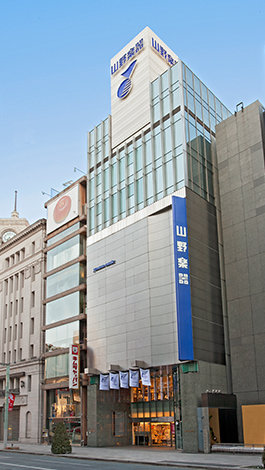 Yamano Music main store in Ginza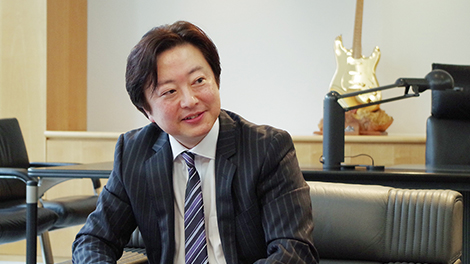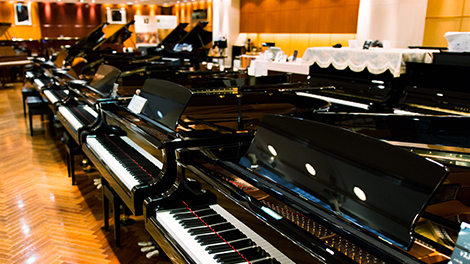 Inside the main store
My dream is to increase people with musical hobbies.
Takashima

I have heard that you lay a special emphasis on your music classes.

Yamano

Yes, that is true. We have 47 schools nationwide and teach around 25,000 students. Given our corporate concept of "contributing to society through music promotion", my dream is to "increase the number of people who play musical instruments as a hobby in Japan."

Takashima

How wonderful! I share the same dream! I have always wanted to open a music school for people who are interested in taking up a musical instrument as a hobby.

Yamano

I believe that if we could have people from other countries saying that everyone plays an instrument in Japan, it would be our strength. Music is culturally very important, and that would probably be more impressive than having the entire Japanese population be fluent in English. We would gain a lot of respect.

Takashima

What kind of lessons do you offer?

Yamano

Our students are mainly adults. We have a salon and lounge, where they can enjoy drinks and relax. We offer a variety of courses in string instruments, wind instruments, the piano, guitars and drums. It would be wonderful if we could interest people in trying out an instrument as a favorite pastime.

Takashima

I would love to teach one of your classes! Oh, but I may end up losing all of my students because I would be too harsh on them (laughs).

Yamano

I am sure you would have more students than you can handle. Wouldn't it be wonderful if we could really collaborate one day.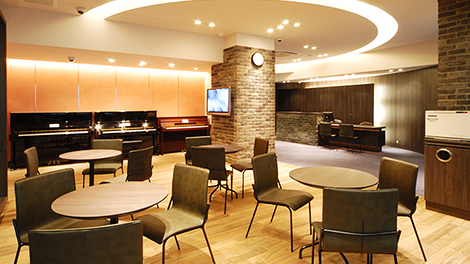 Music school lounge

Area linksInquiriesTerms of Use
System RequirementsAbout Us
© Ginza Information Management