GINZA CONNECTIVE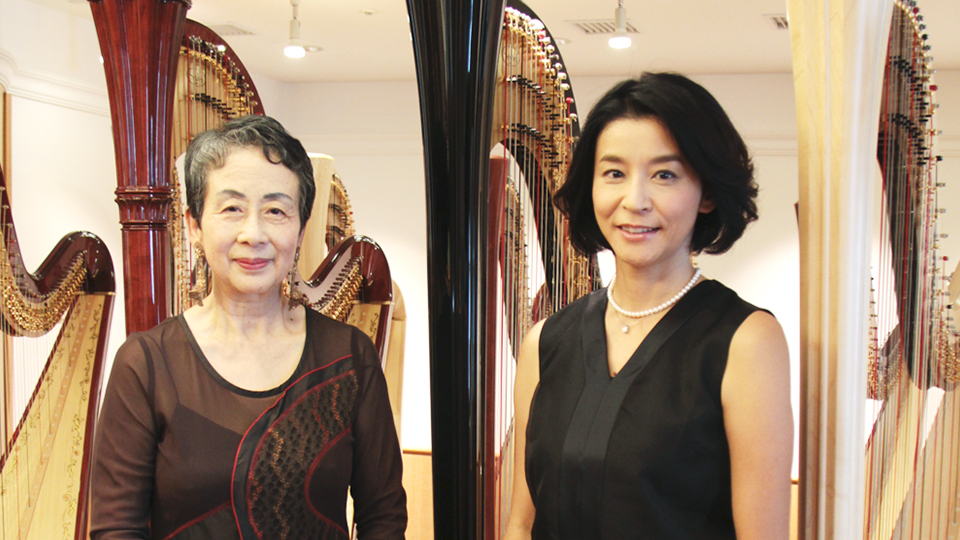 GINZA CONNECTIVE VOL.39
Chieko Nakamura ×Chisako Takashima
2014.12.04
An interview series featuring Ginza people in conversation with violinist Chisako Takashima. With a special fondness for Ginza, where she has many memories from both her professional and private life, Takashima explores Ginza from various dimensions with her guests. In this volume, she welcomes Ms. Chieko Nakamura CEO of Ginza Jujiya, a retailer of western musical instruments established in the Meji era.
I am inspired to offer a diversity of musical entertainment from Ginza
Takashima

Ginza Jujiya hosts not only concerts but a variety of events. Do you organize all of these events on your own?

Nakamura

Yes, I enjoy planning events very much. However, I always get stomach cramps as the day approaches. Every time, I get nervous that something might go wrong. (laughs) My ultimate wish is to entertain the audience and that is why I have continued this activity, inspired to offer a wide variety of musical entertainment. It gives me so much joy when the audience leaves the hall smiling and when the musician feels good about having performed in our concerts. But then, it is almost time that I passed the baton. (laughs)

Takashima

Oh no, not at all! My father is 80 years old, but he is still running around every day with his work. My mother prefers that he didn't stay home and is very supportive of his continuing to work. (laughs)

Nakamura

What does your mother do?

Takashima

She plays the piano all the time. My mother's favorite pastimes are playing the piano and playing mahjong.

Nakamura

Mahjong! That sounds exciting. I would love to try some time. Your mother must be a good player.

Takashima

Yes, she seems to be a very skilled player. (laughs)
Music is my way of thanking Ginza. I hope that we can always be a community of mutual support.
Takashima

Were you born in Ginza?

Nakamura

I was not born in Ginza, but my mother was. Even as a child, going to Ginza meant dressing up.

Takashima

My grandmother also brought me to Ginza as a child. She would buy me shoes at Yoshinoya and clothes at Saegusa, and then eventually musical scores at Yamaha…

Nakamura

Oh, you didn't come to Ginza Jujiya to buy your musical scores? (laughs) Until around the 1960s, we had a rich collection of imported musical scores that were not yet available at other stores.

Takashima

Really! I'm afraid I wasn't aware of that….
Now, please allow me to ask my last question. Ginza Jujiya has always been ahead of the times and I would like to hear your thoughts about the future of Ginza.

Nakamura

At Ginza Jujiya, we hope to continue to be a musical and cultural hub, but I also feel that we have been successful because we are located in Ginza. Sharing the joy of music is our way of saying, "Thank you." to Ginza. In our hope of having more and more people see what a fascinating town Ginza is, we introduce Ginza's new shops and recommend good restaurants and interesting events to those who have enjoyed our concerts. We want them to find other shops in Ginza intriguing, too. It is nice when we can mutually support each other. I hope that we can all foster that warm feeling of mutual support in Ginza.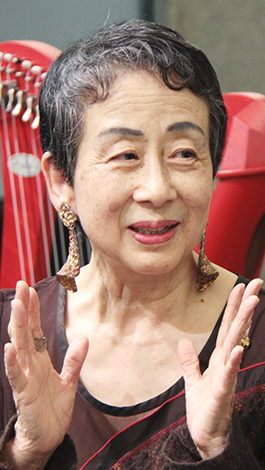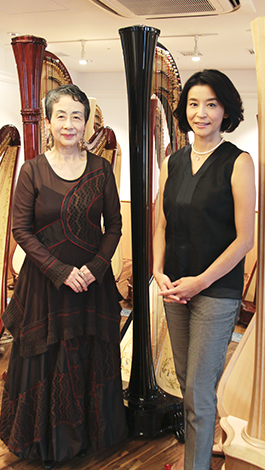 Chisako Takashima
Violinist. Takashima started taking violin lessons from the age of 6. After a successful career abroad, she moved her home base to Japan, where she currently performs in concerts across the country. Highly noted for her character in TV and radio appearances, she has currently opened up her career to more diverse fields with an unchanged focus on her profession.
Official website of Chisako Takashima
Chieko Nakamura
CEO of Ginza Jujiya. Nakamura was graduated from Rikkyo University and is the mother of freelance announcer, Eriko Nakamura.
Devoted to communicating the joy of listening to music, particularly harp music, she has organized various music events, including the "Lunchtime Concert", the "Afternoon Salon at Ginza Jujiya" and the "Shimotsuki (November) Concert."
She has also organized concerts at nursing homes and schools for audiences that have difficulties going out or few opportunities to go to classical music concerts.
Ginza Jujiya website
Written by Mikiko Okai; Place of interview: Ginza Jujiya

Area linksInquiriesTerms of Use
System RequirementsAbout Us
© Ginza Information Management