GINZA CONNECTIVE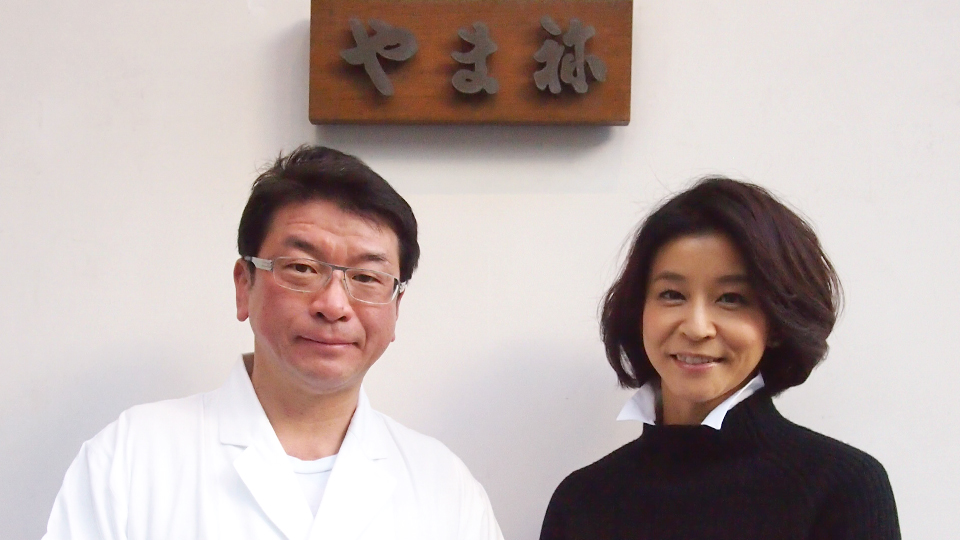 GINZA CONNECTIVE VOL.40
Atsushi Yamane×Chisako Takashima
2015.02.13
An interview series featuring Ginza people in conversation with violinist Chisako Takashima. With a special fondness for Ginza, where she has many memories from both her professional and private life, Takashima explores Ginza from various dimensions with her guests. In this volume, she welcomes Mr. Atsushi Yamane, CEO of Yamane, a high-class Japanese restaurant specializing in blowfish from 1935 (Showa 10).
A long-established restaurant founded in 1935 specializing in blowfish: Nidanbiki, a traditional method of carving sashimi.
Takashima

For how many generations have you been in business?

Yamane

Although I am the second son, I inherited the family business, so that makes me the fourth generation.

Takashima

Have you always been located in Ginza?

Yamane

No, our restaurant was first established in Fukuoka in 1935 (Showa 10). We moved to Ginza later in 1954 (Showa 29), so we were already in Ginza in the times of our founder.

Takashima

I've been told that your blowfish fritters were first served in Ginza.

Yamane

Yes, Yamane's blowfish fritters were invented by the oo-okami (senior proprietress) and okami (proprietress). As we serve a lot of sashimi, we always end up with a great amount of the bony parts of the blowfish, which was originally deep fried to be consumed by our culinary staff. But because the fritters were so tasty, they eventually appeared on our menu.

Takashima

I see. I love oily dishes. The blowfish does not have a strong flavor, so I am always delighted when fritters are served in the middle of a course dinner.

Yamane

Fortunately, our customers enjoy them too.

Takashima

The sashimi is presented beautifully. I recall that blowfish sashimi became popular after Mr. Shigeo Nagashima swept a piece up with his chopsticks and popped it into his mouth.

Yamane

Our sashimi is carved using a unique method called nidan-biki that makes each piece twice as thick as normal slices. I would imagine that it would be difficult to bite through our sashimi if it was eaten in that way. I make a second cut in each thinly carved slice. The sashimi is served with a sprinkle of finely chopped green onion.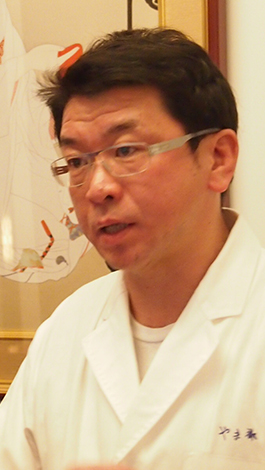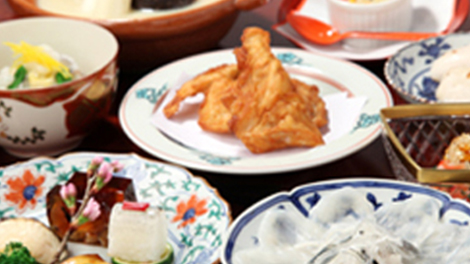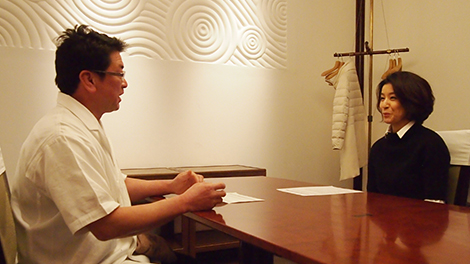 Tokyo's strict "Blowfish License." Occasional sore hands from the poison
Takashima

I enjoy blowfish cuisine when I visit Shimonoseki for concerts, but it is such a luxury that I don't often have that opportunity…

Yamane

Blowfish has the established image of being a luxury because the blowfish bought in Tokyo today is very expensive, but it was actually widely consumed by the common people in the Edo era.

Takashima

Really!

Yamane

Before the poison was studied, people ate the blowfish that they caught themselves. Now, we have a law that only allows those of us with licenses to prepare blowfish.

Takashima

Is it difficult to get the blowfish license?

Yamane

The exam for the license differs among local governments. Tokyo is one of the strictest. That is why, if you acquire your license in Tokyo, it is valid everywhere, while those who obtained their license outside of Tokyo must apply for the Tokyo license if they want to open a restaurant in Tokyo.

Takashima

Oh, I wasn't aware of that. How much poison does a blowfish have?

Yamane

All internal organs, including the ovary, liver and kidneys are all toxic. The poisonous parts vary depending on the species of blowfish, but basically, 40-50% of their body carries poison. Little is edible.

Takashima

Is it lethal?

Yamane

Well, it seems that some people used to enjoy the stimulus of just a little poison, but that is out of the question in Tokyo, in legal terms as well. People can die from suffocation by the poison.

Takashima

Oh no! And some people would try to eat it! I wonder if they had wanted to boast to others that they had survived the poison?

Yamane

I guess humans can be acquisitive. Of course, I have never tried eating the poison, but because I touch the poison every day, my hands are always sore, so I know that it is strong.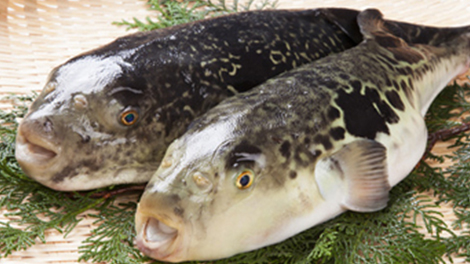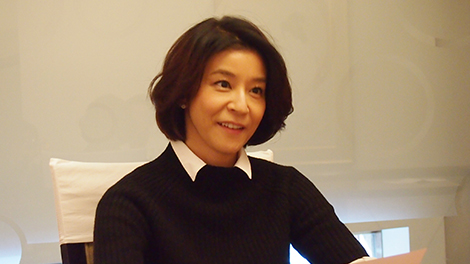 Area linksInquiriesTerms of Use
System RequirementsAbout Us
© Ginza Information Management