GINZA CONNECTIVE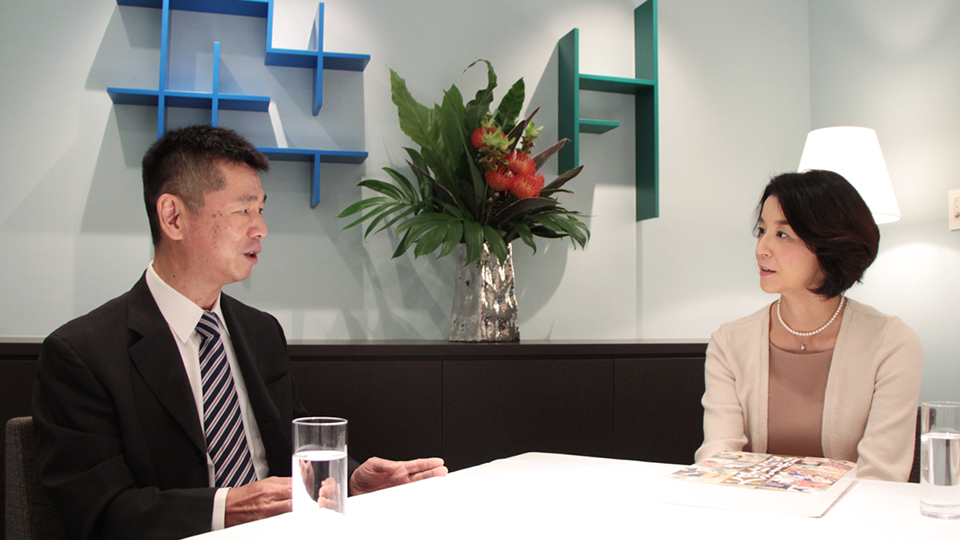 GINZA CONNECTIVE VOL.37
Shoichiro Watanabe×Chisako Takashima
2014.10.07
An interview series featuring Ginza people in conversation with violinist Chisako Takashima. With a special fondness for Ginza, which holds many memories both from her professional and private lives, Takashima explores Ginza from various dimensions with her guests. In this volume, she welcomes Mr. Shoichiro Watanabe, CEO of S.WATANABE COLOR PRINT Co., a heavyweight ukiyo-e printer with a history dating back to the Meiji era.
It was my grandfather, Shosaburo Watanabe, who gave ukiyo-e woodblock prints another 100 years of life.
Takashima

Please tell me the history of your business.

Watanabe

Sometime after Meiji 30 (1897), my grandfather, Shozaburo Watanabe, came out to Tokyo from Ibaraki. He first worked for a pawnshop, and later for a trading company, where he learned the ukiyo-e trade while he was still in his teens. In 1909, he started his own business and opened the S.WATANABE COLOR PRINT Co. in Kyobashi. That is how our business started.

Takashima

How did ukiyo-e come to be so popular globally? Can you tell me about the historical context of its popularity?

Watanabe

In 1867, in the last months of the Tokugawa shogunate, only a few months before the dawn of the Meiji era, the shogunate had as many as 10,000 ukiyo-e prints exhibited at the international exposition held in Paris. Ukiyo-e prints being of only marginal value to the shogunate, they were to be sold at the exposition to cover travelling costs with whatever profit they generated. Surprisingly, the prints sold like hot cakes and triggered a major ukiyo-e boom overseas. In Japan, ukiyo-e prints were widely affordable by the common people and cost about the same as one bowl of soba, which is equivalent to approximately 400-500 yen today. Only a means of amusement, prints would become garbage once people grew tired of them. It was because foreigners acknowledged ukiyo-e prints to be works of art and valued them that they have been preserved in the way we find them today.

Takashima

It wasn't until I went to the United States to study that I saw ukiyo-e for the first time, at museums like the Museum of Fine Arts, Boston and the Smithsonian Institution.

Watanabe

Ah, yes, they have collections of ukiyo-e.

Takashima

I was surprised to find that ukiyo-e was respectfully displayed n a special corner of a neatly arranged exhibition room.

Watanabe

You are right. Ukiyo-e prints are unique to Japan and nothing of the like can be found anywhere else in the world.

Takashima

We need to acknowledge their value

Watanabe

What could top having foreigners appreciate something that could only be sold for a very cheap price in Japan, and being able to make money out of it? Ukiyo-e exports increased rapidly. Foreigners tend to have a liking for particular prints, but only a limited number of original prints remain, so my grandfather had artisans make "reproductions" and sold them for a price lower than the originals. This was a great success.

Takashima

So he didn't just sell existing prints.

Watanabe

He mastered the skills to reproduce ukiyo-e prints, which became very popular among foreigners. From around Taisho 4 (1916), he invited artists of the time to create contemporary ukiyo-e prints, but failed to win their support.

It was a time when more and more foreigners came to Japan and my grandfather met an Australian named Capelari. They hit it off very well and started to work on prints together. Later, an English watercolor artist named Bartlett, who had been travelling around the world for two years, came to them, interested in making woodblock prints of his work. This created a novel style of woodblock prints, completely different from traditional ukiyo-e, and marked a cornerstone for the emergence of many new artists, including Ito Shinsui and Kawase Hasui. Today, their works are known to the world as Japanese art and they are very popular worldwide.
After Showa 30 (1955), my father held classes for covering both traditional woodblock prints and emerging sosaku-hanga, thus enabling the succession of techniques from one artisan to another. These classes continued for ten years and now, Japanese prints are known to be the best in the world. Given such successful efforts, S. WATANABE COLOR PRINT Co. is said to have extended the life of ukiyo-e prints by 100 years.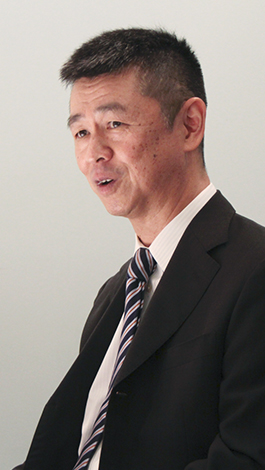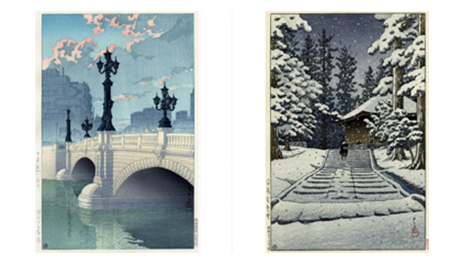 Kawase Hasui: Dawn at Nihonbashi Bridge (left), Hiraizumi Hall of the Golden Hue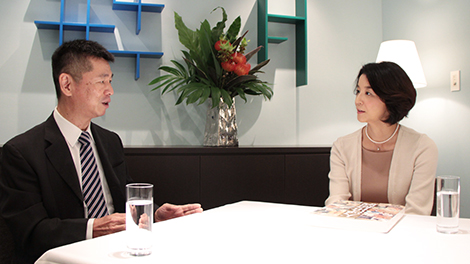 Ukiyo-e influenced the work of European Impressionists
Takashima

Why were foreigners so fascinated by ukiyo-e?

Watanabe

In the Western world, training artists would be taught that it was important to be as true to life as possible, and therefore, artists would draw objects just as they saw them. Of course, that in itself was wonderful, as the artists' individuality would be present in their work, but ukiyo-e artists would only draw what they wanted to draw. For example, many of Utagawa Hiromaro's ukiyo-e prints, including "Suruga Province: Miho Pine Grove (Suruga, Miho no matsubara)", are drawn from the eyes of a bird. High angle views are only possible if you are drawing on a mountaintop, but Hiroshige would compose his prints from that angle just because he wanted to. This style of drawing was very rare in the western world.

The way the scenery is obstructed by an object in the foreground in "Plum Estate, Kameido (Kameido umeyashiki)" is another example of bold composition that deviated from the common practice of Western artists but was well-received.

Takashima

I'm not well-versed in the fine arts, but had Impressionism become mainstream around that time in Europe?

Watanabe

Yes, many Impressionist artists were influenced by ukiyo-e. Van Gogh made replicas and used them in the background of his oil painting as well.

Takashima

Wow. That's is interesting.

Watanabe

Ukiyo-e played the role that TV and magazines play in present days, and therefore, ukiyo-e artists were the fashion leaders of the times. Because their bijin-ga (portraits of beautiful women) depicted the latest fashion and accessories, ukiyo-e prints sold well among stylish women who sought guidance on fashion.

Takashima

They really did play the role of fashion magazines.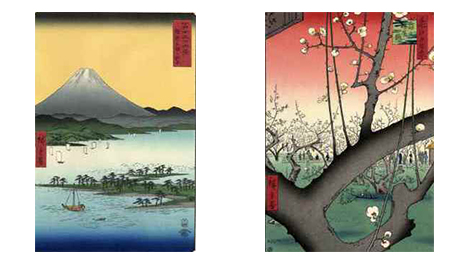 Utagawa Hiroshige: "Suruga miho-no-matsubara" (left), "Plum Estate, Kameido (Kameido umeyashiki)" (right)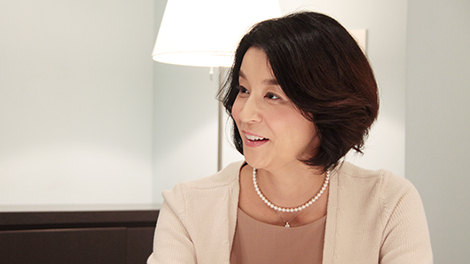 Area linksInquiriesTerms of Use
System RequirementsAbout Us
© Ginza Information Management