GINZA CONNECTIVE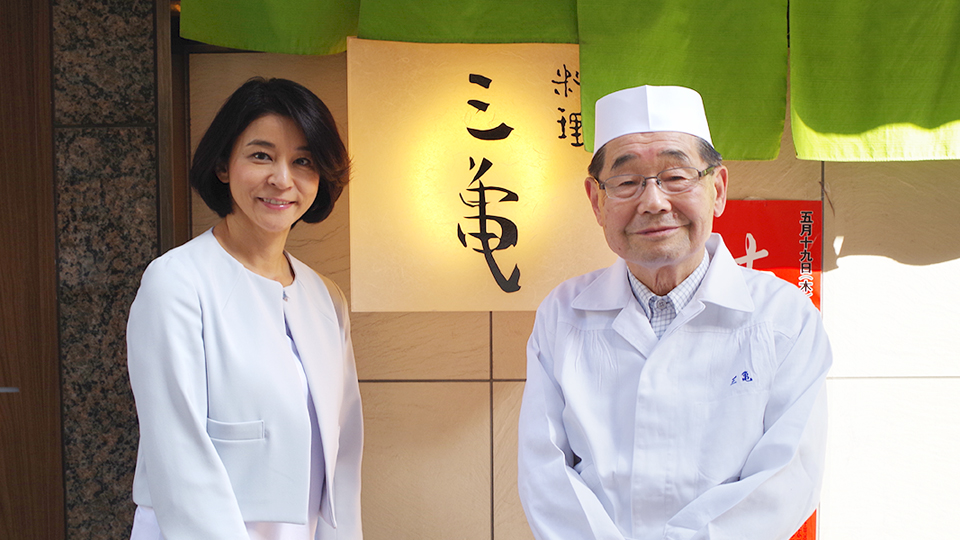 GINZA CONNECTIVE VOL.56
Isao Nanjo×Chisako Takashima
2016.07.01
An interview series featuring Ginza people in conversation with violinist Chisako Takashima. With a special fondness for Ginza, which holds many memories both from her professional and private lives, Takashima explores Ginza from various dimensions with her guests.In this volume, she welcomes Mr. Isao Nanjo, third-generation owner of the celebrity-approved authentic Japanese restaurant, "Ginza Sankame."
Nurturing the soul by appreciating the fine arts and music.
Takashima

Do you have any favorite pastimes?

Nanjo

I enjoy listening to classical music and seeing paintings. When I go to an exhibition, I often stand in front of a painting and wonder which musical piece I could pair with it. I've thought about what would go best with Ginza, and I've arrived at the conclusion that "Divertimento" might be the best match. What do you think?

Takashima

Do you mean "Divertimento" by Mozart? That is a vibrant piece, isn't it? My image of Ginza is a mixture of the state-of-the-art and long-established businesses, so I would also suggest Gershwin.

Nanjo

I see. That is interesting.

Takashima

Do you play any instruments?

Nanjo

Oh no. I am just a listener.

Takashima

That is the best way to enjoy music (laughs).

Nanjo

My belief is that our bodies are in need of two types of things. One nourishes the flesh and the other nurtures the soul. If we don't have a good balance of both, we are bound to become malnourished.

Takashima

Then I am completely malnourished (laughs)!

Nanjo

I don't have much money, but I am spiritually rich (laughs).

Takashima

That is wonderful. I think Japanese cuisine is similar to artwork. The presentation of seasons is beautiful. Do you gain hints from your appreciation of the fine arts?

Nanjo

Yes. Paintings are inspiring. I enjoy imagining what is not visible in the picture – what has not been drawn within the frames. For example, I would imagine a field of flowers spreading outside the frames.

Takashima

That has never even occurred to my mind! It is always the price tags that catches my eye (laughs).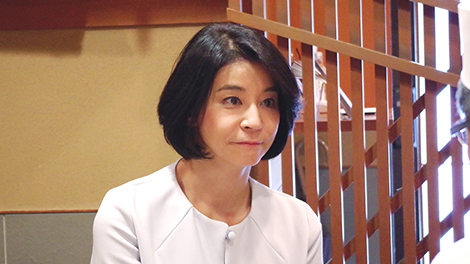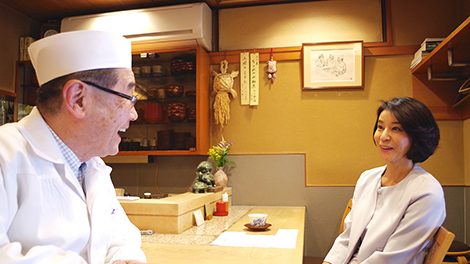 In pursuit of a genuinely beautiful Ginza
Takashima

Before we close, please tell me about your passion for Ginza.

Nanjo

Since we are a street-level store, I toss water on the street in front of our restaurant and sweep it every morning. I have developed a fondness for Ginza that almost makes me want to clean the street with a rag. I wish that everyone working in Ginza would share that kind of love for the town. Mr. Arata Watanabe of "Ichibankan" in Ginza 5-chome sweeps the entire 5-chome area.

Takashima

That is impressive.

Nanjo

That is something that can be done only from love for a place. When I see someone cleaning the streets, I make sure to pay them respect by saying, "Thank you." It is very encouraging to know that someone notices your deeds. Ginza is a pretty town, but not beautiful. When you go to the countryside, you can find flower beds planted by storeowners in front of their stores. They don't keep the streets clean to make money, but simply from their love for the place. Such encounters make me feel that I have witnessed true beauty. I would hope for Ginza to pursue such genuine beauty.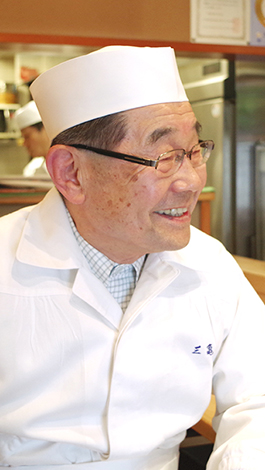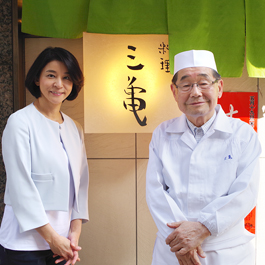 Chisako Takashima
Violinist. Takashima started taking violin lessons from the age of 6. After a successful career abroad, she moved her home base to Japan, where she currently performs in concerts across the country. Highly noted for her character in TV and radio appearances, she has currently opened up her career to more diverse fields with an unchanged focus on her profession
Chisako Takashima official website
Isao Nanjo
Owner of "Ginza Sankame". After his apprenticeship at "Kansai Kappo Izui," he continued his training at "Ginza Sankame" from 1955. He fascinates those who come to dine with seasonal cuisine as well as his unpretentiousness and subtle thoughtfulness.
Written by Mikiko Okai; Place of interview: Ginza Sankame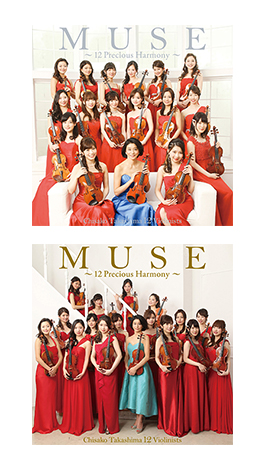 Released! A new album by Chisako Takashima 12 Violinists: MUSE -12 Precious Harmony-
Chisako Takashima 12 Violinists have released their first album in four years: MUSE -12 Precious Harmony-.
This diverse album celebrates the 12 Violinists' tenth year with many classical numbers.
With three original pieces, including "SPLASH!!!," a novel number written and co-performed by Sukimaswitch, the album comprises twelve numbers.
Click here for details, including information on individual numbers.

Area linksInquiriesTerms of Use
System RequirementsAbout Us
© Ginza Information Management