GINZA CONNECTIVE
GINZA CONNECTIVE VOL.57
Shinobu Mitsuoka×Chisako Takashima
2016.08.18
An interview series featuring Ginza people in conversation with violinist Chisako Takashima. With a special fondness for Ginza, which holds many memories both from her professional and private lives, Takashima explores Ginza from various dimensions with her guests.In this volume, she welcomes Ms. Shinobu Mitsuoka, CEO of G.C.PRESS, a stationery brand with a full lineup of paper products.
The history of G.C.PRESS and its brand concept
Takashima

Please tell me about the history of G.C.PRESS.

Mitsuoka

Since our establishment in 1979, we have sold original stationery products designed by our in-house designers. Fancy goods were very popular back then and we also made character goods and published children's books. After 1986, when one of our books received the Grand Prize at the Bologna Children's Book Fair, our name gained wide acknowledgement across the industry, and we have been publishing children's books and manufacturing original stationery ever since.

Takashima

The name of your store sounds very chic for a 40-year old business. What does G.C.Press stand for?

Mitsuoka

"G" is for "gaze" and "C" for "creation." "Press" conceptualizes our publishing business.

Takashima/dt>

Has your store always been located here?

Mitsuoka

No, we moved here six years ago from Roppongi. What surprised me most is the range of customers we receive here. As we are located in an area with quite a number of art galleries, many of our customers bring in a sophisticated cultural atmosphere. Also, with many top firms in the area, many people drop by to select heartfelt items such as thank you cards and birthday cards.

Takashima

Are you the second-generation president of your company?

Mitsuoka

Yes, I assumed my current position ten years ago. Every day is full of new thing to learn. Our brand concept is to offer original products designed by in-house designers, so we make it a rule to recruit college graduates to educate on our own, instead of outsourcing. Developing creative designers who can maintain brand consistency is the most difficult part of my job.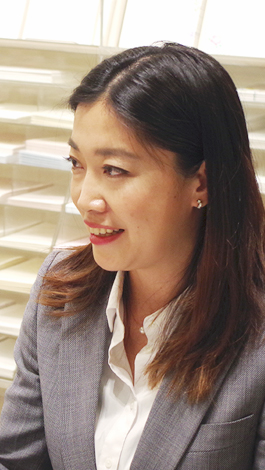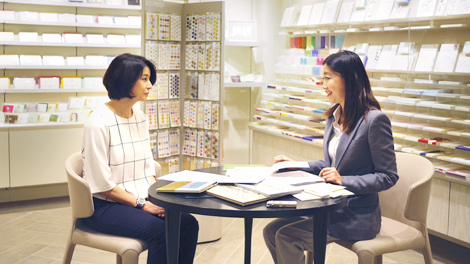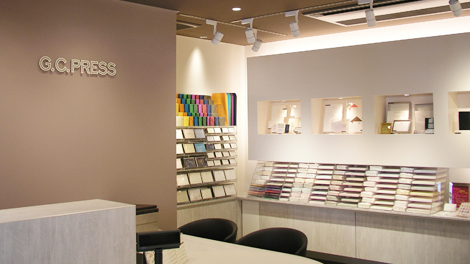 G.C.PRESS Ginza store
Seeking higher appreciation of handwritten letters in times of convenient communication.
Takashima

Could you please name some of your long-selling products?

Mitsuoka

That would be our "Un ruban doux" line of writing paper. It is simple but elegant embossed paper, which is very popular for formal use. Paper has become very expensive, but we have managed to maintain our initial price and still sell 10 sheets for 380 yen.

Takashima

What an impressive example of corporate effort! I just had a quick look at your products and found so many items that I use at home! I had never realized that they were made by G.C.PRESS.

Mitsuoka

Thank you. The Ginza store is the only store that our company runs directly, but since our clients are located nationwide, I would not be surprised if people used our products unknowingly.

Takashima

I noticed that you have a line of bridal stationery.

Mitsuoka

Yes we offer paper products, such as invitation cards and seating cards, as well as albums and guest books.

Takashima

They are very elegantly and beautifully designed!

Mitsuoka

Since the Wedding Day is a big day in a person's life marking a new beginning, we try to design products to be fit for the occasion. There is a touching episode from one of our customers who had continued to exchange love letters written on our stationery throughout their courtship – from their meeting to their marriage. Their wish to use the same stationery for their invitation cards made us feel happy as well.

Takashima

What a moving story! It must have been a most inspiring story for you, as the producer.
Do you have any other recommendations?

Mitsuoka

We have a line of "book cards", which are small picture books that can be sent in place of a card. They tell stories that can be enjoyed by adults as well as children, and they also include space for a handwritten "thank you" or "congratulations".

Takashima

Can they be sent in the mail?

Mitusoka

Yes, they can. If you send them along with a gift, they will help convey your message in a more personal way than just sending the gift alone. Now that we live in times with convenient communication instruments such as email, I would like to rethink the value of handwritten letters. I believe that even a small message card contaning just a few words delivers the heart.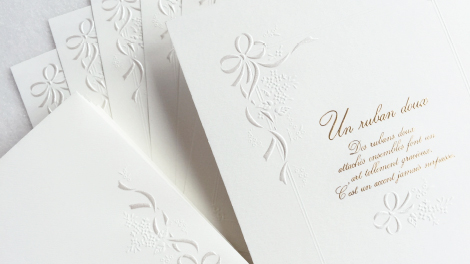 "un ruban doux" writing paper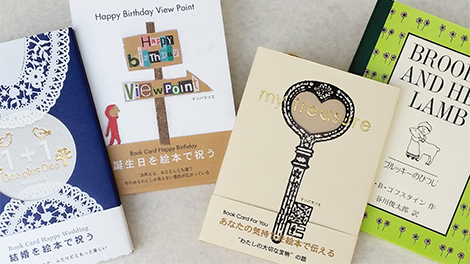 book cards

Area linksInquiriesTerms of Use
System RequirementsAbout Us
© Ginza Information Management