GINZA CONNECTIVE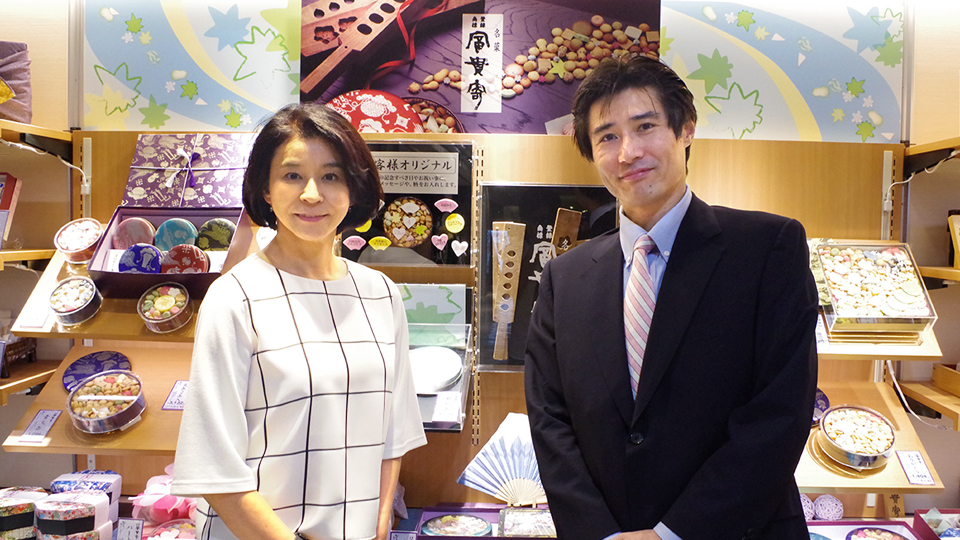 GINZA CONNECTIVE VOL.60
Yuji Ida×Chisako Takashima
2016.11.04
An interview series featuring Ginza people in conversation with violinist Chisako Takashima. With a special fondness for Ginza, which holds many memories both from her professional and private lives, Takashima explores Ginza from various dimensions with her guests.In this volume she welcomes Mr. Yuji Ida, CEO of Ginza Kikunoya, a Japanese confectionary store established in the Meiji period.
The冨貴寄® (Fukiyose), a long-seller since the latter half of the Taisho period.
Takashima

I have heard that you have been in business since the Meiji era. Where did you open your first store?

Ida

Our store was founded in 1890, with our first establishment near the Kabukiza Theater. We moved to our current location in the Showa 20s (around 1945).

Takashima

Have you always been a traditional Japanese confectioner?

Ida

Yes, at the time of our establishment, we sold Kabuki Senbei, or crackers made from flour and imprinted with the family crests of Kabuki actors. I have been told that it became known for Japanese confectionary during my great grandfather's time, when he was second-generation CEO.

Takashima

So, that makes you the fifth CEO. Could you name some products that have been around for a long time?

Ida

Our leading product, the冨貴寄® (Fukiyose), devised by our second CEO, has been a long-seller item since the beginning of the Showa period. Today, I have brought you a personalized can of 冨貴寄® (Fukiyose).

Takashima

(looking at the冨貴寄® (Fukiyose) presented) This is beautiful! What a wonderful surprise! You have even printed my album title!? Did you have it made just for me?

Ida

Yes. We have recently begun to take orders for customized cans of冨貴寄® (Fukiyose). For this occasion, we arranged a special can for you, containing motifs from the four seasons of the year – spring cherry blossoms, summer seashells and goldfish, autumn chrysanthemums, and new year plum blossoms. We usually have only two goldfish in each can, but learning that you had two sons, I had four goldfish especially put in to represent a family of four.

Takashima

I am so happy to have this! Thank you very much. I look forward to savoring it later.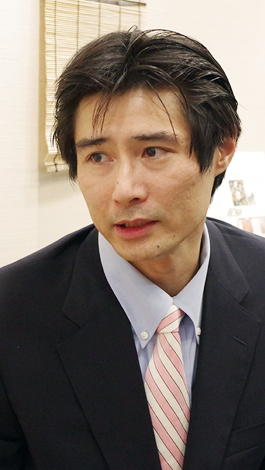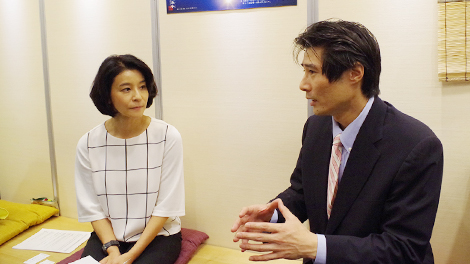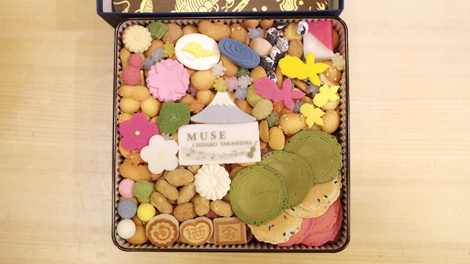 A personalized can of冨貴寄® (Fukiyose) for Chisako Takashima
Turning local sweets from all over Japan into chic Edo-style confectionary
Takashima

What does "Fukiyose" mean?

Ida

The word "fukiyose (吹きよせ)" originally stands for a mixture of different dry confectionaries that are indispensable in traditional tea ceremonies. Our冨貴寄® (Fukiyose) is a mixture of various local sweets from all over Japan, designed by our second CEO, maintaining their original simple taste but sophisticatedly made in a smaller size. We are also very focused on keeping a chic Edo-style balance of colors.

Takashima

I see. So, fukiyose is written using these kanji characters only at Ginza Kikunoya. "Inviting (寄) wealth (冨)" is such an auspicious idea that it would make the perfect gift.

Ida

Yes, in addition to our year-round products, we have seasonal varieties differently arranged for each of the four seasons and also a New Year's version containing confectionary with the Oriental zodiac of the year drawn on it. I am sure that you will encounter something new on every visit to our shop.

Takashima

I have heard that the Fukiyose was much talked about when a popular "idol" group brought it as a snack for everyone at the "Kohaku Uta Gassen" (Year-end Song Festival). Was it an influential event?

Ida

We had not mentioned the event in any of our communications, but the impact was tremendous. It seems that the Fukiyose appeared in a program showing behind-the-scene episodes of the Year-end Song Festival. We received many inquiries following the broadcast, which was after the turn of the year. We are very grateful that Ginza Kikunoya's Japanese confectionary came to be known among not only the elderly but also among younger generations.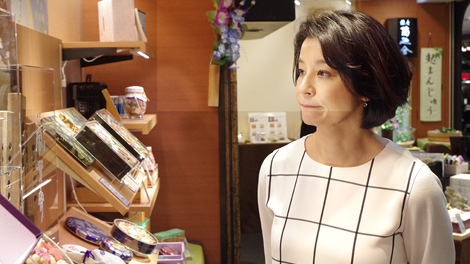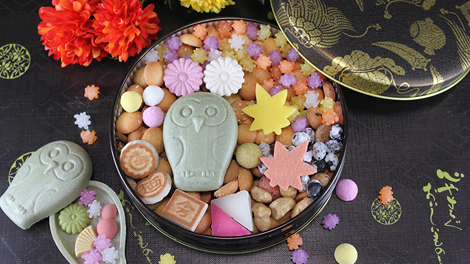 Fukiyose autumn can

Area linksInquiriesTerms of Use
System RequirementsAbout Us
© Ginza Information Management