GINZA CONNECTIVE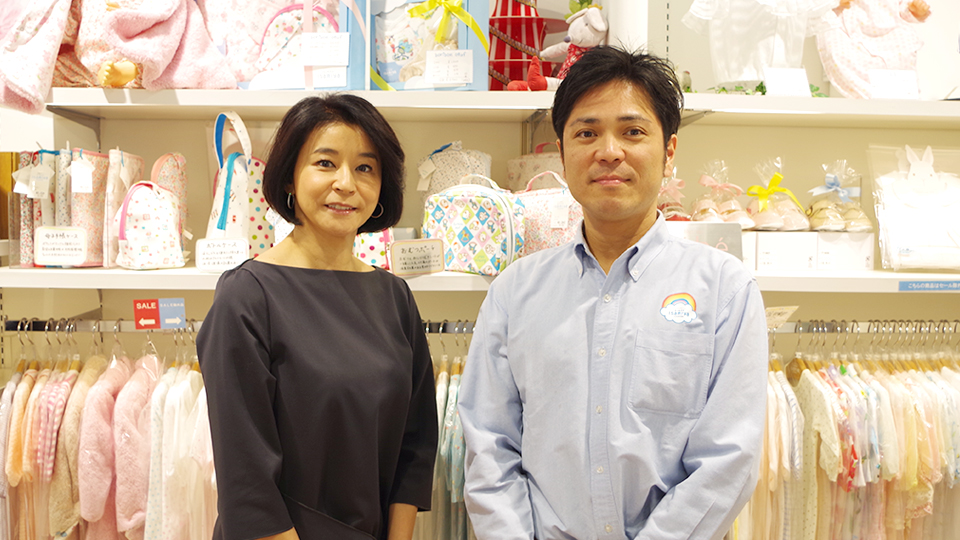 GINZA CONNECTIVE VOL.64
Kazuhito Kawase × Chisako Takashima
2017.03.01
An interview series featuring Ginza people in conversation with violinist Chisako Takashima. With a special fondness for Ginza, which holds many memories both from her professional and private lives, Takashima explores Ginza from various dimensions with her guests.In this volume, she welcomes Mr. Kazuhito Kawase, executive managing director of Ginza Isamiya, a long-established store specializing in clothing for babies and children.
Offering priceless value and experiences only found in Ginza.
Takashima

What are some of the things that you pay attention to or value particularly because you run a business in Ginza? When I took a peek at your store earlier, many tags saying "Made in Japan" caught my eye…

Kawase

Items for newborns are almost all "Made in Japan". Given our location in Ginza and that many people come here to look for gifts, our customers tend to prefer items made in Japan because they carry a "safe and reliable" image. Some people who shop with us to select a gift will say, "They will be so excited when I tell them I bought it in Ginza!" We try to offer every customer the Ginza experience.

Takashima

Many people find Ginza to be a special place. I have been told that you currently direct the Planning Division at Ginmikai, a committee of young business owners in Ginza. What kind of activities are you engaged in?

Kawase

Starting in April, at the turn of the fiscal year, I will assume a different position, but the Planning Division is responsible for events that are held in Ginza. One of our annual events is "Yukata de Gin-bura" (held on the first Sunday on August) when we offer "cooling off" services that showcase Japanese hospitality for people visiting Ginza wearing yukatas and other Japanese clothing. We plan and operate the event, asking various stores in Ginza to co-sponsor it, holding sweepstakes, painting glass wind bells, providing areas where children can play… We try to design the event so that people of all ages can enjoy their day in Ginza.

Takashima

Did you have a successful Yukata de Gin-bura last year?

Kawase

Yes. Last year, the event celebrated its tenth anniversary. We have more participants and more sponsor companies every year. It was a great success. I don't believe there are many occasions when you visit Ginza in your yukata or in your kimono, but if you do, you will enjoy a priceless experience. I hope that our visitors feel the same and return home looking forward to coming again next year in their yukatas or Japanese clothing.

Takashima

I would imagine that it should be quite a workload running a business and being engaged in Ginmikai's activities at the same time.

Kawase

Engagements at Ginmikai are voluntary and it can be challenging to juggle both work and event planning, but I enjoy it. Most of the members are second-generation or third-generation business owners, so it has been a rewarding experience to make so many new friends in the same boat.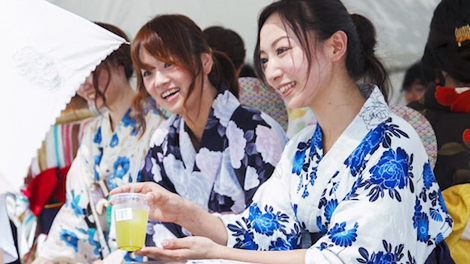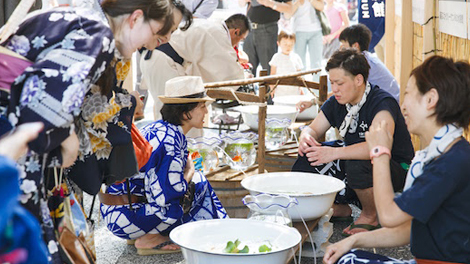 Bringing the special world of Ginza
Takashima

Before we close, please tell me about your passion for Ginza.

Kawase

I was born and raised in Kamakura, so before I joined Ginza Isamiya, I was almost a stranger in Ginza. During these past ten years, I have fostered a close relationship with the town. Through my experiences communicating with our customers and the members of Ginmikai, I have strengthened my feeling that Ginza is a special place, different from the rest of Tokyo. My impression is that many people come to Ginza with a sense of specialness – that shopping and dining in Ginza is an extraordinary event.

Takashima

I guess there are some things that you recognize because you were not born and brought up in Ginza.

Kawase

Yes. Even from that perspective, I find Ginza to be an "attractive town". However, I feel that it is still difficult for people to come here with their children. There are only a few elevators that will take you from the subway platform to the ground floor, so we have yet to work on making it a friendlier town for people with strollers as well as people in wheelchairs or with other disabilities.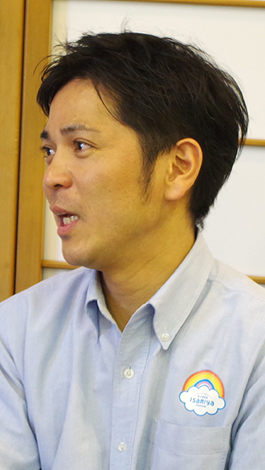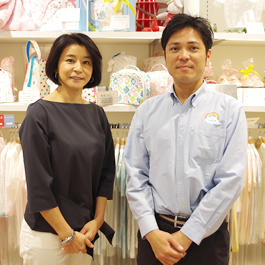 Chisako Takashima
Violinist. Takashima started taking violin lessons from the age of 6. After a successful career abroad, she moved her home base to Japan, where she currently performs in concerts across the country. Highly noted for her character in TV and radio appearances, she has currently opened up her career to more diverse fields with an unchanged focus on her profession
Chisako Takashima official website
Kazuhito Kawase
Born in 1979 in Kanagawa Prefecture. After being graduated from a vocational school for skiing, Kawase worked as a ski instructor while working for a travel agency. Later, he joined a children's clothing manufacturer where he was employed for three years before joining Ginza Isamiya in 2006. He assumed the position of executive managing director in 2014. He is a father of two daughters, aged three and six. He enjoys family outings on weekends and holidays.
Written by Hiroko Yoda; place of interview: Ginza Dori Association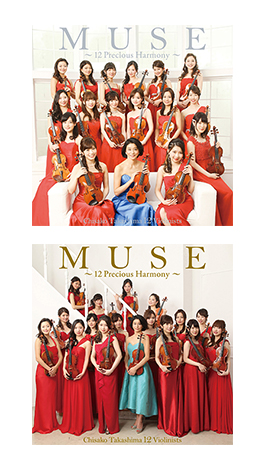 Released! A new album by Chisako Takashima 12 Violinists: MUSE -12 Precious Harmony-
Chisako Takashima 12 Violinists have released their first album in four years: MUSE -12 Precious Harmony-.
This diverse album celebrates the 12 Violinists' tenth year with many classical numbers.
With three original pieces, including "SPLASH!!!," a novel number written and co-performed by Sukimaswitch, the album comprises twelve numbers.
Click here for details, including information on individual numbers.

Area linksInquiriesTerms of Use
System RequirementsAbout Us
© Ginza Information Management