GINZA CONNECTIVE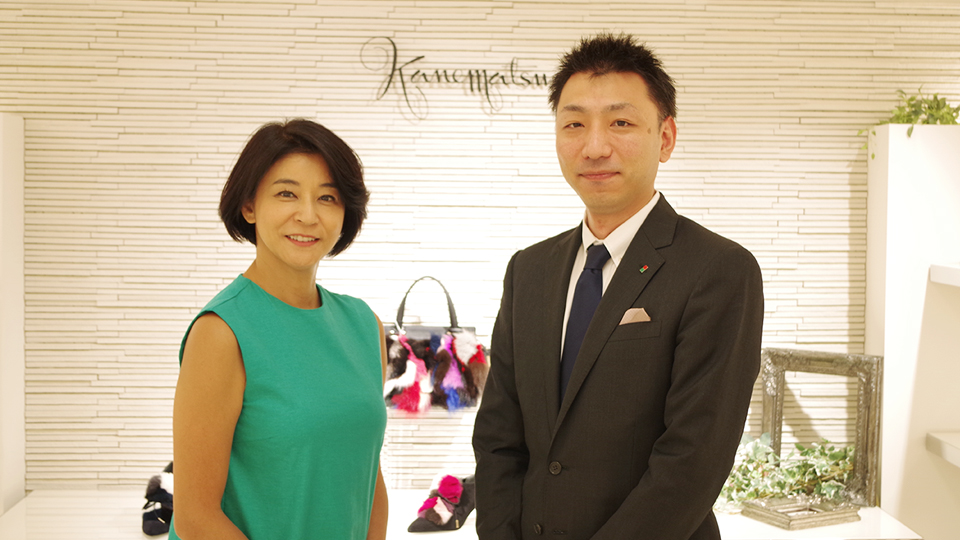 GINZA CONNECTIVE VOL.70
Shinya Kanematsu × Sachiko Takashima
2017.09.01
An interview series featuring Ginza people in conversation with violinist Chisako Takashima. With a special fondness for Ginza, which holds many memories both from her professional and private lives, Takashima explores Ginza from various dimensions with her guests.In this volume she welcomes Executive Managing Director of Ginza Kanematsu, a Japanese shoes and bag brand.
Shinya Kanematsu × Sachiko Takashima
A corporate history beginning with handbags
Takashima

Being so fond of shoes, I have a collection of shoes so large that my father calls me "a centipede." Naturally, I have known Kanematsu from when I was very young. You have very elegant high-quality shoes.

Kanematsu

Thank you very much.

Takashima

How many years have you been in business?

Kanematsu

We will celebrate our 70th anniversary in September.

Takashima

Congratulations on your 70th anniversary! You have quite a long history! Have you always been in Ginza?

Kanematsu

Thank you. And, yes. My grandfather was fifteen years old when he came to Tokyo from Aichi Prefecture to work as an apprentice at a relative's store, which was in Ginza. He eventually went to war but he had always strongly believed that if he were to open a store one day, it would be in no other place than Ginza. He was sure that Ginza would lead Japan in the future.

Takashima

He had foresight. Where was your first store located?

Kanematsu

It was in Sukiyabashi, standing in front of what is GAP today. There is no building where our store used to be, as the space has become part of the street. We moved to 4-chome afterwards, and then in 1989 (Heisei 1), the building on 6-chome was completed and that is where our main store is now.

Takashima

Kanematsu is well known as a ladies' shoes store but I have heard that you originally sold purses.

Kanematsu

Yes, we started as a handbag store. Since it was still a time when Japan had yet to enjoy abundance, we didn't manufacture what we sell as we do today, but sold merchandise that we purchased from elsewhere. We ran our business in that manner for about ten years, and when we moved to 4-chome, we shifted our main product from handbags to shoes. Eventually, shoes came to account for 70 percent of our products.

Takashima

You have many stores in department stores as well. How many stores to you have in total?

Kanematsu

We have 35 stores, two of which are free-standing stores – the main store in Ginza 6-chome and our Ginza 4-chome store.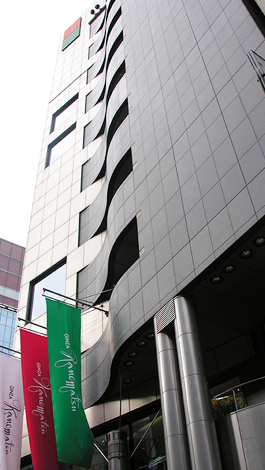 6-chome Main Store Building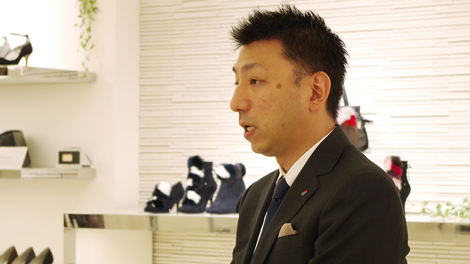 The most comfortable shoes in town
Takashima

What do you find most important in making shoes?

Kanematsu

Shoes must be comfortable to be well-designed, so we pursue comfortableness to the furthest extent that we can. Shoes are fashion items, but customers can be very demanding about how comfortable they are. No matter how pretty or how congenial to ones' taste a pair of shoes may be, people will not wear them if they cause sore feet. We analyze Japanese women's feet and develop original designs, starting with wooden shoe molds.

Takashima

Everyone has different shape feet, so it must be very difficult to know what is considered "comfortable." When a salesperson recommends a pair of shoes saying, "These are outstandingly comfortable," I sometimes wonder if her standards would really suit me. But then, I am very easily convinced, so I tend to agree and say "Oh, they are superb! (laughs)

Kanematsu

Yes, it is hard to find ready-made shoes that fit perfectly, but we make very subtle adjustments at our stores. For example, we sometimes add stuffing under the insole and other times we stretch or soften the shoes where it feels tight. We adjust the shoes to fit our customer's feet before they take them home.

Takashima

Such meticulous service must be well-appreciated by your customers! Could you tell me about this year's fall/winter trends?

Kanematsu

This season, elegant designs will become popular again. Accessories, including fur, studs and metal parts, will brighten up your shoes.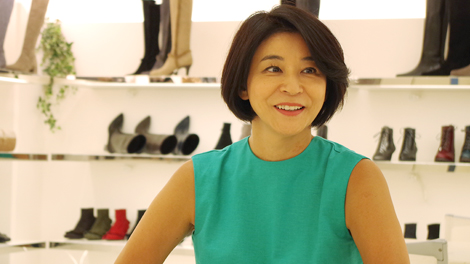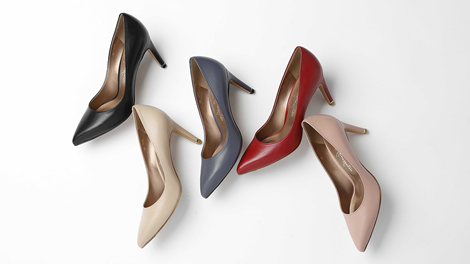 Fall/Winter 2017 collection at Ginza Kanematsu

Area linksInquiriesTerms of Use
System RequirementsAbout Us
© Ginza Information Management